Modified
Are slammed Ferraris sacrilege?
Let the internet flamewar begin!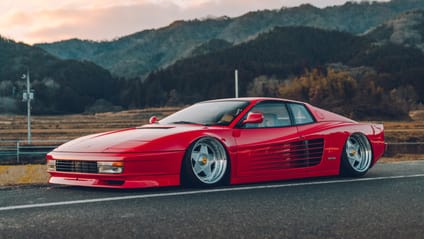 Depending on how your brain is wired, the image above will either fill you with a warm fuzziness of deep joy or short-term paralysis from deep-seated anger.

Yes, that really is a Ferrari low-low. A Testarossa – one of Italy's iconic 80s poster cars – that's been chopped from the knee down to sit proudly on its belly pan and wear its wheels like a pair of loose in-line skates. Well, if you click on, there's more fuel to add to the fire. Not just Ferraris, either; pancaked Porsche 964s, a Ferrari 360, Merc SL500, Aston V8 Vantage and a Lamborghini Diablo SV. There's also a rather spectacular (or sickening depending on your disposition) Ferrari 355. So, strap in and let's begin... 

Advertisement - Page continues below

The person behind this Testarossa is Kazuki Ohashi. He's the Japanese mastermind behind slamming supercars in this way. Yes, we know that those larrikins at Liberty Walk have created some sort of rivet revolution that has (rightly or wrongly) made a lot of people associate modifying supercars with thiccy arches, bonkers wheels and generally a 'mad for mad sake' approach. But Kazuki and his business partner, Tatsuya Yokoyama, have set up their shop – Madlane Ltd – to offer a slammed look with subtlely. They want to maintain the original aesthetic of exotica but accentuate the look to make them stand out and give the owners maximum Stance Points/Street Cred/Bitcoins/Pogs or whatever high street currency is popular these days.

The boys at Madlane practice what they preach, too. Tatsuya owns this controversial 355. It's a classic Ferrari: where beauty and power come together in one gorgeous wedge of want. Even if you're not one to get all gooey about red cars with a yellow badge and a prancing horse, it's hard to argue that the 355 isn't pretty.

Advertisement - Page continues below

As a bit of history, the 355 shared almost every dimension with the 348, but the body was all-new and its sculpting had involved a rumoured 1,800 hours of wind-tunnel testing. But there's little sense of form following function here; it's too pretty for that. If anything, the 355 has somehow got more attractive in the 25 years since it arrived. But what about when you add custom Air Lift Performance air suspension (that magically stays at maximum baller stance at all times), Recaro A8 seats and custom 'Madlane' wheels which use a BBS centre and a custom outer barrel? Well, if you're not a fan, there's also a Kreissig exhaust to let that mid-mounted 380bhp V8 scream when it revs to 8,250rpm. And if that doesn't bring you some sort of pleasure, you need to get yourself tested. 

This style is something Kazuki and Tatsuya have christened 'Crossglow'. And don't think that they're using the rattiest Fezzas they can get their oily palms on. Quite the opposite, in fact. The bodywork and interior have to be perfect and the mileage as low as possible. Working from a decent base puts more attention on each component making a big difference, rather than starting off with something rubbish and respraying/covering it in fibreglass. Put simply, its completely contrary to the run-of-the-mill supercar tuning style. Madlane isn't trying to reinvent these supercars – they're just accentuating their style using modern techniques and a bit of Instagram sass.

Like everything that's car-related in Japan, Kazuki's approached is supercharged with passion. His first car was a 50s Impala which inevitably went down the lowrider route. But instead of being obsessed with the G-thang, what he loved most about the lowrider style and scene was how meticulous they were while building each car. Just cutting some coils or bolting on some air ride doesn't do it for Kazuki. His cars have to actually drive properly and be engineered correctly. No cutting arches, no fibreglass, everything is properly manufactured in-house and not let out until everything is perfect.

The overall idea of Madlane is to provide a one-stop shop for having your car stanced/lowered and generally made to look McTasty. Both Kazuki and Tatsuya are manufacturing suspension struts and remanufacturing legendary wheels by AMG and BBS just with wider dishes to allow the aesthetics to be bob on – just like Singer does with the 911's Fuchs.

Advertisement - Page continues below

What these guys are doing is a clever balancing act. They want to create the wildest stance possible without butchering the beauty that Pininfarina and the like laid down first. So if you've got some exotica and a bonkers vision, Kazuki and Tatsuya can probably make it a reality.

We know what you curmudgeons are thinking: 'how can someone have the arrogance and cheek to mess with Maranello's work?' Well, put simply, because it's their car and they can do whatever they like with it. And there's plenty more where this came from, so click on... 

Advertisement - Page continues below

Ferraris not your thing? How about a slammed SL500?

Or a Lamborghini Diablo SV.

Got a 964 but don't want to send it to Singer? Well, Madlane is more than happy to take it and shove some wheels in the arches. Or is it arches in the wheels? 

If you're a 90s baby and were weaned off a diet of the Spice Girls, Fun House and Sonic the Hedgehog, the Testarossa and 355 may be a generation too early. But that's not a problem, as Kazuki and Tatsuya can work on 360s too. And for you Gen Z lot, they'll be more than happy to slam a 488.

Old-school, meet new-school. Click-clack open-gate manual gearbox, meet Air Lift air suspension. 

Luckily, the sleeping policemen were on strike when we took these photos.

BBS wheels are just the best, aren't they? Especially when they've been beefed up. 

Like a few Japanese tuners, Kazuki's place is draped in Americana; Budweiser neons, Motown vinyl and even a Goodyear Blimp. 

We like our wheels like how Chicagoans like their pizza, with a deep-dish.