Modified
Gallery: Ford is bringing eight tuned SUVs to SEMA
Whatever your needs, Ford has you covered. As long as it's an SUV need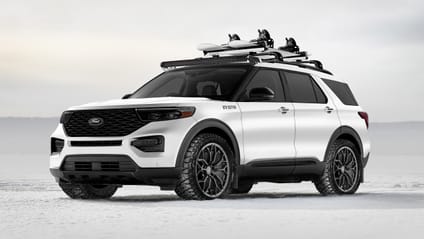 LGE-CTS Motorsports Urban Ford Escape

The SEMA show's ever-increasing popularity seemingly knows no bounds. Need an example? This year, Ford alone is bringing more than 50 customised vehicles from its product range. Fifty! 

Eight of those vehicles will be the SUVs featured in this here gallery. Ford says that these versions of the Escape, the Explorer and the Expedition are "tricked-out builds highlighting the latest trends in customisation".

First up is this modified Escape (sold as the Kuga in Europe). Ford says that this gold-wheeled creation is for outdoor enthusiasts who want to go surfing or skiing. Quite why it needs Eibach performance lowering springs and a custom Borla cat-back exhaust, we don't know, but at least it's different. There's also a roof rack on top and a custom leather interior on the inside.

Click through the gallery to see Ford's other offerings…

Advertisement - Page continues below

Air Design USA Ford Escape Sport Hybrid

Another Escape, although this one's apparently a hybrid underneath. Nobody will be wondering what's under the bonnet when staring at that bodykit, though. It really does demand attention. 

Apparently the inside is all about utility and features a cargo organiser, cargo mat and floor liners, as well as a portable fridge. We're struggling to identify the target market here…

Blood Type Racing Ford Explorer Limited Hybrid

Now, this looks more like it. There's even a lightbar – we love lightbars. Illinois-based tuner Blood Type Racing has also given the Explorer a suspension levelling kit, some chunky off-road tyres and a Ford Performance skid plate. 

There are also black wheels, black chrome accents and a Borla exhaust with black chrome tips. Most importantly, though, lightbar.

Advertisement - Page continues below

MAD Industries Ford Escape

Back to the Escape, and this from MAD Industries. Unfortunately, the only thing mad about this version is the 21-inch Rotiform wheels, which should ensure the ride is bone-shakingly hard.

Elsewhere there's another appearance for the Eibach lowering springs, and a Yakima bike rack shows everyone how much you value 'lifestyle'.

CGS Performance Products Ford Explorer ST

If you thought the 21-inch wheels on that Escape were big, check out the MASSIVE 24-inchers on this Explorer. CGS Performance Products has also gone for a grey/black colour scheme with red accents, as well as a custom exhaust and leather interior.

Good Boy Daisy LifeStyle Ford Expedition Limited MAX

According to a popular internet search engine, Good Boy Daisy are a US-based girl band. We're not sure how much say they had in the customisation of this Expedition, but it's been given a Whipple induction kit and, you guessed it, a Borla exhaust. There's also a custom paintjob and more 24-inch wheels, as well as a Nappa leather interior, Sennheiser mics and a QSC TouchMix 8 digital mixer. 

This Ford Explorer by Prefix has been designed to be the ultimate racetrack support vehicle. After the SEMA show it'll apparently go into service as a pace vehicle for the 2020 Trans Am race season. To help with that there's lowered suspension, a Whelen emergency siren system and first-aid and roadside assistance kits on board. Plus, Recaro race seats ensure that the driver can fang the SUV around a circuit without falling into their passenger's lap. 

Advertisement - Page continues below

MAD Industries Ford Expedition Stealth

And so we come to number eight. This Expedition is another example of MAD Industries' work, and it's perhaps the most extreme of the bunch. Most noticeable is the Icon Dynamics Stage 2 coilover suspension, which looks considerably taller than the standard setup. There's also 22-inch monoblock wheels and Nitto Ridge Grappler tyres, whilst under the skin customers would get a Whipple EcoBoost air induction system and high-performance brakes. Oh, and don't forget the giant roof tent sat on top there – the length of that ladder gives you some idea of how tall this thing is.

We'll see all of Ford's fettled SUVs and crossovers in the flesh at SEMA. For now, though, is there anything you're most looking forward to?