Motorsport
17 things you might not know about the Dakar Rally
Stolen cars, speed limits and an 18-race winning streak: here are the stories behind the gruelling Dakar
1. Dakar's organisers also run the Tour de France
The Tour de France... and Dakar. OK, sure, both French creations, both using wheeled transport and both a test of endurance and team support as much as rider skill. But, well aside from the fact that Dakar is quite literally a world away, does it not also seem a figurative world away from a group of guys going for a pushbike ride in the Alps?
And yet the Amaury Sport Organisation, which took over the Dakar Rally from Gilbert Sabine (Thierry's dad, who kept his son's legacy going), also does all the legwork for the Tour de France. Well, not all of the legwork.
Advertisement - Page continues below
2. To be successful, you must embrace the mousse
Not the hair product, obviously – it's not 1992 and, even if it were, we imagine it would be of limited benefit in a rally raid.
As KTM, who very openly embraces the mousse, describes it, it's "a foam insert that takes the place of an inner-tube, inside the tyre.
"It's puncture-proof and can withstand a lot of abuse from even the roughest, rocky stages."
So, beyond the incredible amount of training, physical fitness, mental resolve and natural skill on two wheels, you'll be nowhere without prodigious amounts of mousse. Zoolander face is optional, of course.
Advertisement - Page continues below
3. There's a good chance that those who start won't finish
If you fail to prepare, the old saying goes, you must prepare to fail. The Dakar adds its own addendum to this, which is 'You should probably prepare to fail anyway, mon frere'.
Last year, nearly two thirds of entrants actually made the entire race distance. That's a good turnout by Dakar standards; in 2019, it was a bit over half, in 2006 it was two out of five at best. In 2005, not even one in three made it. Same goes for the year before, and 1998... and 1990. Something of a theme here.  
In 1987, not even a quarter of starters managed to finish, while barely one in five finished the '86 event.
Then again, as an event director once said, "if everybody finished the race, it wouldn't be the Dakar".
Top Gear
Newsletter
Thank you for subscribing to our newsletter. Look out for your regular round-up of news, reviews and offers in your inbox.
Get all the latest news, reviews and exclusives, direct to your inbox.
4. Riders and drivers travel for twice as long as an F1 race... to get to the start line
Watching Dakar daily highlights and recaps, it's easy to assume that the racers start the race from just outside the bivouac, then pull up at the finish line to a waiting team, a warm welcome and some cold drinks. Er, about that.
A couple of years back, a TV crew filmed motorbike rider Daniel Sanders as he calmly explained that the Rally's first day called for a 2:30am wake-up call, a four-hour commute to get to the start of the stage, then a full day of racing, navigating and concentrating from there. And that was day one.
5. There's a lesser-known, even harder way to do Dakar
Competing in the Dakar is hard. So far, so obvious. Competing on a bike is harder still. Well of course it is – you're standing up and balancing on the foot pegs for hours on end, exposed to the harshest of elements, constantly picking lines across every kind of surface that strike a compromise between competitive pace and coming home in one piece.
Now imagine doing it all on your own. Just you, your bike, one box of tools to fix whatever breaks. And it will break. Or you will.
Originally called the Malle-Moto – Malle being French for box, trunk, or case and Moto being rather self-explanatory - the class now known as 'Original by Motul' is an effort to bring the original amateur, adventuring spirit, which was the impetus behind Dakar, back to the Rally.
6. If you want to do Dakar, you probably can... at least start it
To enter a car, buggy, quad or side-by-side, you need an international race licence from the FIA or FIM, the five-figure sum to enter (which does include quite a bit of legwork from Dakar's end of things, to be fair) and the ability to take a rather extended Christmas break. That's basically it. Obviously, you'll need the driving talent to attain the aforementioned licence, the cash to buy a racing vehicle of some description – as well as the tools and spares to fix it – and the kind of mind that relishes running a two-week gauntlet in the middle of the desert. No, after you.
Want to do it on a bike? Well, you say that. The reality of the situation might set in a little sooner and harder than you were thinking, but let's assume you know what you're getting yourself in for. So, to enter Dakar, you'll need to be a bona fide rally raid rider already, and have finished other international rally raids in the past.
7. Can't finish a stage? You're out of the race
Given how Dakar started, its abiding spirit of adventure and the easy camaraderie between competitors, it almost comes as a shock to find that Dakar's organisers are actually real sticklers.
Let's say you're having an amazing rally. Leading the pack after 10 stages by a matter of hours, not minutes. Then you stuff up your navigation on stage 11 and spend so long trying to get back on course that you don't make it back by the time that stage closes. Well, chin up – you'll just make up the places you lost today when you're back on form tomorrow.
Nope – you are out of the running entirely, sunshine. If you don't finish every stage, you're out. If you're not at the start line when you need to be, you're out. Car broke down and you caught a lift back to the bivouac on the sweeper truck? Try your luck next year, bud.
A great example of this was on the second stage of Dakar 2022, when a broken differential took American T3 class driver Seth Quintero out of contention entirely. Dakar's rules have been tweaked a bit recently, so Quintero was able to still take part in the following stages, rather than being out of the race entirely – but he would be out of the race in terms of an overall result.
Quintero had won the first stage, then washed out of the second, and his Dakar dreams were over for another year. So he did the only reasonable thing and won the next 10 stages on the trot, for a total of 11 wins from 12 stages. But didn't win the Dakar.
8. The huge altitude in the South American-based Dakar races meant drivers and riders would do high-altitude training
Back when Dakar was a South American affair, the huge elevation of the Andes and Atacama pushed an already arduous race to the extreme. On average, engines were about 20 per cent down on power due to the lack of oxygen at those altitudes. And if you're familiar with human biology, you can probably suss out the rest.
So to combat the added battle of breathlessness, along with everything else the Atacama could muster, riders and drivers would train at altitude to acclimate themselves to operating in a low-oxygen environment. And yes, we're talking about the same sort of thing people do before trying to summit Everest.
9. It can take a month or more to recover from a single Dakar Rally
Only a special kind of idiot would say that race drivers aren't athletes, and even they would probably admit the error of their ways after watching a single gym session for a top-tier driver in any racing discipline. So to then think about the specific training for those whose entire job is a single-driver endurance race over the course of two weeks and thousands of miles... well, let's just say they're pretty fit.
And yet even for top-tier riders and drivers – each specifically and intensely trained ahead of the race – it can take more than a month to recover from the ordeal.
10. A single manufacturer won 18 times... in a row
Quick question: what's the most successful manufacturer to ever compete in Dakar?
Nope, not Mitsubishi, even with its incredible run with the Pajero Evo. And no, not Kamaz, either, even though the truck category basically belongs to them. Not Honda, Yamaha, BMW, Peugeot or any of the standout competitors throughout the Dakar's long history.
Because none of these brands, storied as their histories might be, have ever won 18 Dakar titles in a row – but KTM has. That's against the industrial might and incredible engineering of Honda, Yamaha and BMW, and the 22 combined wins they have across decades of competition. Honda managed to end the streak in 2020, doubling down in 2021 and conceding the crown to Gas Gas in 2022. So, if anything, KTM is in something of a drought. Well, if it lasts 18 years, the team will have some idea of what that feels like...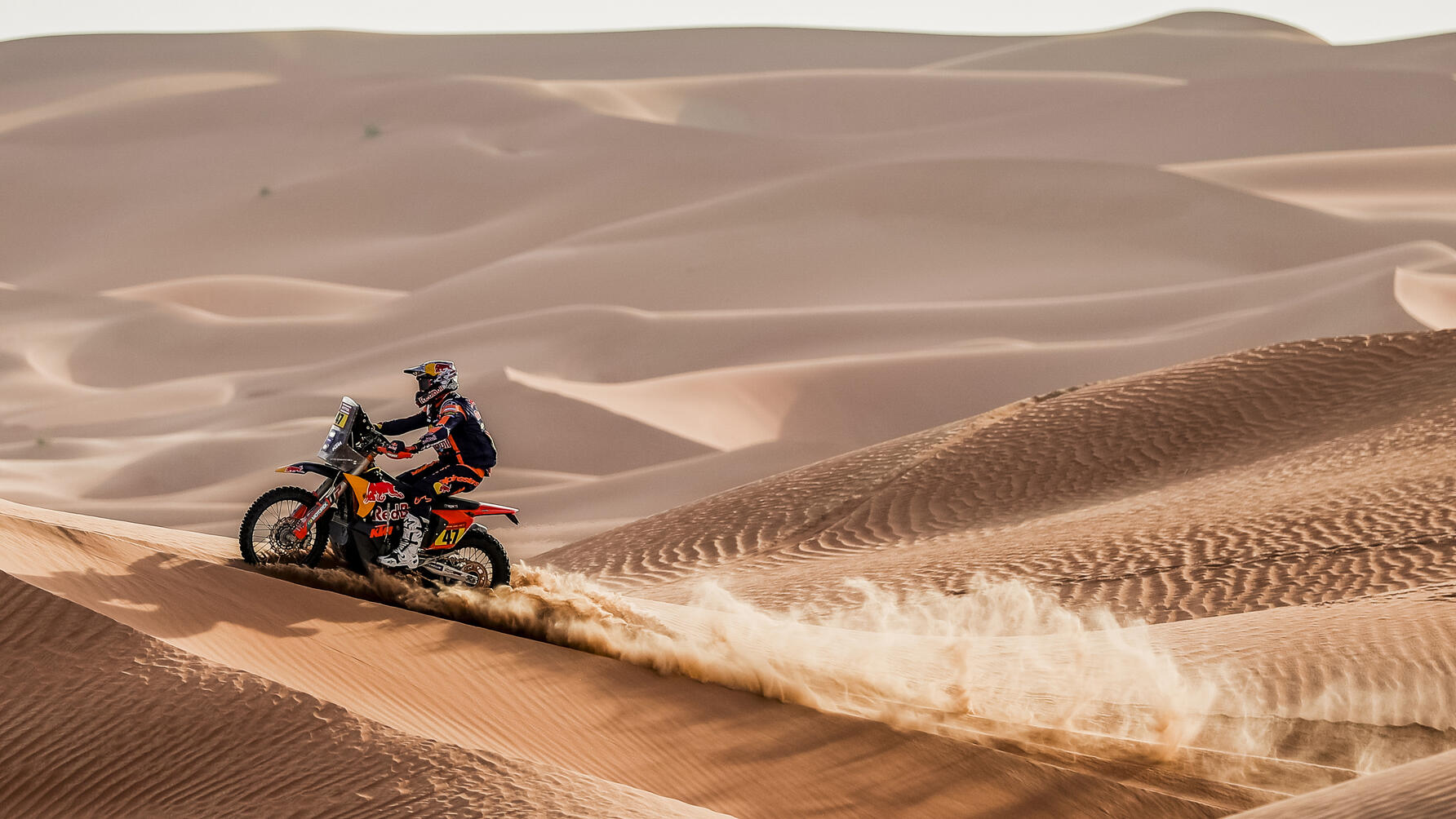 11. One year, the rally-leading car was nicked. Well, we think
In 1988, Ari Vatanen was leading Dakar in Peugeot's 405 T16 as the team parked up for the night in Mali. Come morning... well. There's footage of Jean Todt – at that time team boss of Peugeot Talbot Sport – describing how someone, "apparently a European", went up to reception at the hotel he was staying at and "asked me to come by taxi in 15 minutes with a sum of 250,000 francs". We're not sure if the team budget factored in contingencies like this, but Todt and the team did eventually get the 405 back – just not in time to avoid Vatanen's disqualification from the 1988 event.
As Ari said at the time, "the whole story is just incredible; it's really like in a film".
12. Broken down? Better get on the tools, then
As much as the splashings of logos and serried ranks of professional drivers (and handlers, mechanics, cooks, media and who knows what else) might make it appear, the Dakar is still first and foremost about pitting the individual against the near-impossible. If the drivers and riders who work for a big corporate team had a team of mechanics on hand throughout the rally, that'd be against the spirit of Dakar. It'd be an advantage that the organisers consider unfair, for one, and there's the risk that winning the Dakar would just be a case of how many parts you could throw at whatever you were running.
The answer is as simple as it is severe: when something goes wrong, if you can't fix it yourself, you're out of the race. There are some concessions, of course – other competitors can stop to help, which is partly why you'll see professional teams run three drivers/riders – but however deep the factory support team is, they'll only be able to help once you finish the stage.
13. There are marathons within the marathon
You know how we just said that even the professional Dakar racers can only rely on their factory support once the stage is over? Yeah... it gets worse.
Dakar's Marathon stages are, in essence, two consecutive days of rallying combined into one 'stage'. Which means, as per Dakar's regulations, that competitors aren't allowed to have any support from their assistance vehicles during that time. It's there to help level the playing field between amateur entrants and cashed-up factory works teams.
Back in 2005, the organisers also came up with the 'Super Marathon' stage, where competitor vehicles are impounded as soon as they reach the bivouac. This means that even the drivers and riders in three-strong factory teams couldn't help each other repair their vehicles in the bivouac overnight; if it was broken, it had to be fixed on the clock.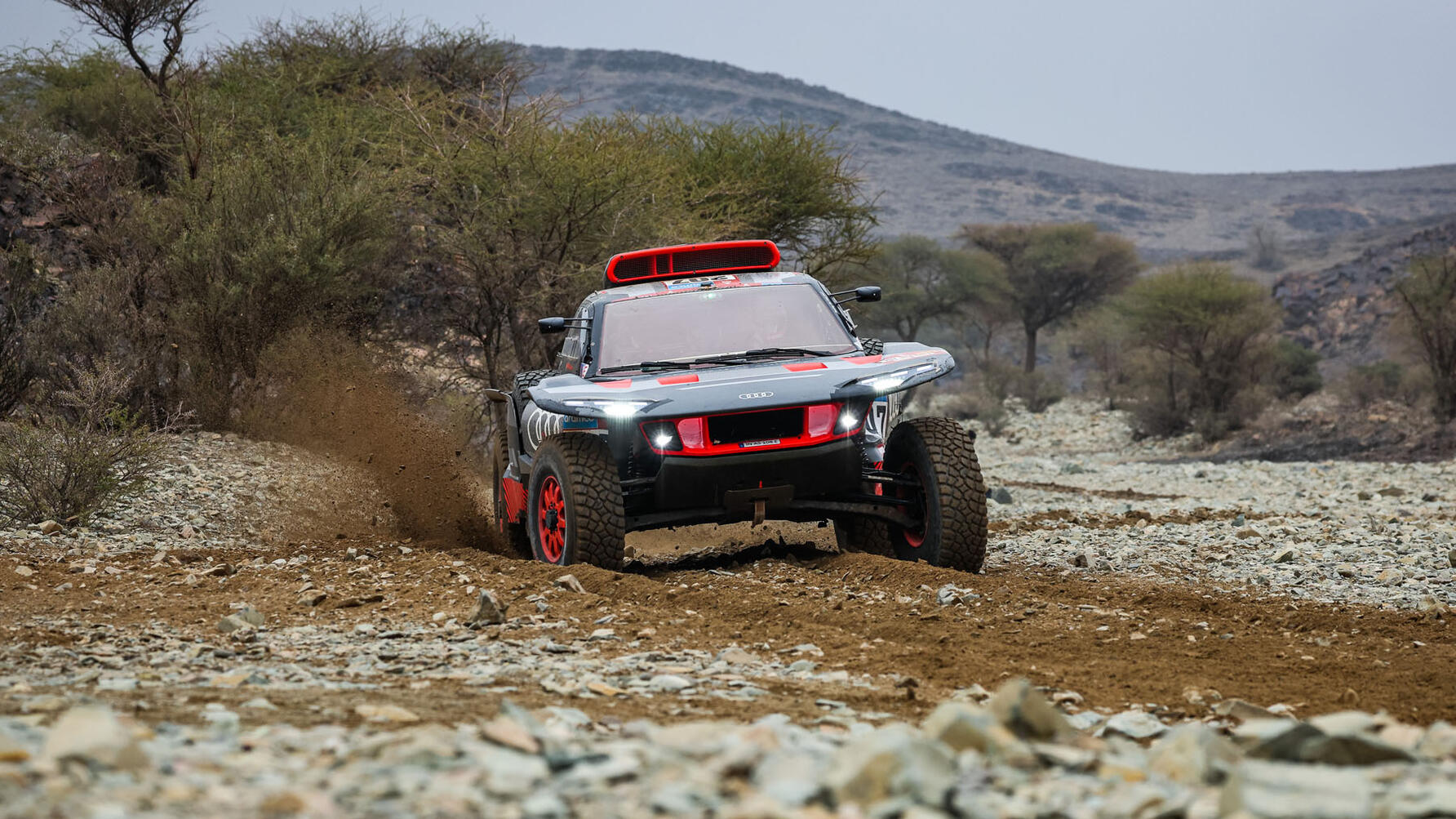 14. There are speed limits. No, really
The sight of Jan de Rooy's twin-engined DAF hauling all kinds of derriere across the desert was amazing, no doubt. And if you've not seen it, just look up his name, Dakar and 1988. We'll wait.
So, we can agree that's a sight to behold. But that wondrous, crazy tilt at the horizon – at a velocity that, very plainly, not even a rally homologation special could match – also came with serious repercussions. As in the worst kind.
It makes sense, then, to put some sort of cap on the maximum speed trucks can reach during the rally. At 140km/h (87mph or so), it's still faster than trucks can go pretty much anywhere in the world, just without the huge increase in momentum that 10 tonnes of truck carries at more than 120mph.
Even the top cars and motorbikes are now limited to 170km/h (106mph or so) and 160km/h (about 100mph) respectively, while the T3 and T4 classes are pegged at 130km/h. As well as formal speed limits, the way the courses are now mapped out favours navigation and carrying good speed through technical sections, rather than who can put down the biggest hammer in a straight-line drag race.
15. Even in Dakar terms, some years are properly hard
The Dakar Rally's been accused of a fair bit over the years, but never of being particularly easy. So what does it mean when you hear that some years are particularly hard?
Well, in 1994, the organisers decided that the race shouldn't finish in Dakar, but instead race all the way from Paris to Dakar... and back again.
Whether that was easier or more difficult than the 1988 race, where competitors were sent out on a leg that earned the title 'The Hell Stage', is really like wondering if it's easier to walk without your left or right leg. In the Saharan sands between Djanet and Djado in Algeria, the race became a test of how fast competitors could dig themselves out. A third of all competitors got stuck in the sand, and even the refuelling trucks couldn't make it. In the end, the race organisers abandoned the entire stage.
But the toughest year in Dakar is obvious – 1986. Not only was it the longest Dakar ever, covering some 9,300 miles, it had one of the longest special stages ever undertaken – at more than 1,000 miles by itself. But as much as organisers push the limits, nature enforces them; a massive sandstorm swept through the Sahara, swallowing up the rally and forcing four out of five competitors to retire. It also caused Dakar organiser Thierry Sabine's helicopter to crash, killing him, his pilot, a French singer (and Dakar competitor), a journalist and a radio engineer.
16. A coin flip once decided the winner
In 1989, Peugeot Talbot Sport team boss Jean Todt didn't want his level-pegging and front-running drivers to keep duking it out and risk the manufacturer victory. So he flipped a coin to see which driver would take the win. It was Ari Vatanen, over Jacky Ickx.
We wonder if Ari's stroke of luck in 1989 made up for... well, whatever happened in 1988.
17. Even a lot of the original Dakar races didn't finish in Dakar
When Dakar was forced to find pastures... well, not greener, but 'ones without the direct, immediate threat of terrorists' doesn't exactly roll off the tongue, does it? In any case, when Dakar took its show on a world tour, the part that stuck in most people's craw was some variation on, 'But it's called Dakar... and it's not going to Dakar anymore'.
Seems fair enough, doesn't it? Well, allow us to be the pernickety types you know and... let's say love, and point out that it was hardly a new phenomenon.
The 1992 Dakar basically followed a line straight down the centre of Africa, from Misrata in Libya to Cape Town in South Africa. The 1994 edition did go to Dakar, but then went back to Paris. So it probably gets a pass. As do the 1995 and 1996 events, even if the rally left from Granada. Oh, and the 1997 race too, where it left from Dakar, did a bit of a loop, then came back. In the 2000 race – which you might recall as the one where competitors were airlifted out of Niger due to some concerning threats – the finish line was near the pyramids in Cairo, and the 2003 edition also ended in Egypt. So maybe it's OK to let the whole 'race to Dakar' part go, and embrace the kind of Dakar World Tour we're getting instead. Next stop in Australia, then?