Motorsport
The best car collection... in the world?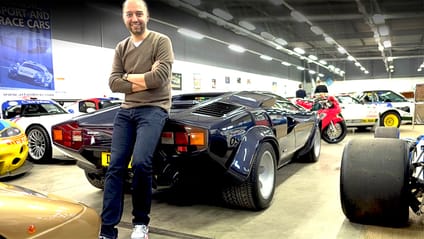 Back in November 2010, Vladimir Putin drove an F1 car. Never one to shy away from a muscular PR opportunity, Putin gave that year's Renault a substantial portion of beans on a secret military airstrip while his aides and various team personnel nibbled their nails to the quick on the sidelines.

"He did very well," remembers Gerard Lopez, who was one of the people charged with offering the big man driving advice. He must have done OK, because a dinner invite followed at Putin's dacha. There may have been vodka involved. "We got on," is all Lopez will say.

Words: Jason Barlow
Pics: Justin Leighton

This feature first appeared in the May 2012 edition of Top Gear magazine

Advertisement - Page continues below

Who is Gerard Lopez? If you really know your F1, you'll recognise the name as belonging to one of the co-owners of a venture capital outfit called Genii Capital, which bought a percentage of the Renault F1 team in 2009, before moving to 100 per cent ownership a few years later.

For 2012, the team is now Lotus F1 (though still powered by Renault), and, with Kimi Räikkönen and Romain Grosjean, is currently looking very racy indeed. Lopez also sits on the Group Lotus board - though that's a wholly separate entity - and has significant interests in 60 other companies.

"Some people are too afraid to take risks," he says. "I'm afraid of not taking them.
I'd hate to miss out on something." Lopez, 39, speaks softly and moves with a stealthy low energy. Born in Spain and educated in the US, he's fluent in seven languages.

He had a pile of job offers before he'd even finished his second year at college. This is a man who has dinner with the President of Russia, breakfast with Bernie Ecclestone, and can spot a smart idea the way a hawk can spot its prey in a field four miles away. He's also the sort of finance figure that die-hard racing fans think is polluting Formula One with their unromantically hard-assed business approach to the world's greatest sport.

Advertisement - Page continues below

Not this guy, trust me. The F1 paddock has always been full of movers and shakers, and Lopez admits that it's a great place to network and forge new partnerships, especially in the early-stage technology and IT world he specialises in. Besides, F1 is a business, like it or not, though Lopez isn't blind to its vicissitudes. But I seriously doubt you'll find a more committed car guy anywhere else in the paddock or pitlane, and not just in that obvious big-money supercar way.

At the team launch in Jerez in early February, he admitted to me that his latest purchase was what you might call 'rare groove'. "I've just bought a 1983 Renault 11 Turbo from a French doctor," he finally conceded, after I promised I wouldn't breathe a word to anyone. "I'm going to drive over to pick it up personally..."

It'll be joining a collection that's currently hovering around the 85-car mark, which Lopez has invited us to check out.

A few weeks after the team launch, we're on a plane. Genii Capital is based in Luxembourg, in a glassily modernist office building in a nondescript business park. The cars are nearby in a building that hides its treasures well, where they're looked after by a former French racing driver called Florent Moulin.

Lopez picks us up at the airport in his newly acquired Ferrari FF, which, I can confirm, has a surprising amount of legroom in the back. He drives it beautifully, like a man who's used to wringing the best out of a crazily wide variety of cars.

Just how crazy becomes apparent as he leads us into the garage warehouse. Eclectic doesn't get close; to call it random would be to undersell it. And this is just the ante-room.

Advertisement - Page continues below

Housed within are three Ferraris - a 365 GT 2+2, 330 GT and BB512i - a Jensen Interceptor FF (which coincidentally beat its Ferrari namesake to the all-wheel-drive GT template by 45 years), a 7.0-litre Lister Jaguar XJS, a Maserati Ghibli, an oddball curio made for the 2003 French film Michel Vaillant, an original Clio Williams, the last-ever Lotus Esprit Sport 300, and a gorgeous '68 Cadillac Fleetwood, with heated seats that adjust their temperature according to what's going on outside.

The engine and transmission for a Bugatti EB110 sits in a huge crate. Standing sentinel over it all is an enormous, seven-tonne Ford F350 pickup, powered by a 6.0-litre Duramax turbodiesel. A wolfish grin spreads over Lopez's face as he recounts his adventures in it. "A lot of fun," he says.

Go through another door, and prepare to rescue your jaw from the floor. There's a Mercedes McLaren SLR, a Porsche Carrera GT, an Alfa 8C Competizione Spider, a Ferrari 612 and 430 Scuderia, a Nissan GTR, an Eighties Aston V8 Vantage 6.3 and the last Lamborghini Diablo 6.0 off the line.

Advertisement - Page continues below

But there's also a Lambo LM002 (the last of the 300 made), an '84 Countach QV, a late-Sixties Camaro SS, a Ruf Porsche turbo (Alois Ruf is a friend), a Corvette Stingray, an AC Cobra 427, a BMW E30 M3 Evo, the last DTM M3 that ever raced, a Group 4 Lancia Stratos, a 2000 Oreca LMP1 car, a 2007 Merc C-Class DTM, Chris Amon's '71 Matra, and, you know, some other stuff (including another Clio Williams, which he refuses to sell to me).

Then there's the small matter of the Viper racing cars, including the one Alain Prost raced on his 50th birthday. Apparently, 13 per cent of total Viper race car production is here, and though they look brilliant, that's still an odd fact. Time for the inquisition.

"Well, there's the Le Mans winner, the Daytona winner and the world championship winner here, so there's major provenance," Lopez says. "From a collecting point of view, look at Cobra prices today. This is the most successful American race car of the Nineties and Noughties.

From a personal point of view, they're incredibly good fun to drive. Huge torque, very fast, easy to maintain. They were cheap, though they're starting to go up in value. The fate of many racing cars is that nobody wants them. They'll never be a 250 GTO, but owning a car that's won Le Mans... not many cars can claim that."

There's a handsome smattering of BMWs, including a meticulously restored early Eighties 6-Series ETCC veteran (as raced by Gerhard Berger, amongst others). A new 1-Series M Coupe sits alongside its late Nineties predecessor.

"Yes, I like going sideways," Lopez freely admits," though you have to be careful in the old one... I had one of those years ago. You have a first relationship with a car, and when it goes you start to remember the high points, which is when you realise that a car was really special or not. It's only when you see someone else driving one you think, 'I need this car back in my life.'"

This is what I love about the guy: he's had Miuras (two, in fact), and though his analysis of the Carrera GT is spot-on ("If you work up to it from more ordinary cars, it's a real handful. But if you get out of a serious racing car and into one, it's easier to understand"), it's the 928 GTS that really lights his fire.

He could buy anything, and, over the years, he has ticked plenty of boxes. He co-owns his own F1 team, for God's sake. Yet top of the shopping list right now is a 1983 Golf GTI Pirelli edition. I kid you not.

"I like to use my cars," he tells me. "I'm not interested in whether they break world records at an auction. I really enjoy my cars - I enjoy discovering something I've been looking for. Pay massive money for a car, and you probably enjoy the possession of it more than you enjoy the car itself. That's wrong to me. It's not actually that difficult to find a 250 GTO. All you need is the bank account that allows you to afford it. But it's more difficult to find a pristine Peugeot 205 GTI."

There are other revelations. As we start discussing the car industry, we're well into a Saab conversation before I twig that it was Genii, along with a certain Mr B. Ecclestone, that was briefly in the frame as a potential suitor for the Swedish company.

"Buy a car company? There are two reasons to do it," Lopez begins. "You'd buy it for its sales and P&L [profit and loss], and for its assets. If you can keep the company cash-flow neutral and build up its assets, you're making money, even if it doesn't show at the end of the year. I think that's what might have happened at Saab. It was high mid-market, and a well-accepted brand in the US with good credentials in innovation, safety and performance. Having a recognised brand is one of the key things."

But not the only thing, as Lopez continues. An early investor in Skype, he insists that the car industry is currently poised at an important tipping point. "We're interested in automotive: innovation rarely comes from the big players," he says. "That's true in any industry. For the first time since perhaps post-WWII, there's a climate in which start-ups and smaller companies are in with a real chance of leaving a mark in the auto industry.

"A small company isn't going to go to, say, Mercedes and tell them, 'We've developed a new engine'. But they might go to them with a digital differential, with things that are software-centric. Smaller companies are much better at developing software and interfaces. It's the culture - it's what they do best.

"Look... the multi-media interface in even a car as good as the Ferrari FF wasn't modern even 10 years ago. A couple of smart guys could develop an app that's more modern than that. Because that stuff isn't core to Ferrari. There are lots of opportunities in automotive right now. You can invest a certain amount of money to help build a company, but you don't need to build a massive factory. A young company can make its mark if it can really innovate."

They innovate; Gerard Lopez facilitates. That's what gets you a front-running F1 team and one of the world's most intriguing car collections. But even here, right on the digital frontier, it's good to see some of the big kicks are still profoundly analogue. Lopez's brain might be a giant Pentium processor, but there's petrol in his veins.