Motorsport
Eight of the Bugatti Bolide's most amazing stats
Here are some striking numbers from Bugatti's mind-blowing track star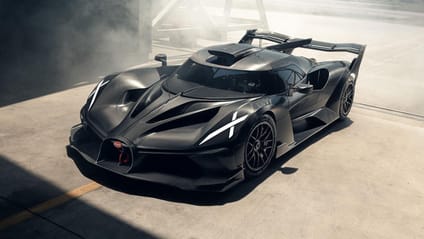 The weight of the production version of the Bolide added almost 200kg to the 1,260g prototype. Bugatti tells us this was to comply with customer comfort requests and FIA regulations.

That's like having an upright piano strapped to the prototype. Despite this, the Bolide is still light, with an incredible power-to-weight ratio of 0.67kg/ps. Oof.

Advertisement - Page continues below

It produces 1,578bhp from its quad turbo W16

The prototype achieved 1,824bhp with a car weighing 200kg less. The production version however produces 1,578bhp from that 8.0-litre W16 engine. Still, Bugatti says "driving it will feel like a cannonball ride".

It produces three tonnes of downforce

A front diffuser guides air flow and creates suction, working in conjunction with an adjustable rear diffuser, to develop a phenomenal three tonnes of downforce.

The jewel in the crown, however, is the front splitter – developing spiral air flows and a vortex to keep the rear pinned.

Advertisement - Page continues below

The titanium suspension rods weigh 100g

The titanium pushrods are 3D-printed and weigh just 100g each – the same as two large eggs. And yet they're able to support a mind-boggling braking force of 3.7 tonnes with a printed inner structure.

The rear tyres are 400mm wide

The Bolide's 400mm rear tyres may not be the widest for the marque – that mantle goes to the Veyron at 540mm. But the more compact Bolide's beat the Chiron's 285mm/355mm vs 340mm/400mm at the front and rear respectively, proving that 5mm can make all the difference.

The prototype Bolide is eight seconds faster around Le Mans than a 2020 LMP1 car

In simulations, the prototype Bolide was capable of 3m 07.01s lap time around Le Mans - enough to snatch pole at the 2020 24hr race by eight seconds. No word on what this lesser-powered, slightly heavier car is capable of, but it'll still be... quick.

It can pull 2.5G in the corners

Unsurprisingly for a car destined for the racetrack, the Bolide's cornering forces are fairly extreme. Like, 2.5G extreme.

Advertisement - Page continues below

Only 40 cars are being built

Bugatti is only making 40 examples of this exquisite machine. Each Bolide has a net price of €4m (£3.44m), requires a track and will be delivered in 2024.