Motorsport
Five things we've learned about Brad Pitt's new Formula One movie
Hollywood came to Silverstone for the British GP and it's got us all excited
If you watched the awesome British GP, you would've seen the usual and familiar 20 F1 drivers line up on the grid. But there were also two new faces on the grid you wouldn't have seen on the TV coverage. One of which was some bloke called 'Brad Pitt'.
Yep, the two-time Oscar World Champion (that's what they call it in Movieland, right?) joined Max, Lando and the rest of F1's 200mph gang as part of filming for an untitled fully fledged Formula One film.
Advertisement - Page continues below
It's a big budget affair too. Apple Studios are coughing up the cash to make the most authentic F1 film possible while he of sickeningly realistic action sequences and Top Gun: Maverick fame, Joseph Kosinski is in the director's chair. Oh, and seven-time F1 champion Sir Lewis Hamilton is the film's producer – so it's no shonky film studies project.
As you can imagine, details on the film remain tight-lipped. But when you have nearly half a million people watching you at work, it's easy to pick up some details. So here's what we've learned so far.
Sonny Hayes is Brad Pitt's F1 alter ego
59-year-old Brad Pitt (the first rule of Paddock Club is you do not talk about Paddock Club) will play Sonny Hayes, a washed up racer who comes out of retirement to take on the young pups. But given that he's old enough to be Oscar Piastri's grandad, we really hope he's been doing some neck training for those g-forces.
Speaking to Sky Sport F1's Martin Brundle, Brad shone some more light onto the movie's plot.
Advertisement - Page continues below
"I [Sonny Hayes] would be a guy who raced [F1] in the 90s. In fact, I would have been on the track with you at some point," Pitt told the former F1 driver.
"But he [Sonny Hayes] has a horrible crash, kinda craps out and disappears, races in other disciplines. And then his friend, played by Javier Bardem, is a team owner of a last placed team. They are 21st and 22nd on the grid, they've never scored a point, but they have a young phenom [Joshua Pearce] played by Damson Idris and he brings me in as a kinda Hail Mary and hijinks ensues."
They're really in the paddock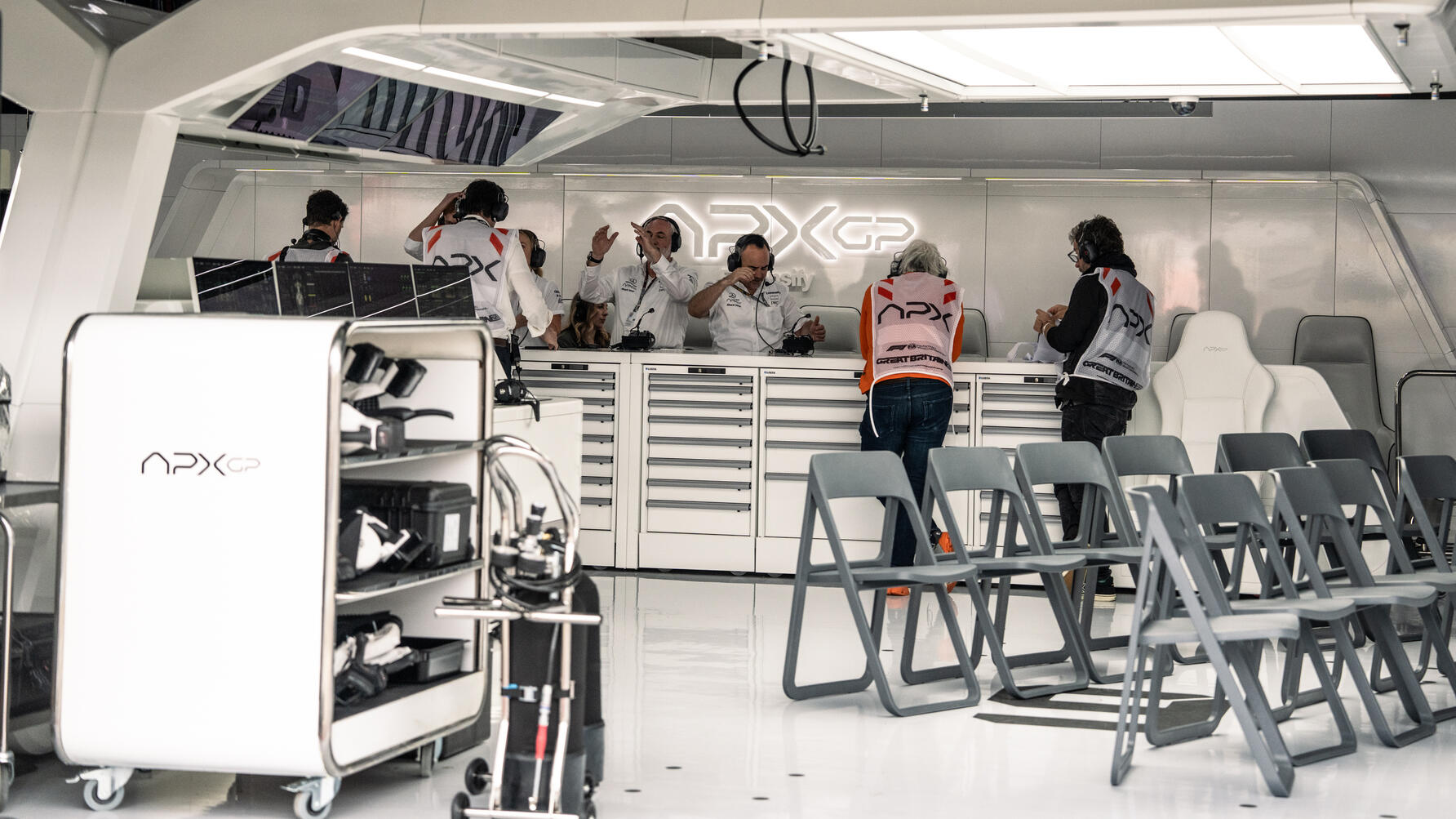 For the whole of the race weekend, Brad's fictional 11th team 'Apex GP' were present in the pits and paddock. Sandwiched between Ferrari and Mercedes, they had similar garage furniture to all the other teams, including pit stop rigs, spare tyres, wheel guns, timing screens and most importantly tables for team managers to bash their fists on when it all goes wrong. We're told people from F1 have been consulted at length to make sure that what is depicted on screen is as authentic as possible. All the way down to the photographer's tabards.
The movie cars aren't actually F1 cars
Throughout the weekend Brad and Damson were out on track between sessions getting shots. This is when we first saw Apex GP's black-and-gold liveried car – and it's more Rich Energy than JPS if we're being honest. But it's also not a bonafide F1 car, rather a modified Formula 2 car with F1 styling cues created with assistance from Mercedes' technology division and motorsport gurus, Carlin.
Top Gear
Newsletter
Thank you for subscribing to our newsletter. Look out for your regular round-up of news, reviews and offers in your inbox.
Get all the latest news, reviews and exclusives, direct to your inbox.
Extras were all over the circuit
It was easy to spot the actors vs actual pit crews as during qualifying a few of them were watching the action from the sidelines. That's where we got a better look at their flimsy race suits, which, even though they had proper sponsors on them, didn't look like they'd pass any fire safety tests anytime soon.
But they weren't the only ones on camera as you may be in the film too. See, if you were one of the 480,000-ish slightly sunburnt spectators trudging around Silverstone across the weekend to witness the crazy world of Formula One on British soil, you are technically an extra in the film as the whole place was a live movie set. So if you were there, update your IMDB profile now.
They're going to be at other GPs
We're told that the film will use a mixture of real scenes shot at races as well as during private filming days. However, these will be bolstered by actual F1 race footage too. But as it depicts a season, don't be surprised if you see Sonny Hayes pop up at a few more races. We're not sure when you're allowed to vote for him as Driver of the Day though.
Has this got you excited for a Hollywood F1 movie? Let us know in the comments below.