Motorsport
How riders train for the TT when the TT's cancelled
Davey Todd and Glenn Irwin had just got started with Honda when THE THING struck
"It's devastating, to be honest, as I imagine it is for all the riders. You do all the work in the off season, get really excited about the start of it all, and then it gets called off. But obviously safety is paramount – the safety of everybody in the world."
Davey Todd has been riding at the Isle of Man TT since 2018, but had signed up with one of road racing's biggest names – Honda – for 2020's event. Preparation had been going well until coronavirus took a hold and crumpled up all the things we take for granted.
Advertisement - Page continues below
"It was going along nice," adds Todd's teammate – and another of Honda's new signings – Glenn Irwin. "We had just completed our first Spanish test. We were uninterrupted until our final day, which ended up being when Spanish lockdown began.
"The Guardia Civil finished our test half an hour before the end and hovered around the paddock to make sure the boys were loading the truck up and to ensure we were definitely moving on, though not in an angry way. That was interesting to see: I've never been at a motorcycle track when the police are making you leave because of a virus!"
The pair had been training alongside each other – and their other teammates, which include Glenn's brother Andrew – but are now stuck at home like the rest of us. And just like every other sportsperson on the planet, they're desperately trying to stay on top of their game with limited space and resources.
"I've been riding motorcycles since three or four years of age but for now there's so much uncertainty about when we're going to be on a bike again," Glenn continues. "When are we going to be racing? When are we going to be testing? We just have to be prepared as if it was all to get the go-ahead tomorrow. So that we're ready and haven't just sat on the sofa and expanded.
Advertisement - Page continues below
The location of where you train has changed, but you still train every bit as hard. Maybe even harder
"The hardest bit initially was going somewhere in your house and treating it like a gym; getting off the Xbox and saying 'I'm just going to go and get my heart rate to max in the other room'. We're used to going to the gym and putting in a proper workout there and then coming home.
"The weather has been phenomenal so my cycling has gone through the roof compared to pre-lockdown. There has actually been a benefit to it, for sure, but the biggest negative is that I can't take my son up to my mum and dad's. I've got to explain to him why he can't see his granny and grandad. You can't continue to do everything you were doing. But while the location of where you train has changed, you still train every bit as hard, and maybe even harder."
Davey has been doing something very similar. "I'm trying to get out on the mountain bike every day to get my daily exercise and keep my mind right; to go out on my own and get lost to keep fit and keep myself occupied. There's not much else to be doing at the minute."
Top Gear
Newsletter
Thank you for subscribing to our newsletter. Look out for your regular round-up of news, reviews and offers in your inbox.
Get all the latest news, reviews and exclusives, direct to your inbox.
The launch of a sequel to the Isle of Man TT racing sim is helping, though. "The game helped me so much before going to the TT, so it's always helpful to keep playing the game as it keeps your mind fresh in terms of keeping switched on to the course, knowing exactly all the details and every little bump on the circuit," says Davey.
"I've found it better than watching on-board videos. Your mind can drift off while watching those; you can get distracted and the video still keeps playing, it doesn't make mistakes. Whereas if you're playing the game and lose your concentration, you'll actually crash. You have to stay alert the whole time. Obviously that's the case in real life so it's good practice in that sense. And being able to play as myself in a game is a dream come true for me, I don't think it's really sunk in yet!
"Watching John McGuinness's on-boards is still pretty special, though. I know the likes of Peter Hickman and Dean Harrison are quicker now, but the lines John takes are something different and his course knowledge and experience is obvious. Who doesn't look up to John? He's been an idol of a lot of people for a long time and I'm fortunate enough that he's actually helped me out the last year or two. I'm quite fresh into road racing, but it seems riders have a lot more respect for each other than on circuits.
"It's partly the danger of doing it – the risk – but also how difficult it is doing the TT itself. On a short circuit it's a lot more cloak and dagger, I guess. Everyone is against each other, everyone is a rival, and you don't want to give anything away."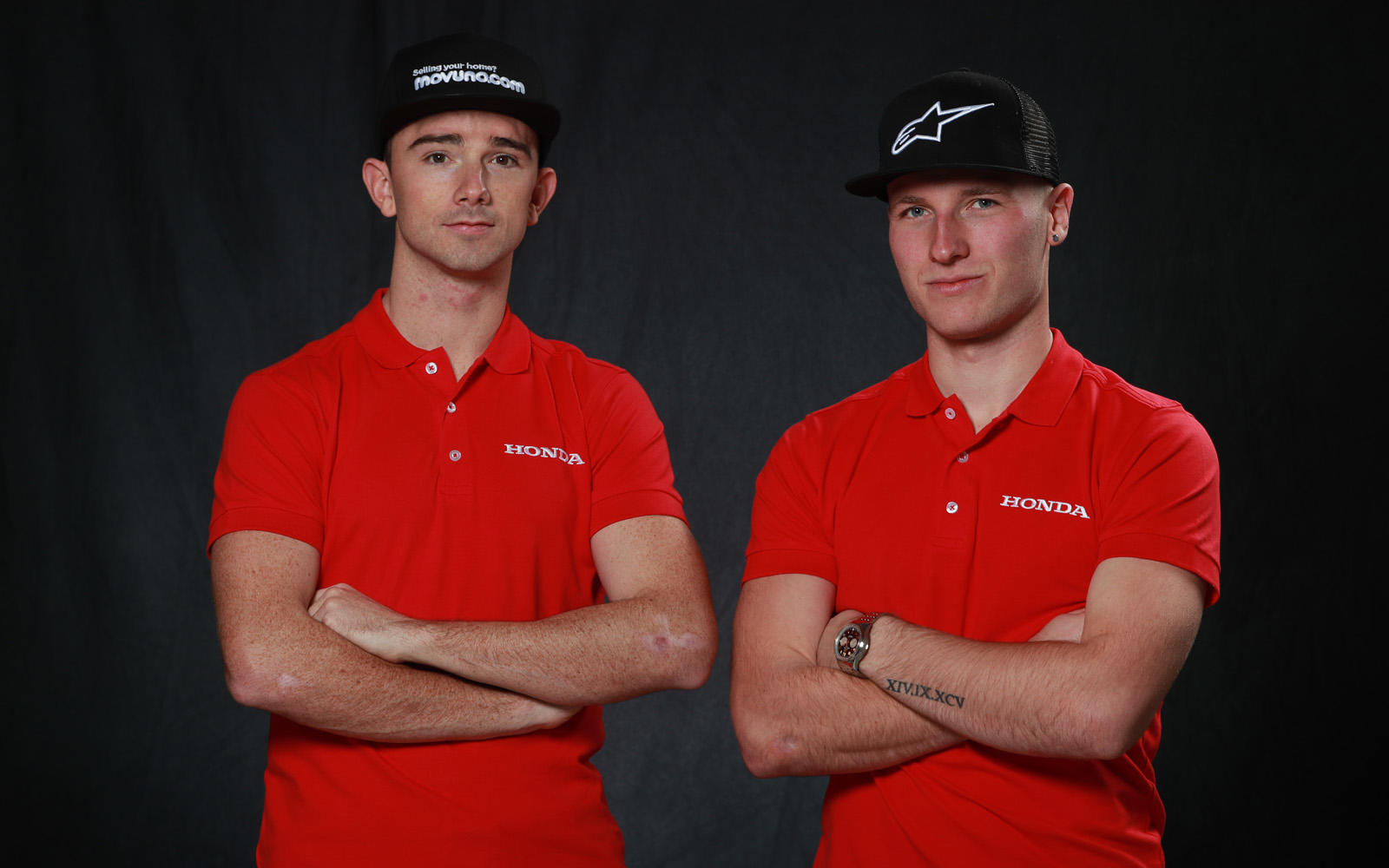 Glenn (left) and Davey (right)
TT 2021 will be Davey's third time competing in senior races on the Isle of Man, but it'll be Glenn's delayed debut. "We've already spoken quite a bit about it," says Davey. "To think I'll be passing on my knowledge onto someone else is weird, because I still feel like a newcomer myself. But I've been passing on what I can – methods of how I learned, how I did everything – to enable him to learn it the best he can to enable him to go and have a safe first year at the TT which is the main goal."
Glenn's not perturbed by TT 2020's cancellation, though. If anything he's looking at it from a hugely positive angle.
"I'd obviously followed the TT for years and dreamed of winning it, but I couldn't ever see me doing it. Wherever I was in my racing world I just couldn't see a path as to how it'd happen. But suddenly it all happened and I've been having to learn the track. I'd been completely blind and didn't have a clue where the TT went apart from maybe the first two or three miles.
"And that homework won't stop: it's not like 'I've done that and we'll put that to bed'. I'll just start that homework again but I'll have a really solid foundation, you know. I'll be able to take more in because I've stored everything I've already done further in the back of my brain.
"I do see that as a real positive to be truthfully honest. As a racer you always set yourself targets, and in my own head I know when I want to be successful at the TT, and I'll never reveal that. That year and date just has to be put back a year now. Which is absolutely fine when you see the likes of Anstey and McGuinness who aren't far off being 50 and are still kicking at the door of victories and podiums!"
While both will also be competing on circuits in Honda's British Superbikes team, it's the TT that still widens any bike racer's eyes the most. "There's something about the TT that's just special," says Davey.
"It can't be comparted to any other course. The length of it – 38 miles – and the amount of work it takes to go there and race at the TT, never mind race at the TT successfully… it takes such a huge amount of work that it's hard to understand from the outside. Just completing a lap gives you an amazing feeling, not only because of the risk and danger but because of how much work you've put in.
"I come from a Motocross and Supermoto background. I like close racing and I like banging bars with other riders. You go to the TT and it's a time trial, you're on your own for most of it. It's a bit of a weird sensation. But instead of battling against other riders, the TT's about battling against the circuit. I know many people have said that, but it really is a fight against the course."
That's not to say he hasn't enjoyed some great scraps with competitors when they've ended up bunched together for sections of the island.
"I've had quite a few really good battles and one in my first year stands out to me," Davey continues. "It doesn't happen very often because the riders are spaced out. But on the last lap of a Supersport race in 2018, there was four of us stuck together for half a lap: myself, Sam West, Adam McLean and my late teammate Daley Mathison. All four of us battled like it was a short circuit.
"It's usually the norm to let the rider who's caught you up go past, because he's already ahead of you on the timesheet. But all of us were relatively new to the course and so we just went at it for half a lap and it was so enjoyable. It put a smile on all of our faces."