Motorsport
This is Mazda's rotary powered RX-7 Group B car
...but it never raced. As the RX-7 turns 40, TG celebrates one of its highlights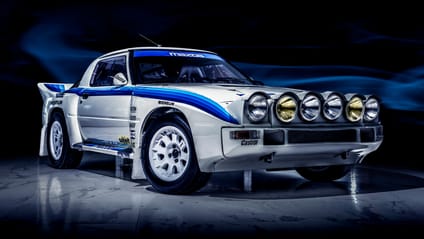 Well, there was a period in rallying known as Group B. You may have heard of it. It was four years of utter madness where fans, ambitions, politics and cars collided to provide one of the most unforgettable eras of motorsport ever. 

Some call it 'The Golden Years'. We simply like to call it the time when rallying was completely, utterly, awesomely mental. 

During Group B, cars would catapult themselves into roads filled with seas of spectators – who'd only move when the front bumper of their favourite driver skimmed their shins. It was very fast, very dangerous, and very cool. It also imprinted evocative imagery onto a whole generation with wide-arched and wild Lancia Delta S4s, Peugeot 205 T16s, Audi Sport quattros, Ford RS200s and Austin Metro 6R4s all making noisy, sideways and very airborne appearances. 

But did you know Mazda had a Group B car? No? Well, it's that wide, lighty and stripy thing above. And don't flagellate yourself for not knowing about it, as it came to the party late and was overshadowed by all those other crazy, more powerful and successful cars. 

The saddest part of this story, is that very car above didn't even get to race. Ever. The tragedies of Group B caught up with the unrestricted series causing it to be canned before this plucky Mazda could ever turn a wheel. And to this day, it's still never turned a wheel in anger. 

Words and Photography: Rowan Horncastle

Advertisement - Page continues below

Interesting. But you still haven't answered the question: what is it?

Forgive me. It's a 1985 Mazda RX7 Group B Works Rally Car. Chassis number MRTE 019, to be precise. 

Looks very cool. But why did Mazda get into Group B?

The initiative for Mazda to join rally's big league was undertaken in 1984 by Mazda Rally Team Europe, under the management of Achim Warmbold in Belgium. The mission they chose to accept, was to create the first competition specification rotary RX7 to compete in the elite and very fighty Group B championship. No small task, that. 

Advertisement - Page continues below

How many RX-7s were made?

Group B gave manufacturers permission to be as mad as they liked, so long as their creations were based on a road car of which 200 or more were made. Because Mazda had already achieved homologation status in Groups 1, 2 & 4, it only had to homologate twenty cars for Group B. So, these 20 race cars produced for Group B were known as the 'Evolution' models and re-engineered under homologation number B-255.

Of the 20 homologation cars, it is thought that only seven were fully assembled ready for competition between 1984 and 1985, with the remainder being left as parts for spares.

Yes, between 1984 and 1985. And even though the cars weren't as powerful, technologically advanced (favouring a naturally aspirated engine and rear-wheel-drive chassis, rather than forced induction and four-wheel-drive) or potent as the likes of the S1s, T16s or Lancias, Mazda did achieve a creditable 3rd place in the 1985 Acropolis Rally thanks to hot shoe Ingvar Carlosson.

Well, even though Group B reinvented rallying not just from a technical standpoint, but also a popularity one (at the time the World Rally Championship was bigger than Formula 1), Group B had to be put down due to its inherent danger. 

Like all the other teams, Mazda was left with cars and no championship to compete with them in. 

Of the twenty homologation car, only seven – so it's believed – were actually assembled and one was crashed. So, there's only 19 in existence. But the car above, built in June 1985, never got used. It missed out, had no opportunity to shine and was just left sitting in Mazda Rally Team Europe in Belgium depressed for years. 

In the early 90s, the car along with many spare parts and a number of other chassis' were sold to the Swiss Mazda Importer in the early 90s. The remaining cars were sold off as piecemeal for use by privateers and were either stripped, or modified over successive years to compete in a range of events like Rallycross. 

A fastidious rally fanatic called David Sutton. A man obsessed with extreme rally cars and tracing the car's history and parts lists to finite detail. 

See, once the Swiss importer got his hands on MRTE 019, it was displayed in Switzerland for a number of years, before going into the Swiss owner's private collection, where it remained, unseen, unknown and unused.

The car was sold in the early 2000s and made its way to Scandinavia, where it remained untouched. Again. Until David got his hands on it and broke the car down to make sure it was exactly as it was when it came out the factory. 

Advertisement - Page continues below

A minor six-month restoration just to make sure everything was literally perfect. It's minor by nature, as the car had never been used and still has the original hand drawn markings on the underside and around parts.  

David actually had to finish bits off. For instance, a big brown paper envelope was delivered with the car. It was the original rally pack with all the original decals as they were never put on the car. Using homologation papers and historic photography, David spent ages making sure every sticker was placed and positioned perfectly. 

Obsession doesn't even begin to encompass David's philosophy when rebuilding a car. 

"I'm painful about detail," he says. "I mean, when I buy a car, I literally take it apart and put it back together again, so that everything is right. Even on this car, someone put the wrong cable ties in it, so I went back and researched what the right cable ties were. I bought them from the US and put them on so they matched the original cable ties that Mazda Europe used in the day."

A factory Mazda peripheral ported 13B twin-rotor engine. A Wankel that's good for 300bhp and screams round to superbike RPMs. For better weight distribution, the motor was shifted four-inches back from the production car and fitted with a dry sump system. Beneath the plenum, you'll see an MRT-modified Weber 51 IDA carburetor delivering the fuel and air mixture straight into the MFR (Mazda Factory Race) rotor housings via their peripheral intake ports. Rotary porn. 

Advertisement - Page continues below

A spare wheel, dry sump oil reservoir and fuel pumps. The engine oil is cooled through a core which is positioned in the rear wing to pick up air flowing over the car and that swollen ducktail spoiler. The thick fuel lines run directly through the cabin, between the two front seats. Which is, um, dangerous. But also very Group B.

Group B was an era of experimental materials, and MRT did a lot of work to the RX-7's body. But it was through old school wide-arched fibreglass slung over a steel shell. With new, bigger fenders front and rear, a fibreglass front cowl panel and a vented fibreglass bonnet, it's more aggressive than standard. Oh, and there's that rear wing. And all those light pods. But all in all, the RX-7 easily tips the scales at less than 1,000kg. 

Aren't they just? Enkei magnesium numbers with Michelin TRX. Want.

What's going to happen to the car now?

David is unsure. He's stuck between showing the car off and running it, which means the scratch plate's virginity would be taken as the car is currently as mint inside, outside and underneath as it was in the mid-eighties. So currently, he just likes to pull it out the garage, sit outside with a glass of wine and look at it. 

1979

You're not wrong. Just hit play to find out. But starting it is a unique and archaic multi-step process requiring dexterity and much fuse pushing. So to save you the hassle, all you need to do is click play to get to the good bit. Noise. Lots of Group B goodness. Nothing quite hits the ears like a rotary. We only wish you could smell it, too.