Motorsport
Monaco GP: what does the track look like normally?
The Monaco GP circuit is familiar to millions, but what does it look like when the F1 circus moves on? TG takes you on a tour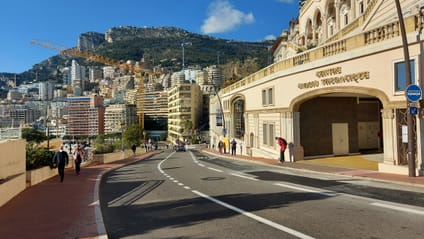 The Monaco Grand Prix track is iconic. Completely unsuitable for modern F1 racing, but iconic. Its tight streets have played host to Formula 1's most recognisable spectacle virtually every year since the sport's inception in 1950, and while overtaking is nigh on impossible these days, the on-board footage from qualifying is always spectacular. Long may it be so.

However, it's easy to forget that when F1 packs up its things, Monaco goes back to being… a normal place. Surrounded by steep hills and inhabited by the ultra-rich, sure, but a normal place nonetheless.

Which got us wondering: what does Monaco actually look like when it isn't festooned with grandstands and barriers? We ventured out for an access-some-areas, not-yet-a-track, track walk. Let the tour commence…

Advertisement - Page continues below

The focal point of F1's most prestigious venue looks… pretty ordinary, doesn't it? Overlooked here by some (no doubt very expensive) apartments and a branch of Wally the yacht makers, the start-finish line is a permanent feature on the asphalt of Boulevard Albert 1er, as are the grid slots right back to P20 and beyond.

Sainte Devote looks claustrophobic on the telly, but in reality it's a very green, very busy intersection chocker with Monaco's two most popular types of vehicle: supercars and Smart cars. Weird.

Advertisement - Page continues below

And where you're used to seeing a massive bank of Tecpro on the axis of the corner, there lies a paved square and chapel named - you guessed it - Sainte-Devote.

Note also the statue of William Grover-Williams, the winner of the first ever Monaco GP held in 1929, some 21 years before it became an F1 championship race. Crazy to think that was almost a full century ago…

Next we follow the hill up past the Beau Rivage building. The kerb out of Turn 1 (like many of the track's kerbs) survives all year round, which must be great fun if you're a local. The further up you go the better the view of the harbour becomes.

The Budget travel agency looks a bit out of place, mind. A local estate agent - TG is agog to discover - reckons a two-bed apartment nearby with modest floorspace will set you back at least £3.4 million. So it's hard to imagine residents needing a Monagasque equivalent to Ryanair…

Advertisement - Page continues below

A tricky corner in an F1 car, but in everyday life, a taxi rank. Hopefully the cabbies don't pull quite so many Gs…

Perhaps the most well-to-do part of the entire circuit, this. Surrounded by designer shops and plush apartments, the casino itself probably doesn't have any 2p machines. We can't confirm because a fleecy jumper and jeans aren't 'proper attire', apparently.

Advertisement - Page continues below

Another thing you never notice on TV. Across from the square is this picturesque park area, complete with a merry-go-round. Suitable entertainment for anyone who crashes out of the race early doors.

This is the bit of the track where F1 drivers will jink right to avoid bottoming out on the asphalt, although you can't see the hump in the road because it has a restaurant (and many concrete plant pots) on it. The extension to Rampoldi is packed up and stored during race season; can't imagine there are many places where table space is subject to 'if there's a grand prix on'.

Mirabeau corner itself is so tight that a passing Honda e looks a bit of a squeeze, so how on earth an F1 field gets through here at full chat is anyone's guess. Meanwhile…

…you'll vaguely recognise the outskirts of the corner. It's where Nico Rosberg famously 'misjudged his braking', brought out the yellow flags and secured himself pole position for Mercedes in 2014. He was cleared of any wrongdoing by the stewards, but fans' suspicions have never gone away.

Another iconic part of the track, and one of the few places where it's possible (though still incredibly hard) to launch an overtake. The Fairmont Hotel behind has dozens of rooms that overlook the hairpin, and a quick web search reveals a one-night Grand Prix package costs… just over £22,000. Yikes. Although that does include breakfast.

A quick nosy in the car park is required when we spot this Noble V6 Coupe, never before registered according to the 'for sale' note in the window. Anyone want to get a GoFundMe page going?

Mirabeau Bas separates the hairpin and Portier, where you'll find the entrance to the tunnel. Take a left here and you'll be heading in the direction of Lewis Hamilton's apartment. Not part of this tour though, unfortunately.

Underneath the overpass we find our second F1 sculpture. Little is known about it and there's no plaque to explain its significance, although Mika Hakkinen posted a picture of himself sitting in it on his Instagram a while back. Mind how you go, it's a bit of a squeeze…

With building works in full flow, the tunnel doesn't look at its peak right now. Sorry about that. Please fill in a feedback form at the end. This isn't a glamorous place to be at the best of times anyway; its main features including an entrance to a car park and… no, that's about it.

Wait, we forgot the gift shop! Yes, we know the gift shop is normally found at the end of a tour. And no, you may not have another feedback form. Located at the exit of the tunnel, it's full of racing goodies…

…and merch from every team. Though you'll be particularly well catered for if you're a Ferrari fan.

This is one of the most recognisable chicanes in the world of racing, so why doesn't it feel like it? Er, that's because there's a bar in the middle of it.

Another temporary structure of course, this one's ideally placed to serve much of the thirsty folk arriving by boat. Take a walk along the jetty…

…and you'll get an idea of just how much passing trade that amounts to. Disposable income won't be a problem either: anyone mooring up in the marina for the duration of the grand prix weekend will be paying anything up to £64,000 for the privilege.

Moving on. This is Tabac, one of the fastest corners on the circuit and barely wide enough for normal cars, never mind F1's finest. More work is being conducted to build a 300-berth car park, plus museum space to eventually house Prince Albert of Monaco's own private car collection. Fancy.

Next up is the world famous Swimming Pool section. Except, as it turns out, there's not much call for swimming in the depths of winter, even on the south coast of France. So when temperatures drop the venue is turned into an ice rink. Who knew?

Turns 15 and 16 are among the most dangerous on the circuit for F1 drivers. You'll frequently see their wheels grazing the barriers here in their bid to extract every possible millisecond of lap time, but get it wrong and it's game over. As Charles Leclerc (like many before him) found out to his cost in 2021. Without the kerbs and grandstands, you're just going to have to use your imagination here.

Nearly at the end now. La Rascasse features a restaurant of the same, overlooking the very spot where Michael Schumacher controversially parked his Ferrari in 2006 to stop anyone beating his pole time (a stunt for which he was excluded from qualifying). Over the road you'll find a shop dedicated to the sale, charter and management of super yachts. Not the kind of thing you'll find in, say, Margate.

The final corner is named after Anthony Noghes, the man who organised the very first Monaco Grand Prix back in - yes, well remembered - 1929.

It's also home to this statue of Juan Manuel Fangio, the five-time world champion who won the race in 1950 and 1957. Over his shoulder you'll see the entrance into a complex of tunnels that spiral up and out of Monaco's steep hills, like a hidden escape route in Grand Theft Auto V. Only you won't shake off the police in there. So best behaviour, please.

Congratulations! You've reached the end of the tour in record time, and your prize is to meet the local royalty beneath this… dour apartment block? It doesn't look like much, but this is where Monaco's podium celebrations take place every year, in a temporary structure (yep, another one) erected purely to stop champagne getting into the garden behind. Probably.

Hungry after all that walking? Treat yourself to a meal at Planet Sushi (just out of shot). Other purveyors of cold fish are available.