Motorsport
On the road in Hyundai's WRC car
It can do rally stages, but can Hyundai's i20 get its hands dirty in the real world?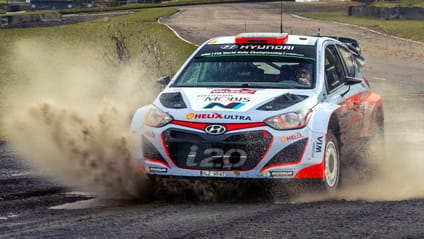 Three left (mind the taxi) and three right tightens into two right (traffic lights on green) and open four left (dodge late-night bus, get in left-hand lane), 40, narrows (indicate left, into Coventry Street), and stop at the signal (a policeman is flagging me down).

Having successfully co-driven myself around Piccadilly Circus in the Hyundai i20 WRC car, I can't for the life of me think why the evening-all gang might want a chat. Maybe they'd spotted that I'd been a bit tardy with my downshift into the tight right, but my line past the bus where the camber changes ready for the three left down Haymarket, was, though I say so myself, spot on.

Polished boots march to my side of the car, and a stern face stoops to the polycarbonate window slot. I slide it open. It's about the size of his mouth, which now appears to be attempting docking. 

"May I ask what you think you are doing, Sir?" says the mouth.

Photography: Mark Riccioni

This feature was originally published in the March 2016 issue of Top Gear Magazine. You've still got time to pick up the issue your local newsagent and supermarket, or download it on your device. Available until Tuesday 23rd Feb.

Advertisement - Page continues below

I consider for a moment telling him that I'm practising my pace notes, ready for the night stages of Rally London. Mainly a tarmac event but with a tricky off-road section through Hyde Park (swan hazard) and a surprisingly deep watersplash into the river right at the end.

"We're just taking some pictures of the car," I stammer.

"This is your fifth time around here, Sir."

I want to point out that's why I've now mastered the three left and three right transition from Piccadilly onto Piccadilly Circus, but if he really wants to be impressed, he should be down on Pall Mall when I swing into Waterloo Place. I could take some kerb there. Come to think of it, I could take kerb anywhere.

"Sir, unless you wrap things up pretty bloody soon, we're going to slap you with a statutory noise abatement order. Is that clear?"

A rally car is many things – road-legal foremost among them – but quiet isn't one of them. Four angry, angry cylinders thrash about under this bonnet, plus a hissing, spitting turbo and an exhaust with actual fire-breathing abilities. And yesterday (it seems surreal it was only yesterday), this very car finished fourth in Wales Rally GB. Who's finishing fourth in F1 these days? What's that, it's Kimi Räikkönen? I was about to say we'd never be able to do this in an F1 car, but there are plenty of ways to distract him hereabouts. Rallying's always been more, well, earthy.

As a demonstration of this, I'd like to tell you how this story came about. Last year I did Wales Rally GB in our very own homegrown Hyundai i20 rally car, and before the event got underway met the WRC team to compare, contrast and have a little wager. "If", I said, "I win my class, can I drive your car?" Naturally there was laughter all round. I'm a boundlessly optimistic fellow, but even I didn't hold out any hope of winning class B2. Our car was 50–60bhp down on the 1.6-litre Ford Fiestas, and at the end of day one, when I'd crashed and ripped the sump guard off the bottom, Hyundai WRC communications boss Thomas Villette had, while his welding guys helped get us going again, commiserated with me: "It looks like you won't get to drive the car." At the time, I was properly dejected. And then, to cut a long story short, we won.

Advertisement - Page continues below

And so, one year on, I'm back at the Deeside Service Park as Dani Sordo brings his car back over the finishing ramp and into parc fermé. When it comes out of parc fermé at 7pm this evening, and for the next two days, it will be mine, all mine.

What would you do given a full-house WRC car for two days? Besides hugging yourself in glee, dancing around a bit and wearing a goofy smile, I mean. Well, here's what I'm going to do. Just down the road from here are some of the greatest driving roads anywhere in the world, and I desperately want to know what a WRC car feels like on the B4407. From there I'll head into London, because I want that contrast, to see just how weird it feels and lastly, to find out what it's capable of in, ahem, relative safety, finish at the Lydden Hill rallycross circuit. I also need to do a drive-through. Just because.

A makeshift pit has been set up in the lay-by at the foot of the B4391. You might think this car is Dani's – it has his name on it, after all – but it's Lorenzo's. He's the chief mechanic, the one who mollycoddles and makes it all better after the nasty rally driver has been mean to it. I ought to point out that in this day and age a top-line rally car doesn't travel anywhere without a few helpers. However, no external assistance is required to fire it up.

There are no door locks and no key, so should you ever see an unattended Hyundai WRC car and think "I fancy a joyride", here's what you need to know. First flick on the master switch. It's on the panel between the seats. There'll be some buzzing and clicking and you need to wait for the dash screen to cycle through the holding display. Check there's a big green N for Neutral showing. Next press and hold the Start and Kill Eng buttons together. I know, sounds weird, but bear with me. The starter motor will churn, but you need to wait for the oil pressure display to hit 2.5. When it does, release both buttons, then press Start by itself.

And you're away. Only you're not, because you won't have found the little button on the back of the dinner-plate-sized carbon paddle that gets you out of neutral, and even if you do, you'll inevitably stall and then have to repeat the process. All. Over. Again. This is how the early morning progresses: some stalling, some photography, some more stalling, some chatting with people who have both a dog and a Hyundai of their own, some driving, some video, and now less stalling. Heat and practice have got together, had a word with snappy clutch and decided I deserve a break.

So with that solved, I'd like to talk you through a later run back along the B4407. We start just before the jump. Everything takes off here. Everything except a WRC car that's still wearing Wales Rally GB set-up with gravel tyres and yards of suspension travel. We should have flown but instead we float. We float everywhere, in fact, and yet feel everything. It's the most curious sensation, aided, I'm willing to bet, by a Reiger damper at each corner that costs upwards of £10,000.

So the Hyundai blasts levelly over the worryingly narrow section that pitches and jinks all conventional cars so much they feel like their next stop is going to be roof down in the moorland, flees past the Penmachno junction and demands gear after gear as it powers onwards. Speed? About Audi RS3-fast, I reckon, although actually faster than anything else on God's good Earth along that last section. It's about 300bhp and 300lb ft, and, legally, has to weigh over 1,200kg including one spare wheel.

The gearing is what strikes you about the acceleration. You're forever pulling that giant carbon paddle for the next of the Xtrac gearbox's six speeds. First is quite long, but every other gear is stacked as closely as the pages of a book. It's basically a ceaseless, unpunctuated flurry of tempestuous farty rasping.

Advertisement - Page continues below

But on the long straight before you get to the hazardous three-right easy-over crest that brings you down to the lake, I can tell the engine is short of breath as it homes in on 8,000rpm – the power delivery is very linear, but it feels stifled. Imagine how you'd feel if you were breathing through a straw – it's just like that. The 1.6 gasps through a 33mm restrictor nozzle. Make a circle with your thumb and forefinger. About that.

But as I'd always hoped, a WRC car feels astonishing on a B-road. The B4391 is one of the greats, packed with variety and vistas, and the car is epic. The steering is light, accurate and super-direct, a twitch enough to deal with most corners and yet impart detailed information about how the tyres are moving across the road. And those tyres... I can't believe how those knobbles knuckle into bald tarmac.

The faster I go, the more my confidence builds. The pitch, dive and roll is hilarious. I start to feel the differentials working to supply traction, the i20 bobbing out of corners, scampering down straights, fleeing over the ground, feeling massless and alive, buzzing through the atmosphere like an especially livid wasp.

Maserati has a suspension system it calls Skyhook (others have given it less generous names), but here in a straight line, that's bang on – the gaudily decalled rally car seems to be tethered at a particular level above the road surface, from where the wheels reach down to interact with the surface. It's peculiar yet plush, languid yet instantly reactive. 

Advertisement - Page continues below

This majestic little buzzbox is a delight all the way to the KFC at Shrewsbury. I go to the drive-through (square left and square left), then realise that I am a) utterly deaf and b) sitting on the wrong side of the car to even attempt getting a hand out through the window slot. I divest myself of harness, leads and clamping seat, and find out a few minutes later that a Zinger Burger does fit through the window. Once strapped back in, I can reach sod all on the passenger seat, but handily there's a Hyundai dealership pretty much next door. Some salesmen fall over themselves when I ask if I can park on their forecourt to eat.

It's much later, and we're in London, waiting for rush hour to deaden. I'm far more apprehensive about this stage than any other. This clutch, in that traffic? Gulp. And then there's the visibility: the seats are wingbacks and the mirrors token gestures, coated not with glass but reflective tape. The car was put on its trundle wheels in Shrewsbury and trailered down to TG HQ, where it's now parked up next to the Audi TTS lifer. The styling of all other cars looks pedantic and mincing.

At 10pm I set out, full of trepidation as I turn onto Wood Lane and start to wend my way towards Park Lane. I try to coast up to traffic lights so I don't have to stop, but this appears to be very vexatious to taxi drivers. The reactions from other quarters are as you would expect: either alarmed or exuberant. For my part, what gets me is the view out. It's clearly wrong. In my hands I have a suede steering wheel pockmarked with buttons labelled Start Stage, ALS or GBX; to my right, a handbrake of baseball bat proportions; and to my left, a carbon-lined door.

And yet outside the world is… different. Plodding. This Hyundai wants to shake things up, tear this place apart. I feel it hum with frustration at the containment. The road impacts, neither big nor fast enough to trouble the dampers, make the suspension tense and angry. It turns out that in London, a WRC car feels anarchic.

Stress falls away when I realise the car just wants to be uncorked a little, so I barge 'n' charge around Hyde Park Corner, The Mall, Trafalgar Square, Regent Street and Piccadilly Circus, where, on my fifth increasingly extravagant lap, the party comes to an abrupt halt. And I hadn't even turned on the anti-lag.

Let's call this familiar terrain. We've got gravel, muck, dirt and puddles to play in, but rather than being flanked by dense pine forests, here we have a modicum of run-off. Excellent.

And here's what I discover after many laps of arsing about. The terrain you pass over, no matter how rough, rutted or rocky, has no discernible effect on the car's trajectory. And yet any small movement, any micro-adjustment, that you make in the car has a huge effect. How is this possible? That the car is never deflected from its course by the biggest impediments, yet a fractional lift of the throttle mid-corner has the back end slipping wide. There can be no explanation other than witchcraft. Obviously.

I've never driven anything like it, anything that so dexterously skims the surface, reading it, feeding it back through your hands and bum, yet is utterly impervious to being deflected from its path. It's a Braille fingertip, this Hyundai.

And I can't believe how hilariously, instantly adjustable it is, how it pivots like a weathervane, how rapidly small movements of my hands and feet become rabid changes of direction. You have to drive this tough-arse, unburstable rally car sensitively, with your fingertips. All the drama you see on your television screens is created by small, measured, almost delicate inputs. Not very McRae, but, reassuringly, it'll also adopt an angle, and if you pin the throttle and straighten the steering, hold itself broadside, wheels spinning, exhaust popping, aerials twanging, diffs churning, all the way through the longest corners. Woo-hoo! It's a complete hoot: so precise, so biddable, like nothing else I've ever driven.

Twitchy? Not really, as any errors can be gathered so quickly via a prod of throttle or steering, but yeah, fast around here is one thing, fast where there is zero margin for error is something else entirely.

Only one thing can top this moment. On the steering wheel, I press the button marked ALS Off and twist the ALS knob all the way round to 11. Anti Lag System. The best three words in the entire motoring lexicon. Unburnt petrol is fired through the turbos to keep them fizzing, and there's a Chinese New Year's worth of cracks, bangs and pops from the back end. For one lap, I'm in motoring nirvana. One lap and then, not for the first time, officialdom steps in. Once again, noise is the issue.

Don't care. I've had my fun and am now convinced this Hyundai i20 WRC is the greatest road car there has ever been. OK, so it doesn't corner as flat as a Porsche GT3 RS – yet it responds like one. And it hasn't got the mesmeric shove of a McLaren 675 LT – but it consumes gears faster and gives you the feeling of frantic speed without the associated jail term. It's got the steering feel of a Lotus, the direction-changing ability of an acidic go-kart and the attitude and crowd-pulling ability of a Lamborghini Aventador SV. It's the hottest hatch there's ever been, the most riotous Hyundai of all time, the best use an i20 platform has ever been put to. Need. Another. Fix.