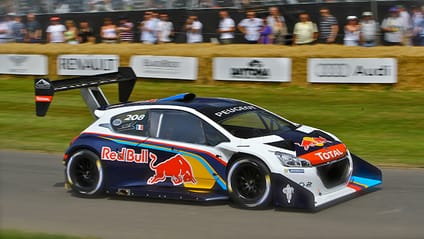 There's no point beating around the bush: Sebastien Loeb's attempt at breaking the Goodwood Festival of Speed's hillclimb record didn't come off as planned. He was beaten not by anyone on the day, but by Adrian Newey.

It just had to be Adrian Newey. The Red Bull genius penned the designs for Formula One cars that gave world championships to countless drivers over the years, not least Sebastian Vettel's four-straight victories from 2010-2013.

But he's also the architect behind the car that holds the current hillclimb record at Goodwood. You see, this record still stands at an astonishing 41.6 seconds, set by Nick Heidfeld in a McLaren MP4-13. And, who designed the MP4-13? Adrian Newey.

It'll probably stand for some time too, mostly because modern F1 cars are now banned from running up the hill competitively. Even McLaren later admitted the run should never have been allowed. The sheer speed of a modern F1 car beggars belief, and around the tight, narrow and twisty hillclimb course, makes for buttock-squeaking viewing. Seriously, if you've never seen Heidfeld's run, click here and hold your breath. It's insane.

So, ultimately, Sebastien Loeb's attempt to usurp Heidfeld at the top of the board fell short, but it was still a quick time. In fact, there were many quick times set over the weekend, so click on for the top five fastest.

Advertisement - Page continues below

Sebastien Loeb, Peugeot 208 T16 'Pikes Peak': 44.60s

He may have won nine times in the WRC and obliterated Pikes Peak, but an Englishman's driveway proved just too much for Seb. He couldn't beat Heidfeld's record of 41.6s, but 44.6s is still bloody quick.

Michael Bartels, Maserati MC12 'Goodwood Cent 100': 45.82s

German Bartels brings home the second fastest time in his Batman-spec Maserati MC12.

Advertisement - Page continues below

Kenny Brack, McLaren F1 GTR 'Long Tail': 47.52s

'Revival favourite' Brack pilots one of the world's coolest supercars, the long-tail GTR.

Jann Mardenborough, Nissan GT-R NISMO GT3: 48.05s

"It was a huge adrenaline rush," Jann told TG.com, "more so than qualifying as the run is so short!"

We have said it time and time again, but this young man is impossibly fast. It's TG's good friend Jann, blitzing all in the Supercar Run with his astonishing time of 48 seconds. Formula One, are you watching?

Didier Sirgue, Jordan-Ford 191: 48.30

The fastest F1 car of the day was this incredibly pretty Jordan. Will anyone ever beat Nick Heidfeld and that McLaren?