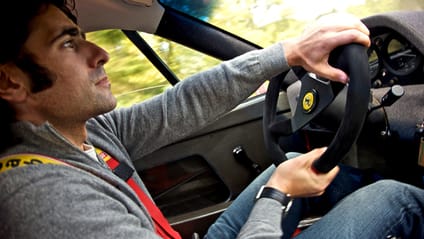 Christ, is that with you too?" whoops one of the bikers we've been chatting to about the sunshine yellow Ferrari 458. "Yep," I say, as a Ferrari F40 noisily announces its presence to the whole of Aberfoyle. Big grins all round.

"No way, you're taking an F40 up on the Duke's Pass?" my leather-clad pal continues, incredulity and envy spreading in equal amounts across his face.

"Well, it's not so much the car, as the bloke driving it."

"Why, who's that then, someone famous?"

"Yeh, Dario Franchitti."

Blank faces.

Words: Ollie Marriage
Photos: Joe Windsor-Williams

This feature was originally published in the June 2011 issue of Top Gear magazine

Advertisement - Page continues below

Dario Franchitti might just be the best racing driver you've only slightly heard of. Scottish (despite the obvious Italian ancestry), 38, he's married to Hollywood actress Ashley Judd and has won the last two Indycar Championships on the bounce, making three in total, plus two Indy 500 victories. Stats that make him, as the Americans so elegantly put it, 'the winningest British driver in US open-wheel history'. That, even given our Formula-One-skewed perspective on motorsport, is a big deal.

But what really matters to us is not what he's achieved, but the fact he's a total car nut. Total. He has other hobbies, of course, but as he puts it, "I play about with other stuff, but cars are it, that's what I love doing. I could talk about cars, read about cars, drive cars every day - and all aspects." Topics for today will include Ariel's Atom Mugen, both winter and run-flat tyres, old Alfas, his Mum's Honda CR-V, his wife's original Mini, his 2004 Merc E55, TG's long-term E63 wagon.

He hops lightly out of the F40, smiles easily, is horrified that Joe (the photographer) and I have driven 400 miles already today and is genuinely excited about the prospect of driving the 458 back-to-back with his F40 on one of his favourite roads. He's straight over to the 458, "Ah, I should've had these seats in mine." 

Advertisement - Page continues below

"You've got a 458?" I ask, cursing my lax research - the idea was to get Dario into a car he hadn't driven before. "Had. For two weeks. Only did 700 miles in it. It's a crying shame really, but the standard seats have no support. These," he says, wriggling himself into the optional £4,626 carbon-shell racing seats, "are so much better." Couldn't you have just upgraded the seats? That elicits a wry smile in which I also detect a slight hint of embarrassment of the privileged financial position Dario's success has brought him. "To be honest, I didn't like the noise it made, either - that flat drone, and it's a wee bit artificial, especially after that," he says, nodding at the F40.

It's worth pointing out that there are no hangers-on, no PR flunkies - it really is just Dario and his Ferrari, so after a bit of car gossip, the three of us stroll into the village in search of breakfast. The trouble is, it's Easter Monday, and the only place open is a grotty attic tearoom above an overstocked tourist tat shop. We're the only customers. The current Indycar world champion seems utterly unphased by this, asks for a mug of tea and a sausage bap and settles back to talk cars, roads, driving and racing, pretty much in that order.

We'll start with racing, because we need to answer the obvious question, namely: is your career incomplete because you didn't do F1? "Nah, not at all, I've had a great career in America, and there's less pressure - F1's an aggressive environment." You'd think that any European single-seat racer, particularly one whose hero is Jim Clarke, who has Jackie Stewart to thank for giving him a career leg-up, would yearn for F1. Not Dario. And I believe him - his open, expressive features must make him a crap poker player - but he comes across as someone who's genuinely happy with his lot.

The only racing box he'd still like to tick is Le Mans. How much longer will he race Indycars for? "I don't know. I really enjoy it, so as long as I can keep operating at this level, I'd like to keep doing it." He talks quietly, softly in a light Scottish accent that's undiluted by 14 years of living and racing in America, escaping back to Scotland for no more than two months a year.

He loves it here, still calls it home. Thinks the west coast is the most beautiful place in the world and has the best driving roads. So when was the last time he went out driving just for the sake of it? "I was nearly off last night! Coming up from Mum and Dad's after Easter lunch, it was 6pm, the sun was just-so,I was in the F355..." He'd talked engagingly and warmly about racing, but as soon as road cars are on the agenda he's properly animated. And, boy, does he love a good road trip.

Advertisement - Page continues below

The 458 was traded in for a Porsche 964 Speedster earlier this year. He put his dog in the footwell and drove 700 miles in a day to St Petersburg, Florida, for the first round of the Indycar championship, "I was so sunburnt. I completely forgot." The next round was in Birmingham, Alabama - it should be a 190-mile drive, but he found a 270-mile route for his 'hotrod' - a 1973 Porsche 911 T that now features a 3.8-litre 330bhp engine from a 993. "It is the most fun car. It's so loud you have to wear an intercom, and it'll spin the tyres in second, third, fourth."

So what about the F40 on the Duke's Pass? "It can get rather busy, and the F40 is a bit big - the Duke's Pass is more like a rally stage and with the width and stuff it's a bit interesting. The faster, flowing ones are sometimes more fun in the F40." He pauses. "In truth, they're all pretty good fun in the F40," he laughs.

It's a privilege to follow any F40, let alone to observe it at work from the driver's seat of another Ferrari; but the fates really have collided when you're on a road as searingly treacherous and sublime as the Duke's Pass, nestled as it is amongst stunning scenery, and just for good measure you're chasing an Indycar legend. As mental snapshots go, one will stay with me: it's of the F40 snapped sideways as the turbos ramp up, rear wheel ripping leaves out of the gutter, blue flames spitting from the exhaust. The 458 follows meekly in the F40's angry wake.

I get a second snapshot a few minutes later, this time from the passenger seat. Dario pulls out to overtake, there's a savage hiss of turbo and the F40 instantly wheelspins. With a good quarter-turn of opposite lock applied, we overtake the hapless Audi A1.

Advertisement - Page continues below

It's not scary (well, not from my point of view, at least) because Dario drives with the calm authority of the true professional. As a device for challenging a driver, I can't think of a more intimidating combination than this Ferrari and this road, yet he smoothly deals with the spiky power delivery and the 'active' (and occasionally airborne) rear end. I particularly liked that he drove with the windows down a touch, made sure to open the taps when passing walls and rockfaces and grinned at the resultant sound effects. He's changed the exhausts on pretty much every car he's owned.

It also helps that he's owned the F40 for 12 years, it never goes out in the rain, it's never been on a track (none of his road cars have) and has never let him down.

We swap to the 458. "It's a brilliant thing, it really is. This gearbox is just outrageous how good it is, and the speed of the shift, but with a Ferrari half of it for me is the open-gate lever and working it all out. I like a car to challenge me, I'd rather be going 10mph slower in an F50 or 550, or 50mph slower in a Countach - I'd have one of those, I really would - but this, it's just so fast across the ground."

I'm glad of that a little later as we charge in convoy towards Callendar. I'm leading, Dario's menacing my mirrors in the F40. The 458 is devastating on this road - good enough that I can see how hard the F40 is having to work to keep up. And then suddenly it's not there any more. I pull over and wait, then turn round and find the F40 stationary. The battery's died. We have a quick chat about the best course of action, get it bump-started, and Dario potters to a conveniently sited pub a mile down the road.

He then hops in with me, and we head to his place, where we plunder a battery from his original 1981 911 Turbo. He's got a garage set-up to die for. It's not immaculate - there are mountain bikes on the floor next to bits of Indycar and the Aprilia he broke his back on - but it's very cool. Especially the donut marks in the courtyard.

Back with the F40, we quickly switch the batteries as Joe warns us about the bloke whose parking space the Ferrari currently occupies. This purple-faced specimen duly shows up, swears at us, and Dario reveals his Italian underpinnings by haring off in the newly fixed F40. Joe and I look at each other and take off after him. There have been hints of a possible short fuse: the 458 ownership experience, the F355 he shipped to the US and shipped straight back again because he got fed up with being stopped by the cops, but on the whole he's been utterly, utterly affable. 

We latch on to the back of the F40. Its pace has dropped, so we follow - all the way back to his house. If he was ever upset, then it quickly passed - and that's Franchitti to a tee: he's an Italian, but without the flamboyance and arm-waving. He's more controlled, walks with neat, clipped steps, punctuates his speech with precise gestures.

You'd like Dario, you'd like his open, direct manner, his friendliness, the stories he tells (he let a certain Colin McRae loose in the F40), the way his cars are divided into keepers and, well, not-keepers. The F40 is a keeper ("It's my favourite. It's got a tonne more power than grip, it's nice and light - I tell you the house would go before the car. I did explain that to the wife once..."), the 458 obviously wasn't.

He'd hate anyone to think he's brash or showy, he just loves cars and is lucky enough, as he puts it "to be able to fund the hobby". The fact that not one person all day recognised him? That's just a bonus.