News
This Mustang is the perfect blend of hot rod and restomod
Resto-rod? Mod-rod? Whatever you want to call it, we call it amazing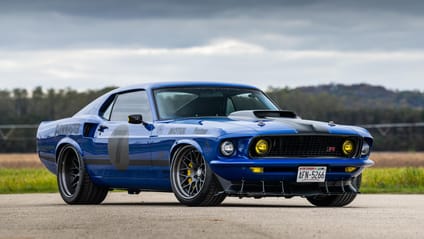 What is it?

This is the Mustang that puts all those Eleanor copies to shame. It's built for speed, built to race and (we're sure it's just coincidentally) built to dislocate jaws as it thunders past.

It's based on the bigger, meaner and traditionally less desirable 1969 Mustang. We've said it before and we'll say it again – classic car values make absolutely zero sense. But this time our minds were boggled by the fact that a car with as much presence as the 1969 to 1970 Mustang would be so overlooked for so long. And that we weren't clever enough to pick up a '69 Boss 429 when the prices were within our reach.

Advertisement - Page continues below

Who builds it?

That'd be Ringbrothers, a Wisconsin-based custom builder, speed parts purveyor and house of hot rodding. Ringbrothers was founded by Jim and Mike Ring, who, in not terribly shocking news, are brothers. And now you see where the name comes from.

What's been done to it?

In the spirit of hot-rodding, not a whole heap gets left alone. The original Mach 1 was restored and shored up, before being subjected to a widebody kit. And we don't mean bolt-on flares or anything that prosaic, either – an inch was added either side of the centreline. That obviously required new bumpers front and rear, as well as a new bonnet and boot lid. And, being a Ringbrothers build, more than a little of that comes courtesy of carbon fibre. The entire bonnet, for instance.

Under that carbon hood lies a 520 cubic inch V8, running on vintage-appropriate Holley carburetors and Flowmaster pipes but making a very vintage-inappropriate 700bhp. That's likely because of a) its immense size and b) the fact that it's a bona fide racing engine.

But it's a racing engine that's still connected to a six-speed stick shift, as our rhotic-accented cousins would say. As you might expect, it's a very severely upgraded six-speed, which in turn spins a carbon-fibre driveshaft, nine-inch diff and rear tyres fat enough to qualify for gastric banding surgery.

The suspension is all-new and distinct from the original Mustang by working slightly better than the oldest trolley at the supermarket, and the steering's no longer as vague as a politician's answer thanks to a new rack-and-pinion setup. This is a celebration of everything old-school; just one that fulfils modern performance expectations.

Advertisement - Page continues below

How many are being built?

This is a one-off, friendo. Just like each Ringbrothers build. But that's the whole point of custom building – it's the car that you want, exactly as you want it. So if you have your heart set on a carbon copy of the one you see here, you're rather missing the point – and possibly missing something in the way of imagination.

If you have the cash, you can ask for just about anything that physics and road regulations will allow. Ours would be some kind of riff on the Vanishing Point Challenger, most likely. Just gotta scrape those pennies together...

Is it fast?

And then some. And then some more, if we're being entirely honest. We're talking an 8.5-litre racing V8, built by John Kaase Racing Engines to make 700bhp and the kind of torque that'd make a raspberry twister out of a standard driveshaft. That's probably why Ringbrothers fitted a carbonfibre one.

John Kaase, in case you're not familiar (i.e. not American), builds Pro Stock drag racing engines, and has claimed 15 world championships in the sport so far. So plonking one of his engines in a road car is kind of like going camping and getting the SAS to set up camp.

It's going to be fast when the road gets windy, too, thanks to sticky Pilot Sport 4S tyres, six-piston brakes front and rear and supremely trick suspension. There's still every possibility of putting it up a tree, of course, but it'll be your fault, not the car's.

How much does it cost?

That's firmly in the 'if you have to ask' basket, we're afraid. We're also afraid to ask.

Why should I care about it?

Because the brothers Ring aren't afraid to abandon originality and go beyond new-made-to-look-old sycophantism to the original article. It might not be to your particular taste, and that's entirely fine by them. It is to a lot of other peoples' tastes – especially those of a hot-rodding bent, to which Ringbrothers' oeuvre seems almost specifically tailored.

Restomodding can often devolve into a kind of modern holier-than-thou quest to preserve or ape the original, which constrains creativity in a way no-holds-barred hot-rodding doesn't. To blend hot-rodding and restomodding in one perfectly gorgeous swoop is a rare and remarkable achievement.

Advertisement - Page continues below

Can you tell me one interesting fact about it?

There's a very good reason why Ringbrothers saw fit to name this resto-hot-mod 'UNKL' – it's a tribute to Jim and Mike's uncle, with whom they forged a close relationship due to a shared passion for tinkering, building and just enjoying cars. If that doesn't get you in the warm and fuzzies, seriously consider seeing a doctor.