News
Nissan has built a Batman-themed Juke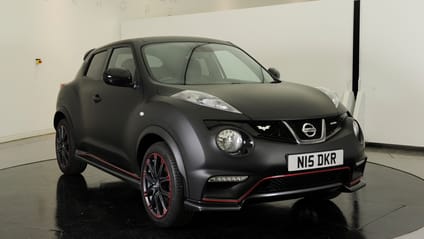 After our laps around the Top Gear track in Bruce Wayne's Tumbler, office chat quickly descended into a debate, then an argument and finally into a brutally extended elastic band fight about what we'd do if we were to build our own Batmobile.

Then, in a weird turn of events, the phone rang. It was Nissan ... using their Bat phone... from their Batcave. They were in the middle of a special Batman project, and wanted to know if we'd like a look. We agreed, but only if we could have some input.

Words: Rowan Horncastle

Advertisement - Page continues below

Now, we bet that you think that we're simply stretching a rather silly metaphor by saying that Nissan have a Batcave. Well naysayers, they actually do. It's called Nissan Design Europe, or NDE for short, a renovated British Rail maintenance depot from the '60s near Paddington that's now a three-story bunker filled with 66 designers from around the world who doodle, sketch and model Nissan's cars of the future.

To get in, it's not actually required to tap three keys on a piano like Bruce Wayne's cave. To access the confidential side of the building and the main design studio, you just speak to a nice receptionist, who escorts you to something known internally as the 'Power Wall'.

I was greeted with a five and a half metre, super hi-res, cinema-spec screen where designers digitally model full-size cars. The Qashqai, Juke and sexy Infiniti Emerg-E concept were all designed in this room. And now it was our turn.

Advertisement - Page continues below

To mark the release of The Dark Knight Rises on DVD, Nissan wanted to trick out a Nismo Juke to give away to one lucky - and shortly very conspicuous - member of the public. The man in charge of the car is Darryl Scriven, NDE's Digital Manager, Nissan's senior designer and for this assignment, Lucius Fox.

"We want to design a car that shows elements from all parts of Nissan's brand. A car that incorporates all aspects of our portfolio, from the social side of our Ministry of Sound Jukes, to the motorsport side of DeltaWing and our even more crazy side with the Juke-R", Darryl told us.

With a Post-it note full of ammo from the Top Gear office debate, I thought I'd rattle off some ideas.

"How about a horn that goes "Na na na na na na na na na na na na na na na na... BATMAN!"

Cue blank facial expression from Darryl.

"OK, what about Bane masks that fall from the ceiling when the cabin pressure drops like those oxygen masks in planes? Or at least a roof-mounted Bane-voice megaphone?"

Still nothing from Darryl.

"Guns, how about guns? The Tumbler has guns."

The problem was that Darryl and his team of ten had already been working on the car for the last three months, and they were pretty much done. They'd also blown the budget three times over – mainly thanks to expensive matte black paint – so our elaborate plans were hard to push through. "As a designer you always want to push the boundaries a bit further. If I could, I'd change the panels, wing mirrors and put the DeltaWing's engine in it, but we've had to work, and enhance, the Nismo design."

The competition winner's car hasn't changed mechanically. It's the two-wheel drive version of the Nismo Juke, so it has an up-rated version of the 1.6-litre four-cylinder turbo kicking out 197bhp, a bodykit, ten per-cent stiffer springs and an interior that's now decked out with suede sports seats and trim.

Still, Batman fans will appreciate the details. Like pool lights under the wing mirrors that illuminate the bat symbol on the floor, an interior uplight that does the same trick on the roof of the cabin, a shark fin antenna, aluminium Batman badging on the front and rear, reflective Batman badging on the seats and Batman badging kick plates on the door sills. Put simply, lots of Batman badging.

Advertisement - Page continues below

Darryl showed us to the underground viewing room to take a look at a prototype version of the Dark Knight Rises Juke they've had mocked up. It doesn't have all the final details, like the trick pool lights or the guns we'd requested, and it wore a matte wrap instead of paint. But it did give an impression of what the real thing would look like.

"The Juke is a good car to work with", claimed Darryl "It's characterful and its face has a personality. We've tried to bring that personality out and make it a bit meaner by de-saturating trim and blacking out parts like the fog light surrounds and headlights."

Darryl's team have also detailed the Juke's 18-inch Nismo alloys to give them a unique look. They've painted the edges red in order to trick your eyes into thinking their bigger and even better, if you curb them, they'll leave a mark on the pavement that'll look like blood of one of Batman's last victims (OK, we made that last bit up).

Advertisement - Page continues below

If you're a Batman fan, or Mr. B. Wayne who lives in Gotham, Nottinghamshire and want a chance at winning your own Batmobile all you have to do is enter at www.builttothrill.co.uk and enter your details.

We're sorry about it having no Bane masks or guns. But we did try.