News
Quick twin test: Kia Sportage vs Nissan Qashqai
Can Korea's latest crossover see off the car that kickstarted an entire family car trend?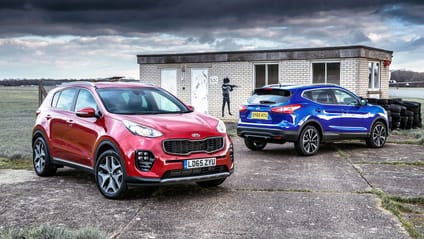 Right, some quick-fire facts please

It might smack of a slight lack of imagination, but the people have spoken. In 2015, the Sportage accounted for more than a quarter of Kia's European sales. This new one promises more, with fresh engines, a more spacious, sophisticated interior and an, erm, 'bold' new look. Yes, it's the angriest 'tiger nose' yet. Despite the scary face, it's doing pretty well, setting UK sales charts alight since its launch. Bad news for the old guard.

That Nissan Qashqai is the obvious choice, if you're convinced a conventional hatchback simply will not do. Or maybe you live down a rutted track and like the idea of having a bit more air between your derrière and planet Earth. It's a best seller, and for good reason. But tricky to spell.

Photography: Rowan Horncastle

Advertisement - Page continues below

Is either any good to drive?

The Sportage is slightly less good than the Qashqai: it's nimble, grippy and involving enough for most people most of the time. What irritates us is the ride, which is just firm enough to be... irritating. Might be the big wheels. How much do you value posing versus comfort? 

The Qashqai is fine, but you're not buying it because of how well it does or does not corner. What matters is how comfortable it is, and the answer is 'quite'. Not as smooth as the best hatches, but close enough. Better than the Kia, at any rate.

Let's talk about interiors...

The Koreans do good interiors nowadays, and the Sportage's is no exception. It's a handsome and largely logical cabin with a decent touchscreen interface and ample space. There are a few little ergonomic gripes, and you can feel where Kia has saved money in here, but the boot is bigger than its Japanese rival's...

Inside the Nissan, it's spacious and solid. The seats are excellent and the satnav quick-reacting, even if it looks a bit last-gen. Other tech? There's plenty, like 360° cameras, blind-spot monitoring and lots more besides. Nissan calls that lot the 'Safety Shield', which makes it sound like something Captain America would drive. It isn't.

Advertisement - Page continues below

Number-crunch time. Who's giving me value?

This is a GT-Line Sportage, hence the big wheels that we complained about earlier and fancy lights. Also, hence the price – £25,850. You do get AWD, but less driver assistance tech than in the Nissan. Also, less mpg. It is a good engine, though – quiet and unruffled enough to fade into the background.

The Qashqai we're using here is over £28k with options. And it isn't even 4WD. Of the many engines available, this 1.6-litre version is the biggest diesel – our pick, in fact. Smooth, quiet and less sluggish than we were expecting. Plus over 60mpg claimed and sub 10secs to 62mph.

Verdict

We must doff our caps to Kia for properly improving the Sportage, particularly in engine noise and cabin finish departments. It's a good car, and from, erm, almost all angles, rather handsome too.

Thing is, the Qashqai shades it as an all-rounder. It's less remarkable, but less divisive, and in this sector, that counts. For being the better car more of the time, the vanilla Nissan takes the win here.