News
Quick twin test: Vauxhall Astra vs Ford Focus
These two cars move Britain, but has Astra done enough to topple Focus?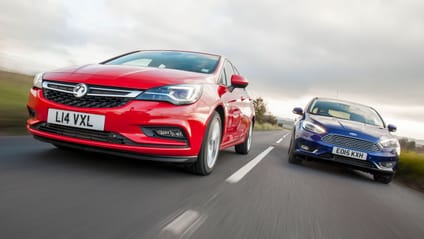 What's new, then?

Everything. New underpinnings are the key to the Astra rejuvenation – smaller overall, but carving out more space inside while dropping between 130 and 200kg (!) in weight versus the bloated old car, spec-depending. So, the fresh engines have less lard to shift. It even looks pretty sharp.

Nothing new on the Focus, but so what? The MkIII was born in 2010, and grew its smarter Aston nose last year. Wildly popular even in its middle age, UK buyers alone snapped up 73,966 in the year to Nov 2015. It's Britain's fourth favourite car right now: three spots ahead of the (old-gen) Astra, on 45,487.

Advertisement - Page continues below

Which is nicer inside?

From zero to hero, the new Astra (above) banishes button shrapnel and a driving position aimed at early members of the Evolution of Man chart. You have more space, material quality and finish on VW's coat-tails, and Ford-burying refinement.

It's not just material quality where the ageing Ford is way off the Astra's pace. The sheer bulbousness of the dash feels oppressive, yet the climate and radio buttons are infuriatingly fiddly. It's just a fussier environment, despite the facelift tweaks.

And which wins on tech?

The Astra's 8in touchscreen looks similar to the old car's entertainment hub, but it operates altogether more snappily and incorporates Apple CarPlay, or Android Auto. Better still is GM's OnStar assistant, which links to a 24/7 helpline if you break down or crash, and offers on-board wifi.

Understandably the Focus can't compete with built-in internet or a call-centre guardian angel – it's an older machine. The more fundamental flaw is the £250 SYNC 2 DAB/nav touchscreen. It's nothing like as swift to load as the Astra's, nor as intuitive. Which is a pain when you're, say, driving...

Advertisement - Page continues below

Surely ford still means fun?

Faint praise alert: the new Astra is a better drive than before. More alert, more deftly damped, and here powered by a peachy 1.6-litre diesel sales diamond. Pity the steering is as numb as the inert chassis, and the baggy gearshift is a shocker.

Even hamstrung by spec (18in rims ruin the urban ride, ramp up road din; the lazy auto robs you of a sweet manual), the old timer retains its sparkle. I'd take Mazda3 as a driver's hatch, but this is still chuckable and agile. Ford plays its ace. Astra folds.

Verdict

You'll still miss the Focus when the road goes curly, but the Astra is quieter, better built, clever and boasts usable tech. Also looks (and is) less flabby. Finally doesn't reek of mediocrity. Well played.

The Focus however, still feels naughtily adjustable if you're in the mood. And you can probably have a discount. Wrinkles are showing, mind, and it only schools the Astra in handling these days...