Retro
BMW has restored a designer's E30 M3, and it is immaculate
Designer Ronnie Fieg gets Munich to take a look at his E30. This is the result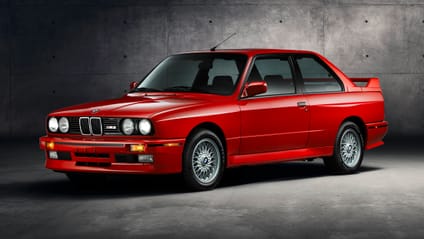 We begin this story with a fashion designer called Ronnie Fieg. Mr Fieg is the owner of a posh fashiony-type brand called KITH, and KITH has collaborated with BMW to create a special edition M4 Competition Coupe.

This is that car. Wary of the controversy surrounding this new M4's looks, this writer tentatively suggests that in black, with a gloss black grille, this particular M4 doesn't look that bad at all.

Advertisement - Page continues below

Only 150 units of the 'M4 Competition x KITH' will be available, and each car features such things as KITH branding on the carbon fibre roof, and KITH logos in place of the 'M4 Competition' badge on the boot and illuminated on the carbon seats.

It's also available in the classic 'Cinnabar Red', a colour used for the original E30 M3 and thus, not available in the regular BMW range. Still looks better in black.

Advertisement - Page continues below

No technical improvements have been made, so it'll still punch out 503bhp and 479lb ft from a turbo 3.0-litre straight-six. Lots of options – including 4WD – are available on the KITH M4, and deliveries will begin next summer.

However, this is not the main story, at least in our eyes, because it turns out Mr Fieg is a bit of a BMW aficionado. "Some of my favourite memories from growing up are going to visit my grandfather and riding around in his BMWs in the 1980s," he said.

"I remember he had an E21 320i and that his prized possession was an E30 M3. These moments in my life really shaped my passion for BMW," he added.

Ergo, we come to the point: Fieg bought himself an E30 M3, and shipped it over to Germany to let BMW restore it. The results, as one would suspect, are quite something to behold.

Here's a spot of colour matching, the car stripped right back to its base shell.

Wonder if Fieg was ever tempted to stick the new M4's turbo straight-sixer up front for something really unique and possibly lightly terrifying? Oh, the possibilities of a bare E30 shell.

Advertisement - Page continues below

It is literally a nut and bolt restoration. Here are some nuts and some bolts to prove it.

We're starting to get towards something that better resembles a 'car' here, thanks to some lovely grey carpet.

Advertisement - Page continues below

One of the upgrades Fieg made to his E30 was replacing the BMW lettering on the badge with his own. Neat.

OK, maybe not a M4 3.0-litre, but what about an E46 M3 sixer in there? Will nobody think of the power-to-weight ratio?

International Talk Like A Pirate Day was last month, E30.

Shiny Thing Make Everything Better.

A fully restored four-cylinder M Power unit. Mint.

New brakes, calipers, struts and control arms, all in their shiny glory.

A set of proper Bilsteins in there for good measure, hiding behind…

Those classic E30 wheels. Again, you'll spot the KITH letting in place of BMW. A nice, personal touch.

Fun, possibly deeply nerdy fact – you can fit E30 wishbones on an E36 3 Series.

And now, for the finished result: behold, Ronnie Fieg's fully restored E30 M3.

And look! The entire grille fits in one image! (Sorry, couldn't resist.)

Boxy, yes, but also clean, and unfussy.

So clean, it'd break your heart to get it dirty by actually... driving it, right?

Well, drive it Mr Fieg must. 

Especially when the interior a) looks quite inviting and b) has his brand name plastered all over the seats.

If, perchance, you had a fully restored E30 M3, would you indeed drive it like you're on the set of Baby Driver, or store it far away from the detritus of the world?