Retro
Check out the Fiat Group's incredible secret stash
Get lost in the wonderfully bizarre world of FCA's back catalogue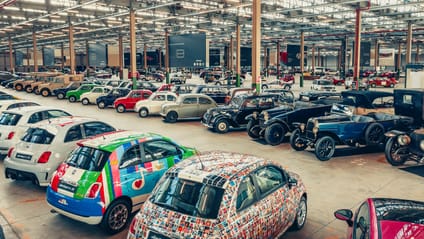 Upcycling is currently all the rage. And last year, FCA got in on the trend – turning an old (and huge) transmission workshop at its historic Mirafiori factory into the best retirement home ever.

Words: Rowan Horncastle // Photography: Mark Riccioni

Advertisement - Page continues below

It's called the Heritage Hub, a huge display of 300+ cars from its 120-year back catalogue. Every marque from the FCA family represented, and the ever-growing haul is currently worth more than €60m – that's not including the 300 other cars tucked away in storage.

But the sheer breadth of creativity, innovation and craziness in the room makes it more of an asylum than a museum. It's Italy at its best. And here are TG's top picks from the breathtaking box of bonkers.

Advertisement - Page continues below

The Gatekeeper

Being the mastermind behind the Multipla and 'new' Fiat 500, in the pantheon of car design, Roberto Giolito is one of the greats. But when he's not sketching iconic silhouettes, he's managing the Hub. And behind those thick-rim glasses and curls is one hell of a noggin. At any given moment, Roberto can burst with passion and rattle off any of the inhabitant's histories or idiosyncrasies with encyclopaedic effortlessness.

1988 Lancia ECV 2

You probably recognise the rally car in the background: the rip-snorting Delta S4. But the seemingly space-age one in front? Well, that was meant to be its successor. Dubbed ECV 2, it's one of the most complex and radical rally cars ever conceived. Designed for the stillborn Group S class, it's the second-generation Experimental Composite Vehicle from Lancia. Capitalising on an abundance of Kevlar and carbon fibre (including bodywork, chassis and even wheels) it also features a state-of-the-art and brain-meltingly complicated triple manifold, twin-turbo 'TriFlux' engine. This, plus a stunted aero-friendly package, meant it had potential to be a weapon. Sadly, Group S was sent for an early bath in 1987, so it's never turned a wheel.

1984 Lancia Trevi Bimotore

When Lancia needed to fathom a four-wheel-drive solution to compete with Audi's rally cars, Giorgio Pianta applied some rather Italian thinking. He got a boxy family car, ripped out the rear seats and put a supercharged 2.0-litre engine where the kids used to sit – the same engine that was still up front. Yep, what you have here is a twin-engine, twin-gearbox, four-wheel-drive nutter. And probably the ultimate Q-car.

1980 Alfa Romeo 179 'T-car'

Woke young uns might not realise this, but there was a time when Alfa Romeo and F1 didn't mean a lazy paint job over a Sauber. Alfa's main F1 success came with world titles in 1950 and 1951. But, in the mid-Eighties, it also developed infamously powerful, thirsty and unreliable turbo engines with over 800bhp, before leaving the sport as a constructor in 1985.

Advertisement - Page continues below

1956 Fiat Abarth 750 Record Bertone

Karl Abarth liked going fast. He also liked breaking records. Over the years, he combined his two passions and made a name for himself breaking records going fast. Between 1956 and 1966, his Torino outfit set a grand total of 113 International Records and six World Records around Monza with 11 different cars. One of those being this gorgeous streamliner.

Bertone's Franco Scaglione created the exquisite aerodynamic negligee to drape over the single-seater streamliner. It uses mechanical components from a Fiat 600, but the engine is turned up to the spec of an Abarth 750. Weighing 385kg, the combo of that titchy engine and a three-speed box was good for holding a constant top speed of over 118mph.

2006 Fiat Oltre

Here's one for your inner eight-year-old: the Fiat Oltre. First shown at the 2006 Bologna motor show, it's a big, torqued-up testosterone statement to show big isn't necessarily beautiful. But what big is, is – erm – big. And one thing the Oltre has on its side is big. Thanks to Iveco LMV underpinnings, it weighs 4 tonnes, has 20 inches of clearance, 4WD and many diff-locks. But the engine is small – a 3.0-litre, four-cylinder diesel splurting out 336lb ft of torque and 183bhp.

Advertisement - Page continues below

1972 Fiat ESV 1500

Having a strong coffee and cigarette before driving was pretty much the extent of car safety in the early Seventies. But in 1972 Fiat had a go at making cars less death-y with this, the 'Experimental Safety Vehicle'. It's basically a 126 in a scrum cap. Complementing those hilarious bumpers is a soft, deformable interior so you're less likely to smash your face up when you understeer off a roundabout. Prego.

1953 Fiat 600 Prototype

There simply wouldn't be 'Fiat 500 Twitter' without this piece of history. It's the Progetto 100, a prototype for the Fiat 600, the car that led to the mighty Fiat 500. Like the Citroen 2CV, the brief was simple; carry four adults and luggage at a cruising speed of 53mph. All in a car weighing no more than 450kg. That it looks amazing is just a bonus. Just five prototypes were built; it's one of Roberto's favourites in the collection.

1988 Lancia Delta HF Integrale Group A

In its day, the Lancia Delta vanquished the opposition, winning the WRC a record six times in a row between 1987 and '92. But you don't see many Integrales wearing orthodontic headgear like this. It's the car Miki Biasion and Tiziano Siviero won the 1988 Safari Rally in. Not without incident, though. Want to know where those dents on the bull bar came from? Let's just say zebras aren't as squishy as they seem.

1960 Lancia Flaminia Coupe

This isn't the lovechild of Wacky Races and Big Mouth Billy Bass. It's an ambitious one-off by the man behind the king-size Coca Cola bottle design, Raymond Loewy. Pioneering innovative design cues, for the time it was an aero masterpiece. Check out the two outrigger fog lights detached from the body to allow for better brake cooling. Or the aileron above the rear windscreen. Or enclosed chrome wheels. The list goes on...

2007 Fiat PanDakar

The "PanDakar" proves that not all Rally Raid machinery needs to be big sand-pounding brutes. They can also be small, sand-pounding brutes too. Built in 2007 to take on the 2007 Dakar – one of the most gruelling endurance races on earth – Fiat stripped out two Pandas and hardened them up. Unfortunately, neither of them finished. 

1985 Lancia Delta S4 Stradale

Look at that suede! You wouldn't want to rub your bogies in that, would you? It's the wonderfully 80s cabin skin attached to the ultimate homologation special, the Turinese beast – S4 Stradale. Developed by Abarth and Lancia, it was a sensation: powered by Eng. Lombardi's 1.8-litre four-cylinder that was both supercharged and turbocharged, it was a formidable fighter in racing trim, putting out no less than 500bhp.

2007 Alfa Romeo 8C

Here's one to show your grandkids: proof that once upon a time Alfa made cars that weren't just SUVs. Pretty ones at that.

2013 Monster Panda 4x4

Built to advertise the fact that you can buy Fiat's runabout in off-road flavour, this was a one-off creation, that we once got to drive before retiring to the museum. The top half seems familiar enough: a whole Panda 4x4 body with a functioning interior. The only visible change on the inside is the extra-long gearstick poking out from a leathery nest. But all of this sits upon an adopted base. The springs you see under the green arches are actually pseudo-suspension. The cab is solid-mounted, on poles the size of table legs, onto the mechanicals of a late-Eighties Jeep CJ with a 4.2-litre straight-six petrol engine. The tyres come from a New Holland tractor: each stands 1.5 metres tall and weighs 200kg.