Eaton best: driving the 200mph Aston Martin Vantage V600
Twin superchargers made this once the world's most powerful production car
Think 'most powerful production car in the world' and what imagery does your brain conjure up? The car is probably mid-engined, four-wheel drive and shaped like a B-2 bomber's wing, designed in a room surely as neat and orderly as Ron Dennis's cutlery drawer and packed with computers.
You probably don't imagine a workshop with half a dozen blokes sketching designs and welding a load of steel together. But wind the clock back just a decade prior to the development of the Bugatti Veyron and you arrive at the mid-Nineties Aston Martin Vantage. With 550bhp in standard trim, it was once the most powerful car you could buy fresh out of a factory.
It was also two tonnes, trimmed with the leather of nine cows (seriously) and designed for the most part by hand drawings. "The engineering department was really tiny and the budget was almost non-existent," says Steve Waddingham, who worked at Aston in the lead-up to the Vantage's 1993 launch.
"Testing was done at Santa Pod raceway and cold mornings at Newport Pagnell. It wasn't quite like it is today, we couldn't go off to a world-renowned test track. But then the world was less complicated, and the expectation level was different, from customers and everybody. Safety, emissions… all that sort of stuff was fairly rudimentary."
Yet this Vantage had a lot riding on it. The previous V8 Vantage had lived for 12 years and starred in The Living Daylights, but its Virage replacement hadn't landed to anywhere near as much acclaim. So just a few years into its life, a more focused Vantage version brought a brutalist makeover and two ginormous Eaton superchargers, which swelled the output of the 5.3-litre V8 to a then-world-beating 550bhp.
"We just called it the Vantage, rather than the Virage Vantage, because there'd been so much aggravation caused by the regular car," says Steve. "We thought 'let's not remind anyone' and got rid of the word. This was a different animal."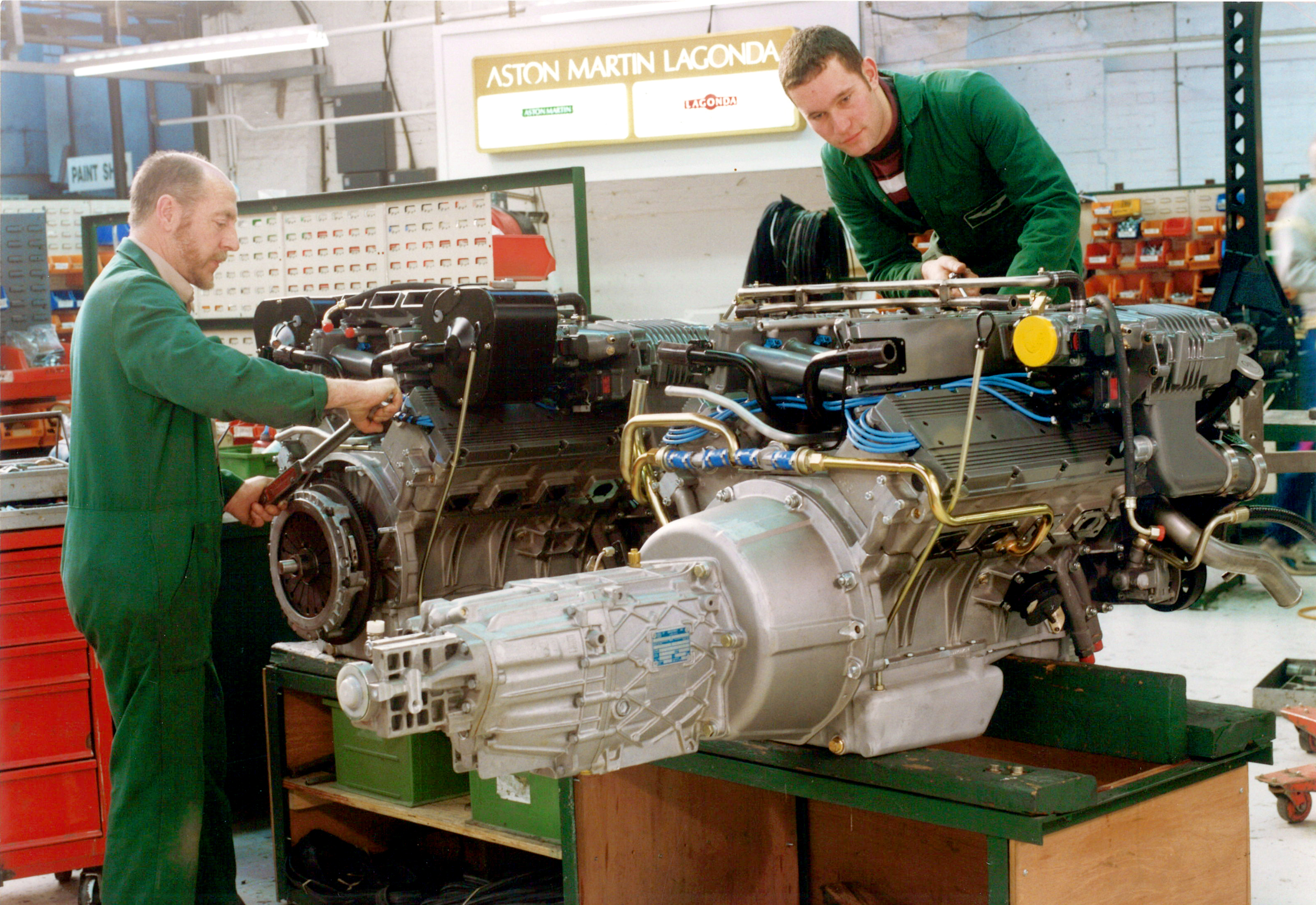 But the car you see here doesn't have 550bhp. This is a Vantage in end-of-line Le Mans trim, with the optional V600 upgrade beneath its bonnet. Which means there's 600bhp (and a suspiciously neat 600lb ft) under there yielding a 200mph top speed. The V600 kit was developed by Aston Works Service's 'behind the green curtain' crew, a special projects team that sounds like a less gimmicky, more rogue version of the current 'Q by Aston Martin'. And thus arguably more 'Q' in character…
You could retrospectively apply the V600 upgrade – which also brings a completely different cooling system and bigger brakes – until recently, but even when specified new as a £43,000 option, your car was built as a standard Vantage 550 before being stripped down and rebuilt. Every single V600 was based upon a used car even if it had never been delivered to its owner.
But what a process that went into that donor car. "The Vantage took 1,200 hours to build at a time the Ford Fiesta took eight," adds Steve. "The rate was two cars a week when things were good and with a bit of overtime, but we got down to half a car a week at one point.
"There are those beautiful handmade aluminium panels on the outside, and a massive welded frame beneath. It was the same idea as a DB5 Superleggera, just no longer so leggera. The guys who were hammering these panels had made everything from the DB4 onwards."
It's quite a thing to wrap your arms, legs and fingertips around
It's been a bit of a boyhood dream to drive one of these, and I distinctly remember seeing it on the pages of this very magazine when that implausible 200mph claim was being bandied around. The Le Mans edition cost around £233,000 new, and it now rumbles backwards from the delivery lorry – smoke billowing from its modest exhaust pipes – worth more than twice that.
It produces so much noise for those on the outside, initially a V8 war cry before those two superchargers tear the air into pieces. Ensconced inside, however, you're cushioned from the sheer madness onlookers are experiencing, nestled in among the wood and leather with a large ashtray separating the seats and a 110-litre fuel tank behind you, a filler cap on each side of the boot lid ready to gulp through your savings with abandon.
There is a semblance of noise, but until the supercharger whine kicks in around 3,000rpm (the engine is nat-asp until then), it's all very serene. The standard six-speed version will pull 2,000rpm at 160mph, I'm told, but with this five-speed manual – the one capable of a 3.9secs 0–60mph time, because it does it all in first – it's hardly ruffled. For the sake of mechanical sympathy on a half million quid car I shift up into second long before I strictly need to, but engine warmed I stretch second, third and some of fourth.
Holy cow. All nine of them. It doesn't provide the instant hit of a modern turbo car, more the unstoppable swelling force only an old oversized engine with two socking great Eaton superchargers can demonstrate. Hook this up to a modern paddleshifter and you'd drive yourself straight into a prison cell, but the long, forceful gearshifts this old manual requires (made even trickier by the kind of offset pedals I'd expect from an early Diablo) perfectly punctuate your pace and keep you prudent. As does the light steering fed through a lorry-sized wheel.
It's quite a thing to wrap your arms, legs and fingertips around. But it's also truly bewitching to try and coax the best out of a supercar seemingly not made for driving; this feels like a Bentley or Rolls rival, all cushty ride, clotted cream interior and absurd ride height, just one that's had a rocket shoved right up its bum. In fact, no: it feels like some crazed Mustang from the aftermarket that someone's squeezed the sitting room from a country manor into. Plush headrest cushions and all. "They were there to stop you getting whiplash," chuckles Steve.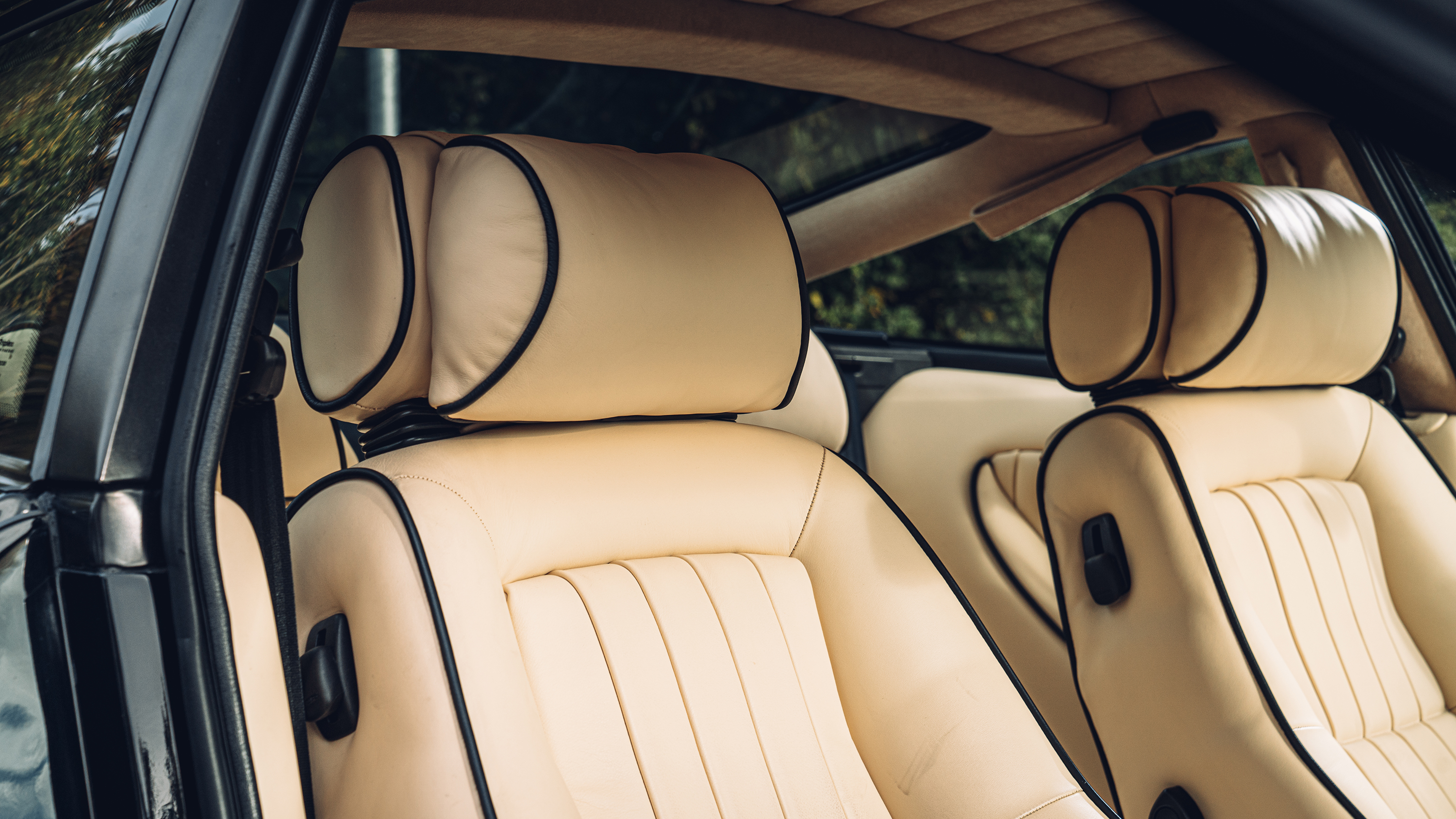 While the V600 gained bespoke AP brakes, they don't quite feel up to their truly unenviable task. The Vantage's 4.7m length and 1,970kg weight are disguised surprisingly well right until you have to slow it down for a second-gear corner. It's a 'slow in, fast out' kind of car, not one you truly relish twists and turns in. In fact, I'd relish a long, empty runway and a white-knuckle crack at its fabled top speed. It feels like the first 150mph or so would arrive in no time, before aerodynamics made the final stretch tricky.
"I got very close at Bruntingthorpe," says Ian Hartley, who put lots of development miles on the V600. "But it was more about managing the braking distance at the end. I think I got to 180mph. It would potentially do 220mph with the gearing but that's obviously not physically possible with drag."
So was 200mph merely a claim? "I believe so. I don't think anyone went to Nardò to do it. There were two mechanics, one electrician, two fabricators, one trimmer – it was a really small team trying to develop this Goliath of a car."
Aston's hopes for the twin-supercharged Vantage were modest, and the production run of 300 cars – around 90 ending up with the V600 pack – were far beyond expectation. And nigh on all of them are still around. "I'm surprised they didn't find a few more hedges," says Ian. "Managing traction was a problem."
"I imagine a few of them did find hedges," adds Steve, "but because of the value of them, they always got repaired. I can remember a few hairy moments in them, thank god I never stacked one!"
I can't help but concur. It's proved a thrill ride of an entirely different kind to the high-output supercars we have just 21 years after this car ended production. "People retired at the end of this Vantage because they didn't want to go onto the new models, which started with the Vanquish," Steve says fondly. "Four panel beaters had done 49 years each; they started on the same day and finished on the same day. These were the pinnacle of British hand-built cars."
Photography: Mark Riccioni
For all things retro, visit Top Gear's shiny new hub