Retro
Giotto Bizzarrini, 1926-2023: the man behind the Ferrari 250 GTO
Celebrated automotive polymath leaves an incredible legacy with some of the supercar world's finest creations
Although he'd departed Maranello before the car was revealed, Giotto Bizzarrini was the man largely responsible for the Ferrari 250 GTO. That alone would be enough to secure his status in the pantheon of great Italian engineers, but there was more where that came from. Much more.
Bizzarrini, who passed away last weekend at the age of 96, arrived into the Italian car industry just as the country's ricostruzione was gathering momentum. This was a good time indeed to be plying one's trade as an imaginative automotive polymath. Born in Livorno in 1926, Bizzarrini's family were wealthy farmers, although his grandfather had close connections with the celebrated inventor Guglielmo Marconi. He graduated from the University of Pisa in 1953 with a degree in engineering, and joined Alfa Romeo's 'Servizio Esperimenze Principali' department soon after. He was a test driver on the ground-breaking Giulietta, and combined his empirical rigour with a natural feel and flair for a car's behaviour.
Advertisement - Page continues below
This would serve him well when Enzo Ferrari recruited him in 1957. Bizzarrini was instrumental in evolving the company's fabled 250 GT bloodline, his fingerprints all over the 250 GT SWB, California Spider and the GTO. That would appear only a few months after he and a number of Ferrari's other top lieutenants – commercial director Girolami Gardini, chief engineer Carlo Chiti and racing manager Romolo Tavoni among them – left the company in high dudgeon during the so-called Palace Revolt. Apparently they'd grown weary of Enzo's wife Laura meddling in the company's day-to-day business. It remains one of the more curious events in Ferrari's history.
Bizzarrini and Chiti set up ATS (Automobili Turismo e Sport), and the mid-engined, Franco Scaglione-designed 2500 GT soon appeared. Then one of Ferrari's best known privateer racing teams, Count Volpi's Scuderia Serenissima, asked Bizzarrini to rework a 250 GT SWB (the team's GTO order now having been snubbed by Ferrari). The result was the famous 'Breadvan', which incorporated a number of the technical solutions featured on the famous Ferrari, along with an elongated Kamm tail body of flamboyant and aerodynamically effective proportion. Bizzarrini had basically set out to defeat his own creation. It was fast and raced at Le Mans in 1962, before retiring with mysterious propshaft problems.
By this point, the irrepressible Bizzarrini had founded an engineering consultancy called Societa Autostar, whose clients included a certain Ferruccio Lamborghini. Bizzarrini's magnificent 3.5-litre V12 engine appeared in the new 350 GT, was positioned transversely behind the seats in 1966's epochal Miura, and was still in service albeit heavily modified and twice the capacity in the Murciélago. It was an incredible feat of engineering.
He also worked with another aspiring supercar maker, set up by refrigerator magnate Renzo Rivolta, to develop a series of cars for Iso (rather less successful than Ferrari or Lamborghini, but still super cool). Road cars like the heart-stoppingly beautiful, Giugiaro-designed Grifo followed, but the competition-oriented, Drogo-bodied Grifo A3/C was closer to Bizzarrini's heart. This Chevy V8-powered machine raced at Le Mans in 1964 but Rivolta wasn't committed, prompting Bizzarrini to go it alone. The result was the eye-popping Strada GT 5300 road car, and a class win and ninth place finish overall at La Sarthe the following year. Here, perhaps, was Bizzarrini's ultimate car, almost impossibly proportioned and remarkable dynamically. The P538 followed in '66, and a GT Europa 1900 road car was planned but the company simply ran out of time and money. One significant footnote: Giugiaro used a P538 as the basis for the first car he created under the aegis of his new Italdesign consultancy, 1968's spectacular Bizzarrini Manta, a three-seater whose cabin configuration surely inspired Gordon Murray's thinking on the McLaren F1.
Advertisement - Page continues below
Giotto Bizzarrini continued to work as a consultant thereafter, highlights including the AMX/3 he co-developed for the American firm AMC in the early Seventies, 1998's Kjara, and a 2005 concept car. He also lectured at the University of Rome and remained fiercely protective of his legacy right to the end. Of course, the name lives on, with a reactivated Bizzarrini creating 24 5300 GT Corsa Revivals, while an all-new supercar designed by Giorgetto and Fabrizio Giugiaro is currently under development. Its name? Giotto.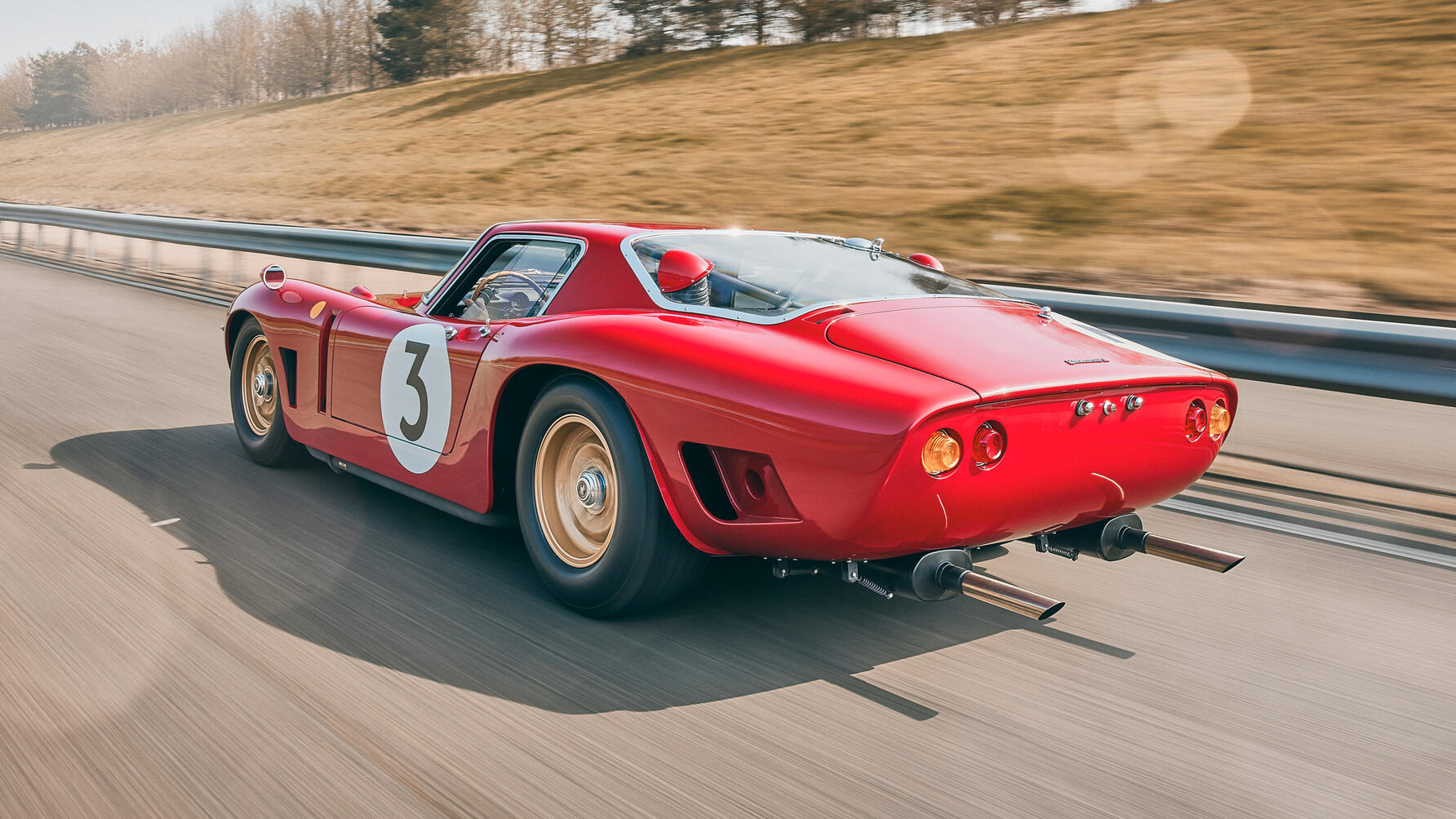 Top Gear
Newsletter
Thank you for subscribing to our newsletter. Look out for your regular round-up of news, reviews and offers in your inbox.
Get all the latest news, reviews and exclusives, direct to your inbox.