Retro
Is the gorgeous Alfa 33 Stradale a love letter to the past... or a lazy tribute?
Channelling the spirit of a car as beloved as the original is not for the faint hearted...
It's 11pm and TG is wandering through Alfa Romeo's museum with scarcely another soul to be seen. This is quite the privilege and it prompts an important thought: the hit rate of these guys is extraordinary. There's a pale blue late Thirties 8C 2900B Lungo, a TZ2, a classic Giulia Super in blue and sirened Carabinieri form (pronto intervento)... 70 cars on permanent display, all in all, with more treasure stashed away backstage.
But this is a human story, too. Take Alfa's Sixties CEO Giuseppe Eugenio Luraghi, an engineer who also happened to be a poet, writer and polymath. Like so many Italian grandees of this period, his eyewear was on point, too. More importantly, it was he who decreed Alfa Romeo should go racing again, and he hired former Ferrari engineer and all-round genius Carlo Chiti to facilitate. The result was the 33 bloodline, a series of competition cars to rival the best that Ferrari and Porsche conjured up.
Advertisement - Page continues below
Teasing them all was the 33 Stradale, a road car designed by Franco Scaglione, the author of more great cars than there is space to list (check out the Alfa Romeo BAT cars and Lamborghini 350 GTV as a primer). But the 33 is his masterpiece, a car that retains its capacity to flabbergast 56 years later. Only 18 were made, and six were cannibalised to underpin some of the world's most influential concepts, including 1968's seismic Alfa Carabo.
Photography: John Wycherley
Now meet the new 33 Stradale, a mid-engined fuoriserie (limited edition) super sports car whose debt to its Sixties forebear is so strong they didn't change the name. "[This car] has been designed to enhance our identity, elevate our aspirations, and embody our DNA and values," says Alfa Romeo's larger than life and unexpectedly sweary CEO, Jean-Philippe Imparato. "It is the brand's first custom built car since 1969, and I promise it will not be our last. It brings Alfa Romeo back into the 'supercar club', of which we were one of the founding members. This car is conveying a transformation that is supporting the move of Alfa Romeo in a world that is changing."
Let's park Alfa's long-held desire to be Italy's BMW and take this thing at face value, shall we? The new car, somewhat intriguingly, can be had with either a 3.0-litre, twin-turbo V6 making around 620bhp, or as a BEV that will most likely run three e-motors for more than 750bhp (it's currently under development and details remain sketchy, but this will make it Alfa's first EV). The 33 uses a carbon-fibre monocoque with aluminium subframes. And it will be manufactured in a limited run of just 33 cars by celebrated Milanese carrozzeria, Touring Superleggera.
Advertisement - Page continues below
The new 33 Stradale signals some important evolutionary steps for the company. It's the creation of Bottega, a skunkworks that Alfa Romeo says was inspired by Renaissance workshops and Sixties coachbuilders. A bespoke department, in other words, based in a room in the museum overseen by a specially convened taste polizia. Potential customers were invited to a secret preview in Monza during last year's Italian GP, where a price tag adjacent to £1.7m didn't deter eager suitors. All 33 were sold within a fortnight. TG understands the Bottega is currently working on other fuoriserie Alfa Romeos. Alejandro Mesonero-Romanos, the company's design boss, gives little away but says he's a fan of the exquisitely elfin TZ1.
The 33 Stradale isn't just a high end brand building exercise, though, it also offers clues to the company's design trajectory. "The project has come about as a result of the passion and dedication of a small team of designers and engineers at the Alfa Romeo Centro Stile," Mesonero- Romanos asserts. "The design is inspired by Franco Scaglione's masterpiece of 1967, with a bold look to the lines of future Alfa Romeo models. [It is] a true manifesto of essential beauty."
We shall see. Channelling the spirit of a car as beloved as the original is not for the faint hearted. Look how Marcello Gandini – who designed the Carabo – publicly and petulantly dissed 2022's limited run Lamborghini Countach LPI 800-4. Which raises the question, surely Alfa should be forging ahead with a vivid new design language rather than rifling through its back catalogue? Perhaps, but in the flesh this thing is unarguable.
The front end's integrated nose and wing cofango is pleasingly short, with a strong V-shaped section adding tension to the softer elements. The Alfa scudetto – shield – is here but remixed and remastered. Clients can order it in carbon fibre in classic form or in a 3D iteration. LEDs add a new graphic pulse to headlights whose shape is close to the original's expressive 'eyes'. Then there are the large top-hinged butterfly doors and wraparound glass, one of the standout features on the original. The roof is made of carbon fibre and aluminium. There's another V-section at the rear, drawing the eye to a point above the centre of a carbon-fibre diffuser. More dramatic still are the rear lights whose cylindrical form cuts deep into the rear wing.
Top Gear
Newsletter
Thank you for subscribing to our newsletter. Look out for your regular round-up of news, reviews and offers in your inbox.
Get all the latest news, reviews and exclusives, direct to your inbox.
Safe to say fiscal pragmatism means the new 33 Stradale is not wholly 'new'. During the big reveal in Arese, Alfa's execs deliver an impressive word salad in their efforts to distance the car from the closely related Maserati MC20 (a project that began as an Alfa, before becoming a Maserati and now finally... an Alfa). The engine is a bored out evolution of the Giulia QF's twin-turbo V6, now 3.0-litres in capacity with new cylinder heads, but minus the Maserati Nettuno engine's clever efficiency enhancing 'pre-chamber' ignition. An uprated version of the existing eight-speed DCT is fitted and there's an active rear axle for RWS. Top speed is a claimed 206mph, 0–62mph less than 3.0secs.
A Strada mode is for less frenetic everyday driving, with a more compliant ride from the multi-link suspension and active dampers, and exhaust valve actuation only above 5,000rpm. Pista tightens everything up in all the expected parameters, but also adds a 'fast start' function via a Quadrifoglio button on the centre console. Braking is by Brembo, with carbon-ceramic discs. Alfa Romeo F1 driver Valtteri Bottas is part of the development team. The combustion 33 weighs 1,500kg, the EV will naturally be heavier. We'll be curious to know what the ICE/EV mix is.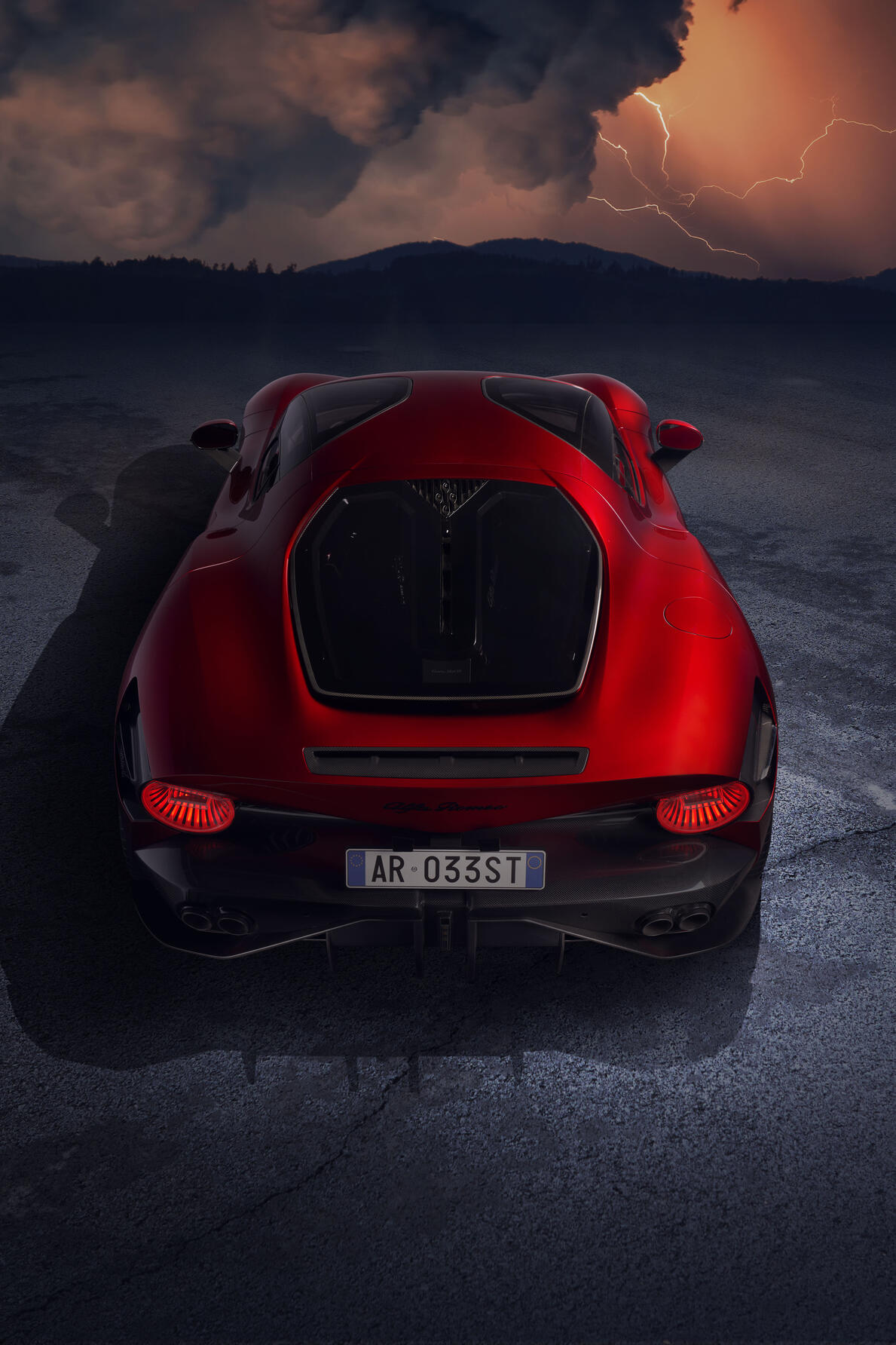 Inside, less is definitely more, perhaps even definitively. In fact, it might even be cooler than the exterior. The emphasis here is on tactility rather than technology, and Imparato insists the 33's buyers simply didn't want lane assist and all its associated nonsense. The wheel is a gorgeous three-spoke item devoid of switchgear. The dash itself sweeps across the cabin, while the air vents are hidden. There's a simple '3D telescopic' instrument panel and a small retractable multimedia screen. Mechanical switches on the centre console governing start, drive modes and transmission are preeminent. Those amazing doors and the amount of glass delivers a cockpit feel. The rear window is made of polycarbonate.
Two different basic interior treatments are available. Tributo uses leather and aluminium with two-tone biscuit leather and slate, which is also used in the seats, dash, door panels and central tunnel. Alfa Corse is the more overtly sporting option, with lots of carbon and Alcantara. Red, blue, or a white and red treatment that references the classic Tipo 33 race livery are the main colour options. Owners can also play around with the carbon fibre elements, and the Alfa Romeo signature on the rear is available in black, gold, or silver. But if Alfa is true to its Bottega mission statement, anything is possible.
Yes, we remember the Noughties 8C Competizione and the ill-conceived 4C. Defeat can still be rescued from the jaws of victory. And yes, the 'new' 33 Stradale is another Alfa shamelessly in thrall to its history. But there's poetry here, too. The old boss would've been thrilled.