Meet Uncle Buck, the man who'll help make your dream classic
A car is just a giant jigsaw, right? Meet the man who'll make the puzzle of your dreams
Saying you'll own a Ferrari by the time you're 40 is a well-worn life goal. In fact, in this era of 'live, laugh, love' holistic Instagram quotes, it's less of a life goal and more of a cliche. But for Kevin Agnew, it was literally a matter of life or death.
At 34 he had heart problems. Big heart problems. Such big heart problems that he needed a new heart. So, as he laid waiting for a full transplant, he had a quiet word with himself and set a goal: if he survived such seismic surgery, he'd get a Ferrari.
Thankfully, he did survive. And bought himself a Ferrari Mondial months before his 40th. But that quickly dovetailed into a new goal: he had to own his dream Ferrari – a 250 Testa Rossa. But considering these scintillatingly sexy pontoon-fendered Prancing Horses have sold for up to £29 million, Kevin, a softly spoken South African window frame maker, couldn't buy one. So, he decided to build one.
"I did a little trade with a friend who needed some doors and windows for his holiday house," Kevin says. "Knowing he had a dormant rolling Cobra chassis in his garage, instead of paying cash, I asked if he'd do a swap."
His mate agreed. But a replica Cobra chassis doesn't exactly scream 'eye-wateringly expensive late-Fifties Ferrari'. However, with a background in engineering, a love of puzzles and problem solving ("I'm good at chess," he says with a wry smile) and some CNC machines at work, Kevin decided to do what Pininfarina and other coachbuilders did back in the day – make a 'body buck' out of wood to form that gorgeous shape to slap over the chassis.
If you're not familiar, a body buck is a skeletal wooden framework that acts as a design masterplan of a given car. Back in the Fifties, Pininfarina would bring in people from the furniture industry to sculpt its visions, as they could easily translate what designers had in their head into three-dimensional form. These chair, wardrobe and bed makers would produce wooden bucks with gappy vertical stanchions (secured to each other with longitudinals) that'd give a car its shape, allowing for metal bodywork to be beaten or rolled over it, producing those iconic voluptuous knuckle-biting shapes of the era. And this exact old-school process is what Kevin did, but with a 21st century twist.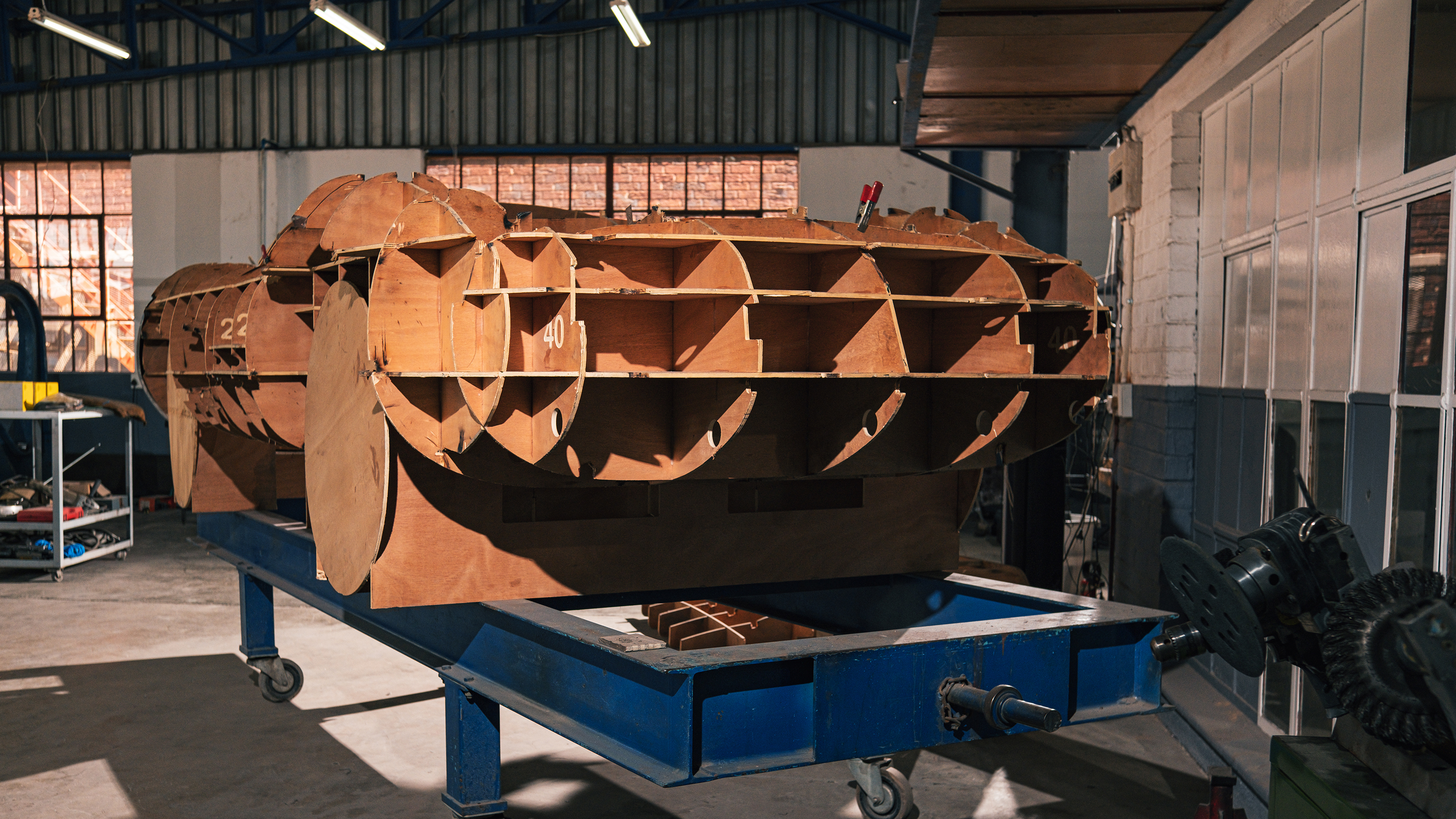 Using 3D scans, photographs and blueprints, he sat at his kitchen table (with his two pugs Daisy and Horace at his feet) and spent weeks producing a CAD DFX file. This translated to 24 sheets of plywood that contained individual Ferrari 250 TR jigsaw pieces that would interlock and come together to make a buck. He then fed this file to a CNC machine that printed out the most awesome wooden 3D puzzle.
He put it together in his garage at home with just a nail gun and glue but, instead of rolling sheet metal over the top, Kevin filled all the gaps with foam and covered them with a couple of layers of fibreglass, before breaking it out. A one-off pseudo-Ferrari body with no moulds was born.
Before Maranello's legal team could come knocking, he then threw it over the Cobra, dropped a Lexus V8 in it (producing an exhaust note that's seriously meaty but ultimately misleading) and tried to find as many original Ferrari 250 parts as possible. He bought a genuine Ferrari 250 steering wheel off the niece of the shah of Iran, for example. And if he couldn't find matching items or parts, he'd fabricate them.
Take the rear lights. He could only find one original, so he made a mould of it and produced a perfect replica. This kind of hodgepodgery is stuff that'll cause an emetic response in lobster-quaffing, matching-numbers-or-die car collectors. But if these are the things someone who wants to live out their dream and gain an extra slice of happiness has to do, screw the concours crowd, we're all for it.
Having posted his Ferrari build on social media, the car and build got a bit of a following. Especially in South Africa, where cars like this are items of pure aspirational fantasy or fiction. But then Kevin had a request from someone who'd seen what he was up to, asking if he could build a body buck for his childhood poster car – a Maserati A6GCS. Kevin agreed, and that's when the snowball really started to run away from him.
Like to freestyle Lego builds? Kevin stresses you can't deviate from his order and 'secrets'
"I was starting to get calls from all over the place," Kevin says. "I've since done about 40 cars – Zagatos for people in Poland. An Alfa Sprint for a man in Australia. A Stirling Moss SLR 300. A Meyers Manx for a client in Turkey. A Ferrari 625 TRC with a 400i engine. A GT40 for a guy in England. I'm doing a very special Corvette for a guy in Canada. Then there was this Cunningham for another guy in America. And an Eagle Low Drag. The list goes on and on. I even got asked for a quote for a unique body buck from someone in Cambodia. I didn't even know they had roads there – they want a tank!"
The less digging into that one the better. But Kevin took the puzzleness of this mad four-wheeled flat-pack furniture he was creating to another level thanks to a commission of a Ferrari 315S.
"The owner had an original engine, so I did a buck for him. But he also wanted a chassis. So using my mechanical engineering background, I teamed up with an automotive designer and produced a complete chassis for it. Like the buck designs, I reverse engineered it in such a way that everything could be laser cut, including the chassis notches. So there's no grinding anything together."
Like his body bucks, the chassis comes to the buyer with a set of instructions; a step-by-step guide where you simply connect the dots by connecting one numbered piece to another. But if you're one of those people who likes to freestyle their Lego builds, Kevin stresses that you can't deviate from his order and 'secrets'.
Over the last few years Kevin's work has become so renowned that this kitchen table hobby has now formed into a lucrative side hustle. Still working at the kitchen table with his dogs at his feet, he fulfils requests to weave people's dreams daily. And it doesn't look like it'll stop anytime soon. Figures show UK sales of jigsaws reached £100m in 2020, up 38 per cent on the previous year. You have COVID-19 to thank for that. With the pub being off-limits and too much time cooped up with loved ones, more puzzles are now being bought for adults rather than children, which is not the norm. And with these effectively being massive 3D jigsaw puzzles, we can't think of a better present for a petrolhead.
Admittedly, you'll need around £2,500, some space, plenty of pound coins to put in the swear jar and to wait three months to build it. But what you'll be left with is a wooden work of art – one you can either decide to dress up and fill with engine components, or leave in its wooden birthday suit as a sculpture at the end of the garden. So if you don't think you'll own that Ferrari by the time you're 40, this might be the next best thing.
Photography: Stefan Kotze
For all things retro, visit Top Gear's shiny new hub