Retro
Monterey Car Week: part two of 2021's greatest images
Want more from Monterey and Pebble Beach? Step this way…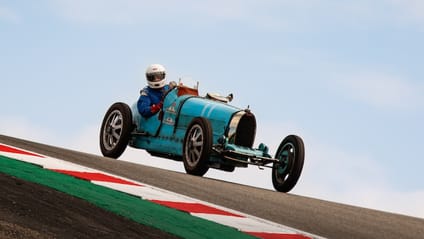 Already treated yourself to a flick through our first Monterey Car Week image gallery? Well, here's a bit of good news for you… we're back with round two.

Yep, scroll on down for more from the Motorsport Reunion at Laguna Seca, as well as a few snaps from the Pebble Beach Concours D'Elegance and The Quail Motorsports Gathering. Although be warned, much jealousy may ensue.

We kick things off with a 1925 Bugatti Type 35 tackling The Corkscrew. Naturally.

Images: Rolex/Tom O'Neal (Concours D'Elegance, The Quail) and Rolex/Stephan Cooper (Motorsports Reunion)

Advertisement - Page continues below

This was during qualifying for the 1920-1951 race at Laguna Seca. We wish we were there…

The definition of commitment from this 1964 Shelby Cobra 289.

Advertisement - Page continues below

This is a 1911 Franklin Model H, and it might just be the best thing we've seen on a racetrack this year. 

Tyre pressures? Check. Fluid levels? Check. Gloriously groomed handlebar 'tache? Check. 

Any day with a JPS Lotus in action is A GOOD DAY. This is the 78/2 from the 1977 Formula 1 season. 

Advertisement - Page continues below

Audi's stretchy 'skysphere' concept was on display at The Quail. 

Winner of the Rolex Best of Show was this 1938 Mercedes-Benz 540K Special Roadster.

Advertisement - Page continues below

Meanwhile, the same award went to another 540K at Pebble Beach. This time it was the only Autobahn-Kurier left in existence that took top spot. 

We're not quite sure what's going on here, but we'd guess this chap is a rather big fan of the 1937 Horch 853 Voll & Ruhrbeck Sport Cabriolet…

Because every image gallery needs a Lancia, here's a 1925 Lambda Casaro Roadster at dawn.

And we'll round things off with an EV – how very 2021. Although this is actually a Columbia Mark XXXI Victoria Phaeton from 1901. Crikey.