Retro
Restomod of the week: Lancia Aurelia B20GT Outlaw
This limited edition Lancia Aurelia B20GT Outlaw by Thornley Kelham is one of only nine examples to be built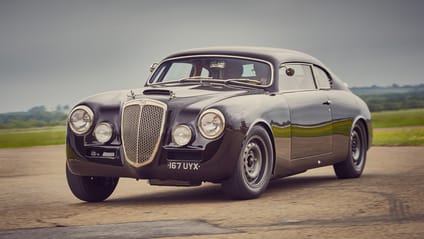 The Lancia Aurelia B20GT Outlaw is a restomod like few others. Originally offered alongside four-door saloon, two-door spider and convertible models, the B20 was the two-door coupe version of the Aurelia. First built in 1951, only 3,800 or so were ever made. Initially it was sold with a 2.0-litre engine - one of the first series-produced V6s - before upgrading to a 2.5-litre motor in 1953.

Front-engined and rear-wheel drive, the Aurelia used a four-speed manual gearbox. And although it wasn't devastatingly potent, 50/50 weight distribution made it incredibly well balanced and ideally suited to navigating twisty, Italian roads. Designed by Ghia and built by Pininfarina, it looked the part too.

So what of the Outlaw? It's a three-year restoration project that takes a certain amount of artistic licence inspired by the B20GT's racing history. Allow us to explain...

Photography: John Wycherley

Advertisement - Page continues below

It's made by Thornley Kelham, a company that began life as a classic-car paintshop in 2009 before evolving into the comprehensive restoration business it is today. Based in the Cotswolds, it has done engine rebuilds, coachbuilding, and all manner of restoration work on countless vintage cars over the years.

Including many, many Lancias. A few years ago it was tasked with restoring the original Aurelia B20GT driven by Giovanni Bracco at the Mille Miglia and the 24 Hours of Le Mans in 1951. Three years of work led to the finished car being shown at Pebble Beach in 2014, after which the company was approached with the idea of making a normal-rules-don't-apply version of the B20GT. An 'outlaw', in other words.

In a nod to the car's roots, Thornley Kelham also refers to it as the Fuorilegge; Italian for outlaw.

After sourcing a suitable donor car and engine, Thornley Kelham sits down with each Outlaw customer to draw up an exhaustive list of modifications. And when we say exhaustive, we mean you'll be knackered just from the act of reading it.

The key change is the roofline, which is lowered by around three inches to reflect the Giovanni Bracco original that inspired the entire project. The front and rear wings are widened, and the exterior gains flourishes like the Monza-style fuel-filler cap and the Nardi bonnet scoop. The 15-inch alloys are inspired by the Jaguar D-Type, and the car rides on Avon tyres.

The original engine is replaced by a 2.5-litre V6 from a Lancia Flaminia, which is then bored out to 2.8-litres. The suspension is lowered and the damping fettled, a hotter camshaft is installed and the original drum brakes are replaced by a hydraulic system with modern discs. Then it all gets a bit Savile Row. The aluminium airbox? That's bespoke. The exhaust manifolds and exhaust system? Bespoke. Aluminium radiator? Bespoke. The competition fuel tank? Take a wild guess.

Inside, the front seats are from a Porsche 356 Speedster. The interior is finished in aniline leather, with Alcantara headlining and a wood-rimmed steering wheel for that contemporary feel. The narrower windscreen is custom made, the side windows are made from plexiglass and in a nod to the car's racing pedigree, a four-point harness is coupled with a roll cage.

In total, you're looking at about 5,000 hours of work. Blimey.

Advertisement - Page continues below

How many are being built?

Thornley Kelham has said it won't build any more than nine. Work has begun on Outlaw #6, which means there are three build slots up for grabs if you happen to be sitting on a large pile of cash.

The bored-out 2.8-litre V6 also uses the original Flaminia transaxle - backed up by a new propshaft to cope with the additional power - and the donor car's Weber carburetors make way for Omex fuel injection.

Thornley Kelham doesn't give performance figures for the Outlaw, but having been lucky enough to drive one a while back, TG understands that it produces around 175bhp and 5,100rpm. That's plenty for a car that weighs 1,200kg.

Thornley Kelham builds up a price for customers on a project-by-project basis, but when TG went to take the #2 Outlaw for a spin we were reliably informed that a figure near £400,000 was the going rate.

Why should I care about it?

The Outlaw's creators say they will only restore B20GTs that are badly in need of a complete overhaul, so no unharmed originals are being butchered for the sake of the Outlaw project and enthusiasts can sleep easy in their beds.

In fact, Giovanni de Virgilio - the son of Francesco, who designed the original V6 in the Aurelia - said that the Outlaw is "a very purposeful and realistic car that Gianni Lancia could have built for a friend."

Advertisement - Page continues below

Can you tell me one interesting fact about it?

It might not look like a racer these days, but the Lancia Aurelia B20GT has motorsport woven into its DNA. Just a matter of weeks after it was launched Giovanni Bracco and co-driver Umberto Maglioli took one to the Mille Miglia and finished second overall, beaten only by a Ferrari 340 America. Later in 1951 that same car finished 12th at the 24 Hours of Le Mans, winning its class in the process.

Bracco then took the car to Mexico to compete in the Carrera Panamericana, but crashed out on the fourth day of the event after a strong showing. It returned a year later with a new owner, and subsequently finished 9th in its class.

The B20GT Outlaw pictured here - the second in the run of nine - was commissioned by Danny Sullivan, winner of the 1985 Indy 500 and 1988 CART championship.