Retro
Restomod of the week: Voitures Extravert's electric 911
This Dutch company will satisfy your restomod 911 needs with the 'quintessenza'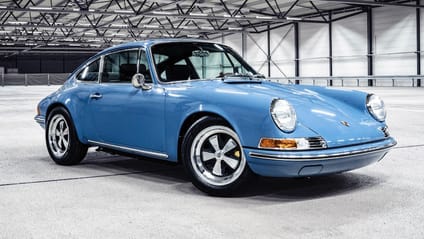 It's an electric 911, is what it is. Porsche themselves decided not to battery-ify the current 911 in favour of creating the Taycan, and while the wisdom of that decision is self-evident it's left the door open for other companies to fill the void with creations of their own.

Called the quintessenza, buyers can choose from a sixties-esque SE or an eighties-inspired TE, with both cars available in Coupe and Targa form. The company in question will source a 'perfect' donor vehicle itself while you sit back and relax, which you'll be doing for a while as the whole process takes nine months.

Why so long? All parts on the car are either fully refurbished or replaced entirely, but the result is a finished car that's 'better than new', apparently.

And if you're horrified at the thought of butchering an original sixties 911 in this way, don't panic: the company doesn't touch these out of respect for enthusiasts, instead sourcing its donor vehicles from the 1970s and 1980s. This also helps keep costs down, so win win.

Advertisement - Page continues below

A Dutch company that goes by the name Voitures Extravert. Based in the Netherlands, software is sourced in California and work on the body takes place in Germany, before the almost finished package is brought back to base to fit and test the new, electric powertrain.

The company was set up by Martijn van Dijk and Jurgen Moerman, and has been in operation since 2016. Its mission is 'to colour the streets again with iconic classics, based on technology of the future'. Hard to argue with that.

The usual: engine, fuel tank and gearbox out, battery and electric motor in. The battery is a 59kWh unit that gives the quintessenza a range of around 250 miles, and it'll take a charge of up to 60kW at a fast-charging station.

It doesn't end there though. Voitures Extravert is committed to giving its customers a classic car that's fit for the modern world, which means making the quintessenza more comfortable than the original 911. To that end they'll fit custom-built adjustable suspension, as well as power steering, air con, heated seats and a high-quality audio system to drown out any lingering tyre or wind noise.

Part of the appeal of an electric classic is vastly improved reliability, and Voitures Extravert uses a motor that it claims will last for more than 3,000,000 miles. The UK average is somewhere above 7,000 per year, so the quintessenza will still be going strong deep into the 25th century.

Meanwhile, the paintwork gets the latest anti-corrosion treatment, and the car's software allows remote vehicle monitoring and over-the-air updates.

Advertisement - Page continues below

How many are being built?

There's no limit on the number of cars Voitures Extravert intends to make, but it goes without saying that they don't build vehicles in great numbers.

The company doesn't do non-911 requests either, although it hasn't ruled out expanding its horizons in the future.

Faster than the original, as it happens. The motor generates 254bhp and 516lb ft of torque, chopping the original 0-62mph time of 8.7 seconds down to less than six. The top speed is an autobahn-friendly 112mph, slightly down on the original car's Vmax.

Voitures Extravert notes that the original 911 offered 'a very peculiar driving experience', and says that the quintessenza has better weight distribution thanks to the way the EV internals are laid out in their restomodded version. Make of that what you will.

It isn't cheap. Go for a sixties 'SE' finish and the quintessenza Coupe will cost you €309,990 (about £266,650), rising to €329,990 (£283,850 ish) for the Targa version. The eighties 'TE' model costs the same with its removable Targa roof, but the Coupe edition is a fair bit cheaper at €299,990 (£258,050, give or take a few pennies).

Wide rear fenders are standard throughout, although you can get medium or narrow ones for €5,000 or €10,000 respectively. There's the option of right-hand drive too, but be warned that this adds €20,000 (£17,250) to the price. Oh, and none of this includes local taxes.

Steep though it may be, you do at least get a warranty that lasts for five years or 62,500 miles. And Voitures Extravert insists you should only need to change the tyres and windscreen washer fluid when it comes to servicing.

Why should I care about it?

The practice of turning classic cars into electric vehicles is exploding globally, as people become increasingly wary of emissions-based restrictions. So if we absolutely have to stick batteries and electric motors into things as esteemed as the 911, we might as well do it properly.

Advertisement - Page continues below

Can you tell me one interesting fact about it?

With the Covid pandemic making international travel more than a tad difficult, Voitures Extravert has designed a way to give quintessenza customers around the world a virtual test drive from the comfort of their own sofas.

Referred to as the AutoPilot service, a demo vehicle is fitted with cameras and taken out for a spin: potential buyers can watch live and can even tell the driver where to go. There's also a support bike following behind with a camera so you can see what the car looks like from behind while it's on the move.