Retro
This super-tough G-Wagen took some seriously gentle restomodding
Shockingly, an old G tuned with something called 'restraint'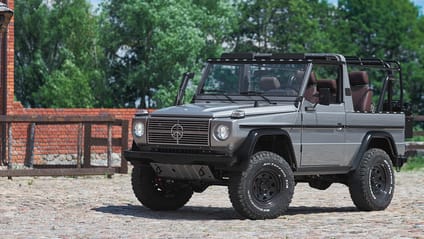 This, dear friends, is getting to be something of a pattern. After years deriding and decrying off-roaders and off-roading in general, it appears that even we are starting to be won over by its charms. If you were generous, you could put it down to a softening that comes with age and wisdom. If you were perhaps a touch on the cynical side, you could put it down to spending the best part of 18 months locked inside, as the world goes all 12 Monkeys around us.

Oh, you were talking about the car? Right. Makes much more sense. Ahem. This, dear friends, is what Mercedes would really rather you call a G-Class, but is now – and forever will be – a G-Wagen. That's short for Gelandewagen, which is German for terrain vehicle – or perhaps more accurately, all-terrain vehicle.

This particular G was christened the 250 GD by Mercedes, due to its 2.5-litre diesel engine, the fact that Merc used to put the numbers before the letter in its names, and that car titles actually bore some relation to engine size back in the day. But the German military had a much better name for it: Wolf. And yes, Wolf is the same word in both German and English, albeit with some dispute over pronunciation.

And this very specific Wolf is one from Expedition Motor Company, a group of G-Wagen gurus on the outskirts of Frenchtown, New Jersey, right near the Delaware River. Perhaps not the first place you'd think to find a company dedicated to restoring and updating Austro-German military vehicles, but one you're likely to remember after you see the results.

Advertisement - Page continues below

Ah, rather jumped the gun there on the question, didn't we? Well, no bother – we can drill down even further.

Expedition Motor Company is the brainchild and business of Alex Levin, a man with both appreciable talent in restoring old Gs and an affection for the Wolf that borders on obsession. Case in point: EMC's business is focused on the military 250 GD – that means it must have the milspec fold-down windscreen, a soft top, five-speed manual gearbox (which is really low, plus four) and the venerable OM602 diesel engine. Alex will do you a hard top, automatic and/or petrol G if you have your heart set on it, but it really does feel like it's under sufferance.

Oh, you know. Just a complete tear-down, restoration and reassembly. With a sprinkling of modern touches along the way, so you can reasonably expect to be comfortable, see where you're going, listen to music and so on. There's also a 1.6-inch suspension lift thanks to modern Eibach springs and Bilstein dampers, with polyurethane bushes replacing the squidgy rubber ones.  

So EMC really favours the 'resto' part of restomod, and leaves the mods as sparse and utilitarian as the original machine. Kind of fitting, that.

Advertisement - Page continues below

How many are being built?

There's no concrete number, really; just a steady run of freshly refurbished Gs, each with about three to four months' lead time and 1000 hours' worth of work tucked behind its squared-off flanks. Though, theoretically, it's possible to exhaust the supply of proper Wolf G-Wagens.

Er, no. That's an old-school Mercedes diesel, built for outlasting the rapture, not outrunning it. And it's bolted into a vehicle that weighs between 1.8 and 1.9 tonnes, depending on whether you've attached the roof or not.

If you care about zero to 60mph times and triple-figure top speeds, this is not the machine for you. If, however, you want to feel true mechanical interaction, a part of the complex machine, as essential to its progress as it is to yours, it just might be.

You're looking at about 120,000 Freedom Francs as a ballpark figure. We specced one on EMC's online configurator, ticked roughly every option and arrived at $122,250 to get it exactly as we wanted it. Which might feel like a decent chunk of change for an old G, considering a new G 550 with a 4.0-litre, 415bhp V8 starts at $131,000 or so in the land of the free and the home of crushing medical debt.

If you're a Briton, it's a touch shy of 90,000 pounds sterling, or about 10 per cent less than the price of a brand-new G 400d from your local Mercedes dealer. Which does not have a biturbo V8, but instead has a diesel engine. Because it's Britain, and we're allergic to happiness or something.

But to baulk at the cost is to miss the point entirely. Firstly, people aren't cross-shopping new, entirely luxurious and hermetically sealed G-Classes against old, milspec G-Wagens. And secondly, you're paying for a basically brand-new 250 GD with some tasty off-road farkles, yes, but you're also paying for people's time. Disassembled, restored, improved and rebuilt by hand, by people who very clearly know what they're doing.

Why should I care about it?

There's a spectrum of restomodding, from the lightest of touches to the heaviest of hands. But, as you might expect from a heavy hand, it tips the scales firmly toward itself: restomods tend to err towards radical changes and modern mechanicals, to suit contemporary perceptions of what a car can be and should do. And that's an entirely valid choice; there really are no wrong answers in the world of car customising, just ones you personally might not like.

But there's the danger that, with every change, you could lose what made the original article so special in the first place. We're not saying that faults equal character by any stretch of the imagination (as ex-Alfa owners, we know that sometimes a fault is just a fault), but there are certain specialties and attendant limitations that form the foundation of a car's character. The Citroen DS, for instance, is defined by its shape and technology. But its small, mildly powered engine also defines its gentle – and genteel – character. If it had a snarling, hi-po heart, the entire character of the car would change.

And so it is with the G-Wolf. Its unique appeal lies in its specificity to task, its spartan feature set and singular focus. And its slab-sided styling, of course. By retaining and restoring the fundamental elements of the original, then adding contemporary touches that don't interfere with the ethos of the original, the essential character of the car – i.e. why you wanted it in the first place – remains intact.

Getting this level of restraint from a restomod requires a builder with a deep understanding and appreciation of the machine. And that's something we can absolutely get behind.

Advertisement - Page continues below

Can you tell me one interesting fact about it?

Yes, but to do so, we need to digress a touch.

You know how we said EMC only restomods the milspec G-Wagen? Well, we might have found a way to cheat that system.

So, the model code for military G-Wagens is W461, and has been since the early Nineties, when Mercedes spun off the luxe version of the G-Class – the W463 – which footballers and Novye Russkie promptly bought to barge their way around town.

The 461 is just for governmental and military use, and isn't sold to private buyers. Unless, of course, if you're Australian. For a brief period last decade, Aussies could buy a 'G-Class Professional', which is essentially the same G-Wagen that the Australian military had just put in an order for, minus the camo paint and incessant arguments about whether the Air Force, Navy or Army is better.

So, in all likelihood, in a few years' time, there'll be stock of super clean, right-hand-drive, milspec G-Wagens that you could convince Alex and the team at EMC to turn their hands to. And given how our descent into liking 4x4s is going, we're probably going to be first in line.