Review
Audi Q2 vs Toyota C-HR vs Mazda CX-3
Audi's new to small crossovers. But can the Q2 upset clever Japanese rivals?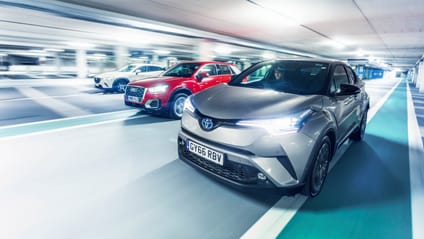 Planet Motoring has been conquered. Folks are scrambling over one another to bag themselves a tall, lifestyley supermini so hastily, they're doing rash, crazy things.

Recently, someone told me one of those delectable pub-fact nuggets I've annoyingly been unable to confirm, but like so much, I've decided to accept as fact in our post-truth world: that north of London, Britain's bestselling car is not the Ford Fiesta, but actually the Vauxhall Mokka. No, I haven't a clue why either. Anarchy reigns. 

Amid the mayhem, Top Gear is here to help. This is a crossover intervention. Audi's geometric newcomer, the Q2, and Toyota's equally fresh C-HR have burst onto the scene aiming for a big piece of the action. Both are saturated with hashtag-design and want to tempt the sub-10,000 people per year who buy Top Gear's current favourite. That'll be the agile, handsome, keenly priced Mazda CX-3. Or at the very least, stop them buying a Mokka.

Images: Mark Riccioni

This feature originally appeared in issue 291 of Top Gear magazine

Advertisement - Page continues below

We've got an interesting mixture of approaches here too. The Mazda, in top-selling, top-spec Sport Nav trim (worth £21,035, though the range kicks off well under eighteen grand), has survived a 11,036-mile stint on our long-term fleet and become one of the most quietly-yet-roundly appreciated cars to find a home at the TG office.

Its naturally aspirated 2.0-litre, 118bhp petrol engine has returned 39.1 miles to every gallon offered it against a 47.9mpg claim, driving the front wheels via chunky six-speeder that accurately replicates an MX-5's satisfying ker-click shift. 

Meanwhile, the Q2, fresh into our lifer family, is represented in what's poised to be the most popular spec. A Sport (interestingly not the £2,250 toppier S line), powered not by a low-CO2-never-mind-the-soot diesel, but the VW Group's ubiquitous 1.4-litre turbo four-cylinder, capable of delivering 148bhp when you've got your foot all the way down and deactivating half its cylinders for thriftier cruising when you haven't.

Its six-speed manual is light, unmemorable and has precisely no sports-car pedigree. But neither does a TT, and that's become a modern icon.

The CH-R is the slowest, least-thirsty car here, on paper. Toyota will sell you a £4,000 cheaper one packing a 1.2-litre turbo engine, but these hybrids aren't going away, are they? Toyota isn't bothered by diesel, and that stubborn tactic might be at last about to score it the extra-time winner, as downsizing is exposed for the false economy it was (well done Mazda, incidentally, for sticking with non-turbo 2.0-litres) and eco tests bite ever harder.

So here we've got a 1.8-litre four-pot, an electric motor and a total of 118bhp arriving at the front wheels. In range-topping Dynamic trim, it's the priciest car here, at £28k. Metallic paint and the Premium Pack (heralding leather and a stupendously powerful nine-speaker JBL hi-fi) make this the only contender wearing an as-tested price beginning with a three.

Advertisement - Page continues below

OK it's no good, I can't ignore it any longer – you just can't rationally approach the Coupe High-Rider without being knocked clean off your feet by the KA-POW of its angry Pokémon in a Marvel comic bodywork.

Step aside, Nissan Juke. Your USP has been blown into the middle of last year by the C-HR's metre-long headlights, bulbous arches, body-popping flanks and a roof spoiler that detaches to be used as a hang-glider. Possibly.

Sure, the Audi's got sideways-scrolling LED indicators, but guess what? So does the Toyota. What else you got, Q2? A grey roof pillar? Consider yourself comprehensively out-posed by the sensationally beaten-up C-HR. I happen to dig it. You might loathe the concept. But, like the ubiquitous Juke, that's exactly the point.

Inside, well, it's the best Toyota cabin since the Supra. Ideas collide everywhere, like a giant touchscreen (fairly snappy but obtuse to navigate, and mishmashed with poor map resolution but pin-sharp album artwork) bordered in a roll of pastel blue bubble gum, atop some Bratz doll's-house glitter-gloss plastic that surrounds diamond-shape buttons bespoke to the C-HR.

Heating is adjusted with toggle switches, while door cards swathed in diamond-quilted plastic scream "touch me". Don't, they're horrid. And the digital clock still appears to have been prised from a job lot of Nineties microwaves. But Toyota is trying, and against a painfully dreary backdrop of Auris, Avensis and the total erosion of anything cool about the RAV4, that's vital. Signs of life beyond the GT86. 

Having fathomed the clumsy afterthought of a rear door handle, folks travelling in the cheap seats will find it's roomer than it looks – more so than the Audi, and on par with the Mazda – but occupants' heads are well behind the window, so it's dark and claustrophobic. Travelling in the back of the C-HR gives you an idea of how it feels to be a glaucomic racehorse wearing blinkers. 

The Audi destroys the Japanese pair inside, right? Wrong. A base Q2 undercuts the ageing Q3, which appears to do the same job, by £6.6k. However, its source material, the A3 hatch, is a couple of grand cheaper.

Though the design looks as per A3, sharing the tenderising-hammer knurled knobs and crisp LCD readouts, you can spot the scars left as the accountants swung the axe. Air-vent halos are now only part metal. The MMI infotainment centre – easily the best system of the three for screen quality, speed and nav routing – has also swapped cool alloy for plastic. And the dash-marooned screen no longer glides politely into the dashboard when redundant. It stubbornly sits there like a lost postcard. None of these are deal-breakers you'd hold against the car, but you're losing that deep sense of feel-good density the latest Audis brandish.

It's also not big enough. Occupying the same space on the road as the Mazda and Toyota, the Audi lacks rear legroom in a big way. It's more A1 than A3 for second-row passengers.

But if you're not putting people in the back seats and instead fancy some hard lifestyling, the Q2 might be the best shout here. Its deep, square, 405-litre boot beats 377 litres from the Toyota and the Mazda's paltry 350 litres, not to mention the smallest boot opening.

Only when the Mazda's rear bench is folded does it wrestle control back as the most spacious machine here, thanks to 1,260 litres of capacity and a useful slug of hidden under floor stowage. The Toyota splits the difference but that high-fashion tailgate and big wing make it extremely heavy.

This hybrid C-HR is the halo Dynamic version and thusly kitted-out weighs 1,420kg. That plays 1,230kg for the Mazda and 1,265kg for the Audi, but thanks to a CVT gearbox, the Toyota isn't spritely. You're talking two seconds off the 0–62mph pace and it feels more when reacting to an overtaking opportunity. 

But after some acclimatisation and brain recalibration to work with the CVT's elasticity, it's not a bad powertrain, this. The engine revs smoothly, the transmission is quicker to match engine and road speed than earlier stabs at CVT gearboxes, and being able to park, reverse and trickle through traffic in EV mode is a relaxing bonus. Enough to make the part-electric one our pick? Nope. Give us the turbo manual any day.

The C-HR is based on Toyota's new global architecture, codenamed TNGA (guess why), which it shares with the current Prius. This means it's rich in high-strength steel, so it's as rigid as Toyota's average customer, and is designed to perch the driver low within the wheelbase, so everything feels a bit sportier. Sounds counter-logical for a crossover, but in the C-HR – as in the Prius – it works. 

Advertisement - Page continues below

Although you're higher up than you are in a humdrum Yaris, the C-HR is a more agile, grippy and reactive to drive. Its chassis was set up by Toyota's deputy chief engineer Hiroyuki Koba, who races in Japan on his weekends and completed the Nürburgring 24 Hours in a race-prepped C-HR. That's probably why the hybrid has a surprisingly positive feel to it. The steering has more pleasant weight than the curiously hefty Audi's, which piles on resistance as it corners and needs locking into Comfort mode to make urban work tolerable.

The Toyota and the Mazda wear standard-fit 18-inch rims. The Audi Q2 Sport wears 17s. And the most pliant-riding car here is… the Toyota, actually. You wouldn't credit it for the wantonly aggressive look, but it's got the quietest, most subtly damped ride. Fits really nicely with the hybrid powertrain, actually – this is a car you're ultimately not rewarded to push, but it schleps about town really cleverly. 

Yep, it's the Q2 which is a pain to haul through Newbury's deserted small hours, clattering heavily across mild imperfections. It's particularly stiff at the rear (sorry, cramped passengers), and is altogether happier given room to stretch its legs.

At a cruise, it's the quietest (engine hum and wind noise blight the Toyota, and the Mazda's buzzier), but the turbo 1.4 is overkill. It'll wheelspin its eco Michelin rubber away from junctions on a light throttle, and has been geared for an autobahn-ready 131mph in top. The motor doesn't even get into its stride until about 3,000rpm, but it revs smoothly enough. Still, I suspect the £21k 1.0-litre turbo Q2 will be a sweeter bit of kit.

The Mazda's been deliberately lurking in the shadows of this test because it's a known quantity and the others are fresh off the boat. It pops up for context, damning the Audi by demonstrating that to justify stiffness, you need to back it up with a chuckability pay-off.

The nimble CX-3 attacks corners like a supermini, and is 20 or 30 per cent better to drive than it needs to be. It's so refreshingly uncomplex in the way it goes about its business, free of turbos or modes, manifesting an albeit cheap 'n' shiny cockpit with irreproachable ergonomics, and packing the most occupant space into the dinkiest footprint.

It just about matched the Audi's 42.5mpg (both outdone by the part-electric Toyota's 46.4mpg) and patiently followed the newcomers through freezing fog-enveloped streets, as if politely, earnestly waiting to be called upon while its whizz-bang rivals strutted their more extrovert charms. 

Advertisement - Page continues below

Beneath its Mutant Turtle costume, the Toyota's fundamentally a good car, if one still searching for a perfect marriage of powertrain. Fair play to Toyota for taking the risks, though. Audi hasn't, and as a result the stiff, rapid Q2, which I really wanted to like, feels a tad phoned-in. It's in a really competitive set, yet isn't especially the best five-seat, five-door Audi for £23k.

So, here's a straight-down-the-barrel piece of crossover advice. The Mazda is arguably the least interesting car, but it's the cheapest, roomiest and finest to drive by a wide margin. You should buy one, if you haven't already. Top Gear for one welcomes our new crossover overlords.