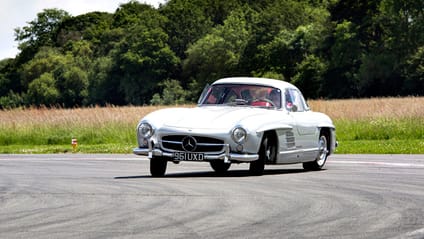 The Mercedes-Benz 300SL glistening like a giant, exquisite paperweight hewn from a solid piece of precious metal outside our Portakabin office at the track was not the only car I was lined up to drive. Alongside it were a scattering of others, some of which had brought their owners with them to lounge about, looking on as I drove and assessed their pride and joy. A Peugeot 205 GTi, an elderly Ford Capri and a splendid old Lotus Cortina all awaited my attention, and I reassured their anxious owners that I would be gentle with Their Precious and would return it without a blemish or a pulled muscle. What, then, must they have thought when I screamed onto the track in front of them in the rare, half-million-quid Mercedes Gullwing and proceeded to abuse the thing like it was a fifty quid hot hatch at a grass-track day?

This feature originally appeared in the December issue of Top Gear magazine

Advertisement - Page continues below

Two key things they needed to know: one, the car is actually owned by Mercedes as part of the company's collection, so not the summation of the dreams, pride and ambitions of some private owner, and two, the Mercedes technician standing by it had told me as I got in that it has "a lively back end" and to knock myself out and enjoy it. So I did. And the thing is, he was right: it really does have a lively back end.

This, remember, was the car with the world's first production fuel-injected engine; the breathtakingly gorgeous Gullwing body is draped over a spaceframe chassis; it has dry-sump lubrication and independent suspension at the front. So it was very clever and very modern compared with its contemporaries. But this was 1954, so it still had drum brakes and swing-axle rear suspension, and it does enjoy a reputation for that lively back end sometimes deciding to replace the front end. Which can be really expensive.

Advertisement - Page continues below

So I was really not expecting to be drifting it about like a Vauxhall Monaro. But as I quickly discovered, once I'd savoured the glamour of the moment as I slipped into the scarlet leather-lined interior and drew the legendary gullwing door down, this grand old lady is, well, very much not a grand old lady.

The straight-six 3.0-litre engine makes 215bhp, and it takes 8.8 seconds to haul the car to 62mph. But it's bursting with meaty torque and feels quicker than it actually is. A little lift into a corner, amidst a heavenly movie soundtrack of transmission whine, will let the heavy back end swing round, and then a prod and a push of throttle lets it roll about on those tall tyres and perform some most unladylike manoeuvres with its back end.

The drum brakes are not good - of course not. But this is not a heavy car; the SL stands for Super Light, and deservedly so - it just takes a bit of planning ahead, is all. Make no mistake: this is emphatically not a light, tight little sports car. It's grand and sometimes a bit wobbly and vague, but it doesn't half like a bit of a mess about.

Despite these dirty, lairy tendencies, the 300SL is suffused with a deep-rooted air of quality, of engineering, of craftsmanship. This is a genuine, blue-blooded legend, and the word 'exquisite' was pretty much invented to describe it. It was born of genuine racing pedigree, being a development of the earlier 300SL racing cars, so this was not just a toy for rich kids who wanted to look like they could go fast; it really could.

Advertisement - Page continues below

It's dated, yes. A similar car today would be - and is - about eight times the size and the original Gullwing looks dainty by comparison. The interior, although beautiful and, here comes the word again, exquisite, is a bit lively and bright by modern standards. But the look, that shape, those doors, they have elevated the car to genuine iconic status. It's a rare thing, and you could spend a lifetime as a car enthusiast and never actually meet one, but see a picture, and I'll pretty much guarantee you'll know what it is. Some car designs were just right from the start and deserve their legendary status. This is one of them.