Road Trips
Corvette Z06 vs Mustang GT350R vs Viper ACR
America's three most extreme sports cars. Two racetracks. 24 hours. Clear the area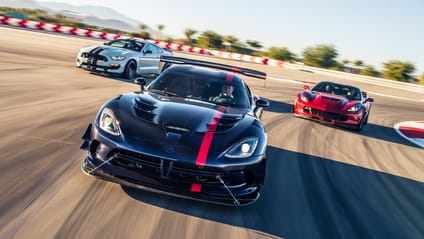 The sun is fading now. It's dropping quickly behind the distant mountains, lighting up the desert dust in the atmosphere into an impossibly gorgeous wash of pinks, reds, purples and blues. But we haven't got time to dwell on that now. We are still steaming around the big track at The Thermal Club in search of answers in three of the most sought-after and spectacular cars on sale – or nearly on sale – in the US: Chevy's techno tour de force, the Corvette Stingray Z06, wearing the de rigueur Z07 upgrade package; the all-conquering Dodge Viper ACR, fresh from setting more than 10 outright lap records at circuits around the US; and the king muscle car of the year, the mind-warpingly awesome and hand-built Mustang Shelby GT350R.

Photography: Rowan Horncastle

This feature was originally published in the February 2016 issue of Top Gear magazine.

Advertisement - Page continues below

We only managed to get on the track an hour ago, and are still working out which way the red and blue kerbing goes as it slithers through this remote part of the Californian desert. But as we pound around in our three clouds of dust, noise and fury, providing an appropriately epic soundtrack to the sunset, one thing is immediately clear: all three cars might have been conceived for the track, but they could not have approached the idea from three more different angles. So answering the Big Question – which one is the best? – is going to take some time and a lot of 95 RON.

But that's OK, as we've got the time and the people for both. Even though the light is rapidly draining away here at Thermal, we also have another half day of track time booked tomorrow a couple of hundred miles away at Willow Springs. Just to give us some time on the road with three beasts – and then some more track miles on a completely different circuit to make doubly sure the tyres are completely, utterly toast when we send them home again. Discussion-wise, as well as the TG crew, we have 'Whispering' Chris Winkler, the Viper development driver who set all the track records – other than at Laguna – in the ACR. And Mike Musto, who speaks fluent muscle car, thanks to his man-obsession with the things. I've condensed their thoughts into mine here. So we are all set…

Advertisement - Page continues below

We already know the Corvette Z06 well. We've used and abused several of them since the launch, at which we learnt in no uncertain terms that you only turn off all the chassis-assistance systems when you've taken all your brave pills. Like a four-wheeled modern fighter jet, which requires heavy computer assistance to allow it to fly at all, the Vette feels inherently loose and unstable in all-off mode. Big fun if you're ready for it; instantly hair-whitening and aneurysm-inducing if you're not. But we know that, and we also know it has one of the most sophisticated chassis-control systems in the world. So it's best to leave it on, even just a little bit, to keep things moving in the right direction.

And in that mode, this supercharged 650bhp/650lb ft missile can crush many others several tiers above its pay grade. We discovered that earlier this year when we pitched a convertible version against the Lamborghini Aventador LP700-4. While the Lambo won the eye-candy war at every turn, the Stingray simply outperformed the Italian classic on the road corner after corner and frankly anywhere else we took them. That gave us high expectations of the coupe that pitched up at this year's Speed Week in Austria. But there was some kind of mystery handling issue with it that just made it feel uninspiring and not at all the car we remembered. The Red Bull Ring is a tricky place to go, especially in the wet – all adverse cambers and slippery run-off – but we were still disappointed.

So we were glad to get our hands on another here, back on US soil, to rekindle our faith in the big fella, and get it back to its winning ways. Or not… This one isn't handling properly, either. It pushes and understeers like a 30ft limo into every one of Thermal's many late-apex turns, whatever we try to do to work through the problem. You can't just bung it in and turn it on the throttle, as the clever chassis tech is limiting the power just when you want it, clearly thinking you will spin out if it gives you what you are asking for. Which is completely maddening. Mike and Chris echo the sentiment when they get out of it, describing it as no fun at all. A Z06 being no fun? Something is definitely up.

And 'up' was the clue – it was the tyre pressures, stupid. In our rush to get on track before the light disappeared, we had just punted it out and started blasting around in road settings. Bleeding 6psi from each of the front Cup 2 tyres, and leaving the rears at the stock 31psi, completely – and I mean totally, 100 per cent – morphs the Vette into the precise nuclear weapon we know it can be. We were idiots for not thinking about this before, but the good news is that it's now sorted, so driving – not close inspection of the run-off area and colourful language – can now continue in earnest. We leave the pressures that way, even on the road over to Willow, as it just makes the car feel way more planted. It probably destroys the tyres even faster, but that's tomorrow's problem, not today's.

Advertisement - Page continues below

With the Z06 sorted, we turn our attention to the totally, wonderfully immodest Viper ACR. This car – which, let's be in no doubt here, is a racecar for the road, not the other way around – is as analogue as the Vette is computerised. As subtle as a punch in the face, it derives its speed and astonishing lap times – don't forget, this car was well over a second faster around Laguna Seca than the Porsche 918 – not through the power of silicone and code, but through the magic of aerodynamics and basic physics. It doesn't have any more power or torque than the base SRT Viper, yet it's six, seven, eight seconds a lap faster around a racetrack through the simple and devastatingly effective method of squashing the car into the surface and giving it a new pair of special non-slip shoes.

I say simple, but what I really mean is fiendishly complicated. A lot of the 771kg of total downforce the ACR generates at 150mph comes from that jumbo jet-sized rear wing, but a third of it also comes from the array of winglets and the huge chin splitter clamped under the mouth of the big snake. Showing that nothing has been left on the table in the quest for speed, both the huge rear diffuser and the front splitter have replaceable elements, as they are designed to make contact with the track to maximise performance. The result is a car so astonishingly stable and secure on track – after the front tyre pressures have been dropped from the 35psi on the road to 25psi for the circuit, incidentally – your talent and bottle are the only limiting factors to its net speed.

Advertisement - Page continues below

But it's still no stab-and-steer rocketship like some other supercars. You can't take huge liberties with it and expect it to just absorb them. If you drive it like a fool, it will punish you. But keep everything neat and tidy, and the ACR will propel you around a track faster than you ever thought possible. And therein lies a small problem – until you've actually seen and experienced what it can do, you just won't believe a car can do it. So you really have to suspend your disbelief and just keep going faster until something empirical happens, like it starting to push or slide, to discover its true depth of ability... and your reaction time. As when it does go, the speeds are so crazily high, you need to be whipcrack-quick to catch it. The fact that you can buy a car that's this fast for around $120k is absurd.

So you can't have any real complaints about it but, if you do want to pick holes, it will make you deaf faster than sticking your head in a bass bin at an AC/DC concert. You don't notice it on the track, as you are too busy having your mind blown by the way it stops, steers and grips. But on the crappy Californian road system, the absence of sound-deadening means it pounds your ears until they ring like a bell long after you have locked and left it. I thought it was OK at first – all Vipers make a din, as the exhaust exits just behind you – but the ACR has some special harmonics going on that would make concrete crumble. As we pull into Willow, one things is clear – if you don't wear earplugs, you'll need a course in lip-reading very quickly.

The only thing more deafening than the ACR right now is the baying of prospective punters bellowing at Ford dealers to accept their deposits on a GT350R. Some are currently putting down double sticker – yes, over $130k – to get their hands on one of the first cars. That just doesn't make any sense at all. As brilliant as the 350R is, it's simply not worth $130k. But it is worth every single cent of its $62k sticker price. The way the bodywork bulges, the rear tyres protrude, the rear spoiler clasps tightly across the boot, the front spoiler juts forward. All the cues are there. And then you start it, and the world instantly becomes a better place. In the same way there's a precise sound frequency that will shatter glass, the 350R engineers have discovered the exact pitch required to make petrolheads break into a wide, face-splitting smile every time it fires up. A Hellcat is louder, but the 350R is sweeter.

And then, just when you think it can't get any better, you drive it on road or track, and it does. The bored-out 5.2-litre engine revs like it's completely free of all friction, the carbon-fibre wheels – on Sport Cup 2s, with pressures lowered, natch – and active suspension help the car flick in and out of turns way faster than you thought possible for a muscle car. From memory, I'd say a Z/28 is still the more stable mid-turn, but the Stang feels lighter, faster around a whole lap.

The steel brakes are never an issue – no one complains of not having enough stopping power. Not even on Willow's roller-coaster Horse Thief Mile circuit. So it's easy, fun and accessible, just like a hot pony car should be. But, before we get too carried away, it's in a completely different, lower league to the other two cars here in terms of outright performance. If you put the same effort into driving each car, the ACR would lap the Mustang within six or seven laps and then the Z06 a couple more after that. The Z06 would stay ahead of the Mustang comfortably, unless it got a bit hot.

On the road, it's a completely different story. You can turn off the multi-mode Mustang's noisy exhaust with a crack of a knuckle, leaving you to luxuriate in the super-supportive and comfortable Recaros. It would be a horrendous waste of its talents to do so, but you could go touring in this car. You couldn't say the same about the current Z/28. And this is where the Stang really scores, being a bit more modest than the other two cars. For all its wings and splitters – and gorgeous Avalanche Grey paint, a new TG fave – it's still a blue-collar car underneath. It's Bruce Springsteen in a tracksuit.

So, after two very different tracks and a few hundred miles of road work, it's time to get down to the business of which one of these three is the best car, the right place to put your money right now. If you want to be the fastest person you know around a racetrack and have the skills – or the application to get them – to handle a racer, the ACR is the bargain of the decade. Buy one, beat it up and set a few records in the process. If you want supercar performance and everyday practicality, it's hard to think of a better choice than the Z06. This test completely rekindled our faith and love for the Big Nasty, even if it did get a bit overheated at the track. But if you have to have the It Car of the moment, as sure as the setting sun, you need to join the long line of Americans stroking cheques for stupid money at their local Ford dealership for the Cobra-badged 350R. You'll still be getting a great car. Just not the bargain car that it was conceived, designed and built to be.