SEMA
The best bits of the 2022 SEMA show: a gallery
SEMA's back and bigger than ever, filled with some of the weirdest and most wonderful builds imaginable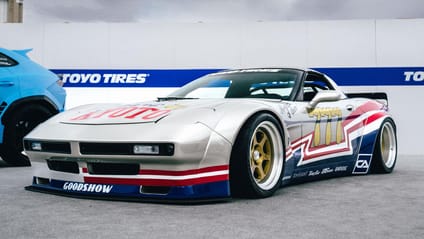 Unlike conventional car shows, it seems to be a bit of a free for all when it comes to what vehicles you stumble across. Reminiscent of a casino floor, there's lots of disorientating noise, lights and people with thousand-mile stares. It's bamboozling. So you can often find yourself lost and distracted, contemplating choices (vehicular) that you wouldn't normally think of. 

Excess is the name of the game, so think flared arches and body kits that have been taken to the next level, ridiculous engine swaps and some Frankenstein like creations - you can find it all here.

Words and pictures: Huckleberry Mountain

Advertisement - Page continues below

Oh look - a Tesla! Not any Tesla, mind. This one, one of the most popular cars at the show, is a Pikes Peak entrant, having set a time of 11m 6.205s. Which is blisteringly quick.

This Honda Ridgeline is quite literally 'powered by dreams', having replaced the conventional 3.5-litre V6 from the front with an ex-IndyCar motor in the back accompanied – of course – by a garish IndyCar style wing.

Advertisement - Page continues below

This started life as a Polaris side-by-side, though some cross-mojination may have occurred with one of the many lifted trucks of SEMA. Certainly grabs your attention, but how capable is it off-road?

On the other end of the spectrum we have this matte black, slammed Can-Am. A nice option for Batman when he wants to hit the sand dunes.

Nothing is safe. This Mercedes Gullwing has been chopped up with SLR style exhausts and flared arches. Thoughts?

The Mazda RX-12… or at least that's what we're calling it. Unconventional engine swaps are par for the course at SEMA, but this year the game has levelled up. Gone are the years of LS-swapped-everything as now there's a new wave that's pushing the boundaries of legendary powertrains.

 

Advertisement - Page continues below

Hoonigan's burnyard living up to its name with zero mechanical sympathy on show.

Car after car comes out burning rubber, bouncing off jersey barriers and limiters before the occasional minor fire.
 Because SEMA.

Only in America would this be classified as an autocross car. Weighing in at 1,500kg and packing 610bhp, it's a good job autocross at SEMA simply consists of a drag race into a tight hairpin and then a straight line to the finish.


Advertisement - Page continues below

Faruk Kugay from DevSpeed Motorsports, the brainchild behind this build, had a simple vision:  save weight, increase power and create a track-friendly monster. The EJ25 is 80kg lighter than the original GT3 powerplant and can be modified to exceed the 911's stock 415bhp output, Faruk is aiming for 550bhp.

That's Christmas sorted - remote control low-rider. Hands up, who wants one?!

Gregory Siff, an LA /NYC based artist has been doing a live painting on this modified Subaru BRZ. Neil Buchanan would be proud.

Here it is folks - the 2026 Delorean F1 team. Only joking. This is in fact the excellently named 'cyber kart' by 'B is for build'. Dreamt up on a computer as a ground up, small garage / YouTube channel-built race car it really is a great showcase of how far we've come from the kit cars of yesteryear.

Think of this as America's answer to La Bastioni - "a salute to the Beast of Turin", a flame-spitting favourite of the Goodwood Festival of Speed. This one's slightly tamer...

Flamin' Hot Cheetos meets Alien - that's the vibe check. Of all the bikes this year (of which there aren't many at SEMA) this thing is certainly a head turner. Check out the turbo. And the wheelbase.

The bodykit and styling on this Corvette in particular has a serious De Tomaso Pantera look to it. Which is no bad thing. Speedbumps? That's a separate issue.