SEMA
The fastest, weirdest and wackiest cars from SEMA: part 1
Ask your eyes to put on their seatbelts as we round up the planet's maddest modified cars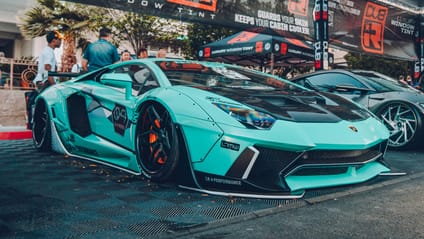 It's that time of year again, folks. Nope, not autumn. But SEMA. Saying that, the annual tuning convention is just as shocking as the cold mornings and clocks going back, but even more colourful than the burnt orange, reds and yellows of fallen tree leaves. But no matter how hard you try, you can't put a set of 24-inch wheels and a gazillion-watt sound system on autumn. One-nil, SEMA.

Once again we've been braving the sweaty halls of Las Vegas' Convention Centre to bring you the good, bad and ugly of the current state of the modifying scene. So soak up the minty freshness of the slammed Lamborghini Aventador above and click forth into the crazy kaleidoscope known as SEMA.

Advertisement - Page continues below

We start with what might just be Peak Tuning. Is it possible to throw any more modifications at a car? Or gauges? Or speakers? Or airbrushing? Probably not. 

Can you hear that? That's the sound of purists squirming. Believe it or not, this is a genuine 300 SL on aftermarket wheels with an American Chevy 454 V8 transplant.

Advertisement - Page continues below

If you haven't heard of Bisi Ezerioha (the Nigerian street racer and creator of 1,000bhp oddballs like this), we'd recommend clicking this link immediately. 

To get the latest look in tuning you have to be rather committed. And be quite friendly with your insurance providers. 

Someone must have Bernard's Watch, as this Bentley is stuck in 2003. And obviously is registered to a footballer's address in Cheshire.

We're aware of fusion cuisine – grub that combines elements of different culinary traditions – but this must be fusion motoring as hot rodding has met low-riding.

Advertisement - Page continues below

After years of waiting, Supra fans are still waiting for the new Supra. In case you're wondering, it hasn't been released yet. 

All hail Ken Block's Hoonitruck. A 1976 Ford F-150 powered by a custom-tuned Ford Performance V6 EcoBoost engine lifted directly out of Ford Racing's GT Le Mans development program. Power? Yep, it's got it. Nearly four digits of the stuff (914bhp at 7,400rpm) and 702 ft lb of torque at 6,450rpm.

Advertisement - Page continues below

GT-R fans, here's your slice of the action courtesy of Liberty Walk. Yay or nay?

Need a ride to go trick or treating in? Your Uber has arrived. 

Who'd have thought it, the overbite is back in fashion. Head to your nearest orthodontists to get the look. 

There are two types of rust: the financially-crippling type under the arches of a Peugeot 205 GTi and the money-lining type like this.

We're not sure what the EU emissions regulations will say about exhaust gases literally being chucked straight out of the window, but we're sure they'll be fine with it. 

Wide arches and riveted bodywork on a Porsche 993, it can only be the work of three letters: RWB.

We've no idea how this Dodge Demon ended up crashing into a Tunnock's Teacake foil factory and ending up strewn in the chocolatey treat's wrapping, but that negligible ride height and giant rim choice might have had something to do with it.

Ferrari goes to many great lengths to make its super sportscars handle with foolproof, balletic delicacy. Clamping on spindly mega-rimz probably doesn't help the e-Diff and Side-Slip Angle Control do its job, but when you've got a chromed red wrap on board too, who cares?

Be honest, it's not the worst-looking Lamborghini Urus you've seen, is it? Because the natural stance for the 660bhp ultra-SUV was always going to be squatting as low as possible on rims you could eat your dinner off, wearing painted-on tyres.

Isn't the whole TRON Lambo Aventador thing a bit played out now? Haven't one too many of these panel-gap-highlighting 'one-offs' been seen marauding around Knightsbridge? No? Okay then. If you insist.

Judging by the rippled side skirt on this Lexus RC F, the unfortunate owner of this creation activated the airbag suspension button while the chassis was still straddling a pesky kerb. Note the gentleman in the beige slacks politely pretending not to notice.

You know what the problem is with cars? Too few wheels. Four wheels simply isn't enough to show off all your classy rim designs – unless you mix and match on one Lamborghini Huracan. There's a life hack, kids.

A refreshingly subtle take on a widebody Tesla Model S here, from Tesla Unplugged. We'd simply add graphics of Elon Musk's finest tweets to disguise that panel join halfway along the rear door.

Many things going on here, with what appears to be a Ferrari 308, pretending to be a 288 GTO, dressed up in Audi RS6-spec Nardo grey paint. And who knew that IKEA desk lamps could be used as supercar door mirrors? Not us.

Hnnng. Classic Beemers suit the widebody, dished wheel, slatted rear window treatment like few other cars can hope to pull off. Look, it's not even wearing an inauthentic tribute racing livery! Best in show?

The most compelling thing about this motorsport-spec Honda Civic Type R? Not the semi-slick tyres, nor the Need For Speed livery. It's the exhaust. No triple-exit central pipes here, just one subtle pipe tucked way under the bodykit. This may be the first recorded case of an attack of the sensibles at SEMA.

Delivery company attempts to remove delivery ramp from underside of Subaru Impreza. Fails. Nearby man attempts to distract by doing the running man dance non-stop on the show stand. Fails.