SEMA
The fastest, weirdest and wackiest cars from SEMA: part 2
Thought you could escape the modified madness? Think again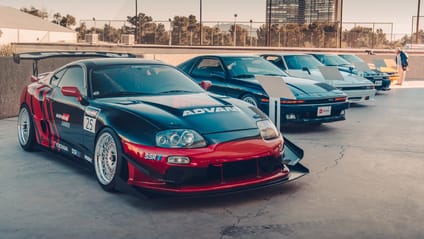 This is what happens when Colin Chapman's infamous mantra of 'simplify, then add lightness' is subjected to Chinese whispers. "What did you say? Simplify, then add lightness? And a supercharger? And a V8? No worries."

Advertisement - Page continues below

"Alexa, play Grand Theft Auto San Andreas soundtrack on Spotify."

Another week has gone by and after years of waiting, Supra fans are still waiting for the new Supra. In case you're wondering, it hasn't been released yet. 

Advertisement - Page continues below

Nope, the new Supra still hasn't been released yet.

When it comes to SEMA, variety really is the spice of life. You should see the pizza options in the food hall.

This might be the most powerful Nerf gun in the world.

Advertisement - Page continues below

Take a deep breath, everybody. The Subaru's iconic boxer engine has been ripped out and replaced by Nissan's equally iconic RB26 engine. Sensation or sacrilege? Let us know in the comments below.

Behold, the Teslonda. It's what happens when you put a Tesla motor, Chevy Bolt's battery pack and ratty 1981 Honda Accord in a blender. It's brilliant. 

Advertisement - Page continues below

As you can see, the Anti-B-Segment Crossover Movement's annual general meeting was once again well attended this year.

We're not sure, but this looks like it might be joining Shunt, Matilda, Dead Metal, Sergeant Bash and Sir Killalot as a House Robot in the next series of Robot Wars.

Ford and Ferrari have been going hammer and tongs at each other on track for decades. But what happens if they made a secret love child in parc ferme? This. 

Yep, what you're looking at the 4.3-litre V8 from a Ferrari 430 that's subsequently been twin-turbocharged and then thrown in a 1968 Ford Mustang.

A trailer: the perfect accessory for the Hyundai that you've lowered so much it can't get over speed bumps.

As Nissan is a spoilsport and won't make the Concept 2020 Vision Gran Turismo, someone else has had a go. 

You may know Mike Burroughs' previous work, Rusty Slammington. This is its new stablemate; a 1931 Ford Model A with IMSA DPI wheels, rain slicks, a VMP-supercharged Coyote V8 and custom chassis. Pretty neat, eh? 

Need your ankles shaving? No worries, step right up to this S2000 and it'd be more than happy to oblige. 

This might be the perfect car for people with a penchant for erratic tailgating. 

Land Rover Defender tries skipping for the first time. Fails.

*Looks at the number plate*

*Slow claps*

Unfortunately, what you can't hear from this photo is the brap-brap-brap from a rotary redline.

You know how everything is bigger in America? This is one of those claw arcade games. 

"Sorry, son. You must be at least eight-foot two-inches to ride."

An F80 M3's engine in an E30. This is restomodding the right way, people. 

Big wheels and big wings: the currency of SEMA that never weakens. 

Imitation may be the sincerest form of flattery, but no matter how hard you try, you'll never be as cool as the original Audi S1 Quattro. Nice try, though. 

The fast estate car may be the unicorn droppings of the American car world, but look! They do exist.