Supercars
Bugatti Veyron on Route 66: Day Five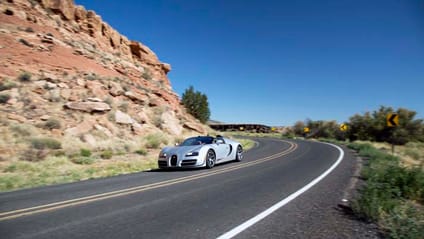 It's Day Five of our giant Veyron road trip, which sees us piloting the 1200bhp, £2m Grand Sport Vitesse from Chicago to Los Angeles along the 2400-mile length of Route 66.

And here, west of Albuquerque, is where it starts getting really good. Sure, Illinois, Missouri, Kansas, Oklahoma and Texas were great in a big-sky-vast-landscape sorta way, but New Mexico and Arizona is where Route 66 truly ups its game to jaw-dropping levels.

Canyons, giant red-rock mesas, sawtooth mountains piercing painfully blue skies, it's all here: epic American landscape for an epic American journey. And of course desert. Lots and lots of desert.

As you've no doubt gathered by now, we're counting down to Wednesday's release of the 'Adventures' issue of Top Gear magazine, in which you'll be able to read the full story of our massive, sweaty Veyron road trip.

Make sure you pick up a copy... but not before you've checked out today's photo-diary. Five days down, just two to go...

Pictures: Justin Leighton

Follow the diary here:

Bugatti on 66: Day One gallery

Bugatti on 66: Day Two gallery

Bugatti on 66: Day Three gallery

Advertisement - Page continues below

Large lump of rock-solid European engineering comes face-to-face with large lump of rock-solid American, um, rock.

On the road to Laguna. The New Mexico town, not the unloved large Renault.

Advertisement - Page continues below

Veyron encounters corner, nearly crosses central reservation in shock.

This way for graphic truck orgy action!

Welcome to the DESERT SUN OTEL! Much vacancy, rather less air-con.

Some say a Veyron once passed this way, many years ago. On the hottest of summer days, some time around noon, they say, you can still its ghostly reflection in the motel's windows. This may be the moonshine speaking.

Advertisement - Page continues below

The biggest crowd Sky City has witnessed in years gathers to pay tribute the Veyron.

Crowd doubles in size. Riot police are called.

Advertisement - Page continues below

Hugh's desert restaurant venture hadn't taken off quite the way he hoped.

The El Rancho hotel in Gallup, NM. Presidents Reagan and Eisenhower both stayed here. Not at the same time, it's safe to assume.

Tilt your head to the right and squint hard. Anyone seeing an uncanny likeness of Jeremy's 'Atom face' in that big lump of rock?

Somewhere near the Continental Divide, NM. North America's watershed. At least, it would be if any rain ever actually fell here.

No one knows what scared that forest so, nor dares to find out.

The astonishing Painted Desert. The astonishing Veyron. If an unnamed Danish beer brand did road trips...

Veyron plays house of mirrors in the side of an Airstream caravan. Photographer Justin starts to feel a little woozy.

Big Chief Turbo Engine in residence at the Wigwam Motel, Holbrook.

In days of yore, of course, all Native American wigwams had wooden front doors and little 'No Smoking' signs.

The Veyron GSV will go from 0-124mph in seven seconds flat. And straight to the country jail precisely one second later.

Sundown in Flagstaff, AZ, one of the very nicest towns on Route 66. Five days down, and just 48 hours to make Los Angeles. On the home straight now...