Supercars
Bugatti Veyron on Route 66: Day Four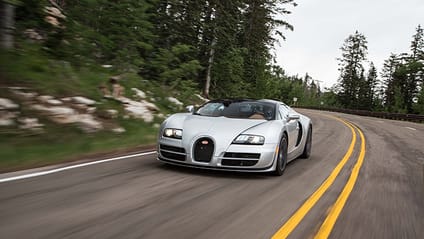 Day Four of our grand Route 66 tour in the mighty Bugatti Veyron GSV... and we've reached the halfway mark! The midpoint of 66 falls in the sleepy town of Adrian, TX, which just so happens to host one of the very finest diners on the road's 2400-mile length.

It's the perfect place, in fact, to park up in your two-million-quid, 260mph hyper-cabrio and take stock.

Bugatti on 66: Day One gallery

Bugatti on 66: Day Two gallery

Bugatti on 66: Day Three gallery

So: 1200 miles down, 1200 to go. Day Four took us from Amarillo across the hot, empty desert of northern Texas to Albuquerque, New Mexico (and if you can resist the Simpsons line, you're stronger of character than we are).

We saw 40-degree heat (English degrees, that is, not those strange, illogical American ones). We saw wild mountain roads (OK, it was a bit of a detour, but a worthwhile one). We even saw some rain. Best of all, we ate some damn good Mexican food.

This is all, if you hadn't gathered by now, counting down to Wednesday's release of the new Adventures issue of Top Gear magazine (available in iPad form too, don't forget!), in which you'll be able to read the full Veyron-on-66 story, along with many more awesome automotive adventures.

Check back tomorrow for another Bugatti Trans-Am gallery, as we close in on Los Angeles and the 66 finish line. On the home straight now...

Pictures: Justin Leighton

Advertisement - Page continues below

The Cadillac Ranch just west of Amarillo, TX: an installation artwork comprising a bunch of Fifties and Sixties Caddies, spraypainted and half-buried in the dirt. We're told by people who know about such things that this artwork rails against the danger of conspicuous consumption and automotive excess...

...and on a completely unrelated note, here's the £2m Bugatti Veyron GSV.

Advertisement - Page continues below

Don't be fooled by the fluffy clouds. It's fiendishly, fearsomely hot out here. If you're in a convertible, pack lots of water, or prepare for rapid transformation into a giant human sultana.

Yep, that's actual tumbleweed. Either that, or the work of the worst bird-architect in history.

Get your (caffeine) kicks on Route 66.

Halfway! Veyron celebrates by challenging a few dozen bikes to a drag race. Wins.

Advertisement - Page continues below

Sixty-Six: the fashion highway.

Into New Mexico. Five states down, just three to go. Unfortunately they're big'uns.

Advertisement - Page continues below

Veyron tackles a gentle rally stage. In the previous shot I had it massively sideways round here. Honest.

Diving under the modern freeway on the original 66. The present quite literally trampling over the past.

If you want a Route 66 ashtray, Route 66 string vest or Route 66 live firearm, you know where to head.

All together now... WALLPAPERS!

Were a dastardly villain to tie a damsel to this track, she'd be charbroiled long before a train got anywhere near her.

In the mountains north of Albuquerque, we found some corners. And they were very good corners indeed.

Further evidence of corners. This road winds up to more than 3000 metres above sea level, and every bit of it is brilliant.

If you ever spot this in your rear-view mirror, pull over immediately. Resistance is futile.

Veyron + fast, sharp corners = permanent damage to flabby driver. The right side of my neck is now three inches longer than the left side. Hey, it's a conversation piece.

"At the next junction, please try to figure out how the hell to get onto that road 10 metres above you."

Midnight in Albuquerque. Pretty sure that was a Springsteen album, no? If not, it will be soon.
So that's four days down, three to go, and the Veyron is going from strength to strength. What a car. What a road. Join us tomorrow as we head into the canyonlands...