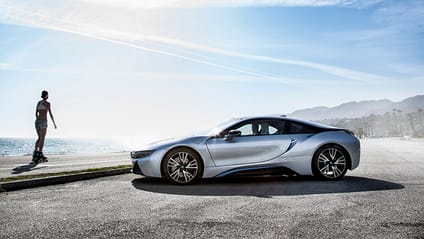 Surely Venice Beach – California's longtime centre of the humous-fed and the countercultural – shouldn't go quite so big on a £100,000 German sports car. But by 8am, as the place blinks itself awake, the i8 is already driving people berserk. "Woo, that's sick, man," offers an early-rising surfer. "Is it a 2014 or a 2015? It's a hybrid? Runs on energy an' all that? Tesla ain't got s**t on this, man." OK, he might not be entirely up to speed on the physics of the topic, but round here alternative-propulsion cars are hot, and one that looks like the i8 is hot squared.

Which is all very fine if you commute on a skateboard, but Venice Beach can't expose whether the i8 passes muster to the Top Gear mindset. We need to be clear of traffic and onlookers. Twenty miles away, the Santa Monica mountains rise from the coast. So I fold myself inelegantly up, scramble over the i8's high sill, pull down the wing door, strap in and touch the e-drive button. Silently the i8 glides off in the direction of some of California's best roads.

Pictures: Paul Barshon 

This article originally appeared in Top Gear magazine 

Advertisement - Page continues below

Past Pacific Palisades, up the suburban early miles of the Pacific Coast Highway, electric mode is enough. Its 131bhp, delivered through the front wheels with no gearchanges, is smooth and silent as you like. It carries pace with this flowing estuary of Civic saloons and SUVs and V8 pickups. It'll actually get to 75mph, and if you need more speed or acceleration than that, well just kick-down and the petrol engine chimes quietly in. After 15 or so real miles (21 miles if you drive like the official cycle), that's it for battery reserve, and it switches to the hybrid Comfort mode.

Stuff that. I need to explore Sport, which comes when you snap the transmission lever to the left. Peeling inland off the PCH, here's the chance. The instrument panel redesigns itself from hybrid-info blue into a more regular BMW set-up of reddish gauges for speed and rpm. The driveline awakens into a fresh realm of tension and alertness. The engine runs non-stop in this mode, and its auto 'box's shift map takes on an assertive rev-happiness.

On its own, a 1.5-litre triple is hardly the engine to go mano-a-mano with a 911. Even when a ruddy great turbo is giving it a vein-popping boost to 231bhp. But team i8 fields a ringer in the form of its electric force. And not just that 131bhp front electric motor. There's another motor-generator coupled to the engine. It's not quoted in the overall power figures as it doesn't run continuously, but it provides an instantaneous torque kick to paper over the giant cracks of turbo lag that such a heavily boosted engine would otherwise show. The electric system never wilts, regenerating itself when you're slowing or going downhill. All in, we have 362bhp, and 4WD.

Advertisement - Page continues below

It even sounds pretty tasty in Sport mode, because the hi-fi speakers play a judicious reinforcement of the most tuneful of the engine's natural frequencies. The mid-rev warble hardens its vowels satisfyingly as you approach the red line. Pity, though, that the red is constrained to a frustratingly modest 6,500rpm. As the gearbox has just six speeds, second runs out at 55mph or so. I kept wanting to hold second for longer, wanted some high-rev quickening of the hysteria. 

But, yes, this powertrain manages, by hook and indeed by crook, to feel like a big six not a little three. It's a sports car, alright. What with the electricity and the turbo, there's so much mid range that the top end feels a bit of an anticlimax, and there's not quite the all-out shove of a 911. But there's enough of it, in a car that has so many other fascinations, that sheer thrust isn't the be-all and end-all.

Frankly, I'm on edge, though. I've invested a lot of personal hope in the i8's central tenet, that a new-age sports car will still be able to provide us with old-fashioned fun. If my innocent faith is to be dashed, the dashing will happen up and down this snaky pass.

The first few corners vaporise most doubt. Rock walls to one side mean you often can't see all the way round. So I feed it in relatively slowly, then lean on the power. The steering in Sport mode is lovely: smartly geared, progressive and not without feel as the front end weights and unweights over corkscrewing surfaces. There's no tramlining either. The structure and makeup of the i8 is paying its dividends here: it feels immensely stiff, and light too. Almost all the weight is central and very low. The whole affair is working with me, loading up in a bend then flicking across to the next one with barely a hint of roll and no slop. Through the apex, a lift or prod on the accelerator brings a subtle shift of attitude. The foot-to-car-to-tyres reactions are precise. Better yet, they return lucid messages to your seat and hands and inner ear. Yup, i Division might just
be more lucid than M Division right now.

Very long, slow, second-gear corners can trip it up, though. Go in too fast or under brakes, and you get understeer, which confuses the i8 when you get back on the power. It hesitates in giving you back all the power. Instead, it demands you get your entry speed right, then get early on the power. I suspect an artefact of software, as the systems calculate the split of effort between front (electric) and rear (engine) while juggling the ESP and cancelling lag via the second e-motor. An in-service flash might fix it. Anyway, the engineers say they're working on a stickier front tyre compound too. Not easy when they're such low-resistance jobs, and every gramme of CO2 counts.

Advertisement - Page continues below

Bits of this road are buckled and cracked like a British B-road. The i8's springing is beautifully judged, supple enough to be acceptable in grumpy urban running, but firm enough for the dampers to stick their teeth into when you're pressing on. They're adaptive, but feel natural.

So do the brakes when you're pressing on, which is unusual for a hybrid (and, in fact, they're typically grabby in all-electric mode). But beyond the pass's crest, the steep downhills into hairpins leave the impression that, like everything else in the car, the discs are so weight-optimised they do exactly the job but not one scintilla more. Still, they're stout against fade, and onward we go, twisting and spiralling back to the sea.

Time to catch breath and stop for a coffee. This being LA, a Bentley convertible arrives and parks alongside. Its owner is still standing gazing at the i8 when we emerge from the cafe and unlock the i8. Ah. The door swings upward and out, grazing his Continental's door mirror. And you can't really get in unless the door is right open. Even then, it's hard because of the high sill. It'd be a right challenge for anyone in a short skirt who wanted to retain their dignity in the eyes of the crowds the i8 gathers. Oh, and once you're in, you realise those doors have no pockets or cubbies – what this tightly packaged car really lacks. Still, the thin front seats are excellent. The back ones, too small for anyone but kids of single-digit age, will end up taking your bags. No different from a 911. And the cabin is just beautiful. More conventional than an i3's, yes, as it inevitably follows the sports-car codes, being driver-centric and built around a tall centre spine. But the light, fresh furniture puts it in a new realm.

Advertisement - Page continues below

The exterior moves any existing design needle clear off the dial. Maybe the tail end looks a bit busy in this colour scheme of black-over-silver-with blue, but subtler palettes are available. The proportions – long wheelbase, low seats, wide stance – set a scene into which are carved manifold fascinating air pathways, for 0.26 Cd and sky-high visual impact.

As a trip into Beverly Hills proves. The unimpressible rich are impressed. Now I'm back in Comfort, the default hybrid mode. The engine cuts in and out when needed, and even though it's quiet it can be a bit distracting, especially when for some reason or other it stays running when you're stopped, gently vibrating this otherwise suave car. And there can be occasional delays if it's not running then you suddenly ask for a quick squirt. But at least its rev patterns are those of an engine not a generator, and I expect later software will tighten the hesitancy. I break for the freeway, where the i8 runs beautifully quiet and level, but soon hit one of the area's notorious jams.

Turn on the radio, bump into one of those West Coast eternal-Seventies stations. The Who's 'Won't Get Fooled Again' is playing. I let Moon and Entwistle, rock's most cataclysmic rhythm section, drown the triple's vibes. Have I been fooled again? Is the i8 just another novelty, a first-acquaintance firework that'll come to earth as a damp stick? 

Saddle up my inner sceptic. It doesn't cling on or brake like a 911, doesn't go as hard or as consistently. Forget 100-plus mpg. I got 24mpg over the day, and very little of my energy came from the mains. Still, any other car this quick would have been mid-teens mpg in that kind of hooning-plus-traffic day. I spend the evening with Carsten Breitfeld, the man in charge of the i8 project from beginning to end. He was given the pick of BMW's brightest and best for his team. They've made something that's 90 per cent of the sports car a 911 is while using 60 per cent of the real-world fuel. Was this the world's most urgent problem? "Look," says Breitfeld, "we have defined the sports car of the future. People will use cars in a different way, with smog-free days and ZEV zones. Remember when companies making film said digital photography wasn't as good quality as film. Maybe it wasn't, but people used digital photography differently. Film companies that didn't do digital didn't survive. Without CO2 solutions, premium carmakers will not survive."

The more I learn from long conversations with Breitfeld, the more other dots join up. All of BMW will now have access to a carbon-fibre process that's the best in the industry for mass production. Plus the leading-edge in-house battery tech and power electronics and motors will all go into the firm's upcoming bigger-volume hybrids. Even more than the i3, the i8 pushed BMW's boundaries in aerodynamics and lightweight knowledge. The powertrain integration has been a moonshot effort, and you can be sure it'll be used on future 4x4s.

And there's more. 'Process' sounds a boring term, but try this. The i8 was designed and engineered in just 38 months, the fastest BMW project in living memory, with the smallest team of engineers, making the most complex car it's ever created. They were a skunkworks of driven, empowered boffins, a fizzing nexus of creativity. The board quite deliberately placed them outside the normal huge, comparatively lumbering BMW development organisation. BMW's head of R&D Herbert Diess told me, "This car could never have been done inside the organisation. Never. The people in the main organisation do what they did before and make it 10 per cent better." Now they'll get some i8 thought-mojo.

If the i8 were just an isolated radical car, you could take it or leave it (heck, I'd take it). But it's also shaken up the whole of BMW, and for that, its mark will be indelible.