Supercars
The Dodge Viper is officially dead. Here are the last four
25th anniversary special editions planned for Viper's final year of production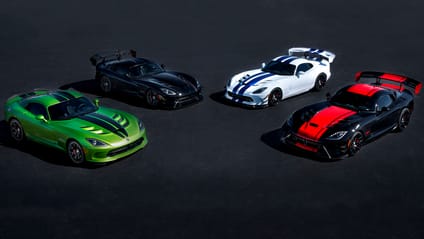 This year, the Dodge Viper will cease to exist. After 25 years, the final bell (at least for the time being) is being rung for the red-blooded supercar, and to commemorate this quarter-century run, Dodge will build five special editions. You can see four of them above.

So, from 24 June, you'll be able to order one of the four above, and a fifth special edition Viper through Dodge's highest sales volume Viper dealers (Tomball Dodge of Tomball, Texas, and Roanoke Dodge of Roanoke, Ill). The 'standard' ACR - as shown on TG TV - is still also available, if the trim specials above don't tempt you.

From left to right, they are:

Viper Snakeskin Edition GTC: gets green paint, an SRT stripe, an aero pack, and GT interior. Just 25 will be built.

Voodoo II ACR: black on red, with carbon ceramic brakes and the aero pack, the ACR interior and a run of just 31 cars. Yeah, odd number.

Viper GTS-R Commemorative Edition ACR: white paintjob, 'extreme' aero pack, carbon ceramic brakes, exterior carbon pack, decals, the interior from the ACR and a run of up to 100 cars.

Viper 1:28 ACR: black, with a red painted stripe, the 'extreme' aero pack, carbon ceramic brakes, more decals and the ACR interior. Dodge will build up to 28 of these. Name commemorates the ACR's Laguna Seca record production car lap time.

"The Dodge Viper has had a great run, and 25 years after it was first introduced, it leaves the supercar world reaching for the records it continues to set," said Tim Kuniskis, head of passenger cars at Dodge. "With more track records than any production car in the world, the Dodge Viper ACR will live on as the fastest street-legal Viper track car ever, the car that has set the benchmark for all that follows in its tracks."

Here are the icons the run-out Snakes above are paying homage to...

Advertisement - Page continues below

2010 Viper ACR 1:33 Edition

Dodge only ever built 33 of the 2010 1:33 ACR, referencing its then Laguna Seca lap record of 1m 33.915s set by SRT dynamics engineer Chris Winkler in November 2009.

1998 Viper GTS-R GTS Championship Edition

100 were built, to commemorate the Viper's 1997 FIA GT2 championship win.

Advertisement - Page continues below

2010 Viper Voodoo ACR

Only 31 of these were built way back in 2010.

2010 Viper Snakeskin ACR

Again, Dodge only built 31 Snakeskin ACRs in 2010.

Which of the four new ones gets your vote?