Supercars
Flat out in the Ferrari F12tdf
If this is the last hurrah for normally aspirated Fezzas, then the tdf is an epic way to go…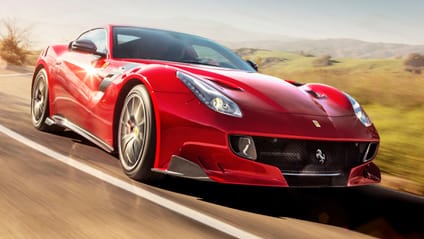 Following an afternoon spent fanging this new 770bhp Ferrari around the Italian countryside, you'd be forgiven for needing a quiet word with yourself, followed by a lie-down in a shuttered room. The F12tdf, it seems, asks as many questions as it supplies answers.

A contemplative moment isn't on the agenda. Not today. But on our return to Fiorano, sweaty-palmed and eyes agog, we do get an impromptu five minutes to download Ferrari's highest-profile employee: Sebastian Vettel. At the previous day's Finali Mondiali end-of-season hoopla, his Scuderia teammate Kimi Räikkönen had explored the F12tdf's limits by doing donuts on Mugello's main straight. You've got to love the guy. Vettel is fresh from a few, rather more considered laps of Fiorano in the gathering dusk.

Photography: Joe Windsor Williams

This feature was originally published in the January 2016 issue of Top Gear magazine.

Advertisement - Page continues below

The F12tdf's big party trick, of course, is its four-wheel steering, or passo corto virtuale (virtual short wheelbase). The system is from ZF and uses electro-mechanical actuators to supply up to a degree of toe-in or -out on the rear axle. Ferrari says this works in phase with the front axle to dramatically improve high-speed stability and agility. Vettel is no stranger to these things, of course, but at 1,415kg (dry), the F12tdf is roughly double the weight of his SF15-T, this year's rather handy F1 car. So what's he made of it?

"Its high-speed stability and balance are incredible," he tells us, flashing the same grin we've seen return so often to the podium this season. "It's incredibly fast, but it's the way it feels through Turn 7 here [Fiorano's infamously fast sweeping left/right] that is so mind-blowing…"

There's another big smile. Vettel, an Anglophile with a solid working knowledge of Fawlty Towers, Little Britain and much else besides, can be mischievous. But he also has the highly sensitive bottom of a quadruple Formula One world champion, and besides, we know from our own slightly tremulous five-lap foray around Fiorano that he's right. On top of which we were taken on a hot lap demo by Ferrari chief test driver Raffaele de Simone that basically vapourised Turn 7.

Nothing with a big engine up front and carrying this much mass should be capable of changing direction like this car can.

The F12tdf might be named after the Fifties 250 GT special that won the famous French road race three years running (1956, '57 and '58), as well as the Targa Florio and other sepia-tinted classic events, but make no mistake – this new car represents Ferrari on revolutionary ultra-fast forward. On which basis, we'd venture that tdf (some bicycle race or other owns the rights to the words in full) is something of a misnomer, except that Piero Ferrari himself apparently suggested it, based on memories of conversations with his old man – the Old Man – back in the day when Ferrari's road cars effortlessly made the species jump to the track.

Advertisement - Page continues below

Given that the 488 GTB pumps out 661bhp and has easily enough real-world performance to seriously harass the LaFerrari hypercar, the F12tdf is on a different mission. It explores some pretty far-out thinking, taking Ferrari into territory in which it's actively challenging itself as well as its clients.

OK, so Honda had 4WS on the Prelude way back in the mid-Eighties, and Porsche's current 911 GT3 has an active rear axle. But following the deliberately tricky and frankly almost bipolar 599 GTO, the F12tdf sees Ferrari dabbling again in an area inspired by cutting-edge avionics in pursuit of electronically enhanced super-manoeuvrability. "We're at the frontier of new automotive technology," de Simone tells us. "It requires a clever driver to get the best out of [this car], not in terms of pure 'feel', but in being able to get the maximum out of it. You cannot just jump in the F12tdf and go straight to the limit. You have to learn about what it can do, and it requires a lot more practice than the eight-cylindered cars." Driving it requires very linear and precise inputs.

"Even if I don't know what I'm doing at the beginning in this car, I always know what will happen at the end," he adds, sounding a little mystical.

During development, Ferrari began with a set-up that was almost untenable, and worked back from there. Although the tdf gains larger front tyres – 275 section rather than 255s – the initial prototype ran 315 section slicks. De Simone laughs at the memory. "We made it as difficult as possible, because we knew if we could integrate all the systems with such an extreme set-up, it would work in a more normal configuration."

Normal here, of course, is a relative term, not least because anything powered by a V12 is an A-lister that automatically gains entry to the VIP area, and any V12 with the Prancing Horse engraved on the block gets into the VVIP room where really naughty things go on. Nobody who has experienced the F12berlinetta's 6.2-litre infull flow will have ever found themselves thinking, "Hmm, yes it's pretty good, but what it really needs is more power," but more power is what the tdf gets – seven hundred and seventy horsepower (spelt out for full effect), up from a snivelling 730bhp, for a car which has managed to shed 110kg.

That equates to a faintly mind-blowing specific output of 123bhp per litre. It can now rev to 8,900rpm and shovel out 520 torques at 6,750rpm. More importantly, 80 per cent of that is yours from 2,500rpm. Volumetric efficiency has been improved, thanks to a number of F1-derived innovations, including freer-breathing and variable-length ducts on the inlet side, increased throttle-valve diameter, and mechanical tappets with a DLC coating that reduces their weight by 40 per cent. You need specific tooling to manufacture them; Ferrari can do that sort of stuff in its sleep.

The dual-clutch gearbox has new, shorter, tdf-specific ratios: upshifts are 30 per cent faster, downshifts 40 per cent quicker. It accelerates to 62mph in 2.9 seconds (sub-3.0secs is when elite supercars graduate to the SAS), 124mph in 7.9 seconds, and it'll keep going until 211mph. It's two seconds faster around Fiorano than the regular F12, three seconds faster than the 599 GTO. Pretty soon, Ferrari will need a flux capacitor to go any quicker.

The brakes are from the LaFerrari, and all manner of new aero voodoo gives it 87 per cent more downforce than the standard car (230kg at 124mph, says Ferrari, but lacking a personal wind tunnel I can't verify it). There are dive planes, end plates and a bigger rear spoiler, and the carbon aero bridge on the front wings 'flick boosts' the air along the car. Active rear flaps manage the diffuser's expansion to generate more downforce or reduce drag, dependingon the driving conditions. A lot of this stuff has been trialled on the 599XX track-only car.

The body itself has actually been reworked more profoundly than the images suggest. Compare the rear side window with the standard F12, for example, and check out the redesigned rear screen. It has more rake, and effectively acts as a spoiler. The internet doesn't seem to like the way the F12tdf looks, and the triple-yellow launch colour does shine a big, unforgiving light on the aero addenda. I reckon it works better in red, but I'd order mine in black for maximum menace. The internet, by the way, is wrong. Yes, all of it.

Advertisement - Page continues below

Two simple words are rarely far from mind when you get in a new Ferrari and head onto the Pista di Fiorano: don't crash. The hairpin right at the end of the – very fast – main straight has claimed a few scalps over the years. On the other hand, we're not here to waste time, and there's a normally aspirated V12 to get on top of. First impressions are of a car even more ballistically fast than the regular F12, but with sublime body control, phenomenal grip and an electrifyingly pointy front end. The powertrain is of almost surreal brilliance. Pick up the pace a bit, and you can definitely feel the active rear axle do its thing. Initially it's weird, to the point of being rather unsettling.

Start working through the gradations on the steering-wheel manettino, and the tdf will ask a lot more of you. De Simone is right: it pays to be linear and progressive with your inputs. This is a front-engined, rear-drive GT that seeks to emulate the dynamic behaviour of a smaller, lighter, mid-engined car. Oversteer showboating isn't high on its to-do list. The steering is the same as the F12's (two turns lock-to-lock), itself bordering on the hyperactive until you dial into it.

Now factor in a chassis whose rear axle also actively enhances the way the car turns in and holds its line. Now add in some serious speed, and recognise that the tdf is as much a faith-based experience as it is a piece of rigorous, rational engineering. It's all a bit much at first, especially for a fully paid-up atheist…

Ferraris are exceptionally well made these days. The F12tdf isn't totally stripped for action, but there's exposed carbon fibre on the doors, and the seats are great. Apart from some low-rent exposed screw heads and those bloody indicator buttons on the wheel, it's hard to fault. There's nothing like sitting behind the wheel of a big, front-engined V12 Ferrari GT to make you feel good about the hand life has dealt you, even if it's only a temporary fix.

Into the hills now, and onto roads used by Ferrari's test drivers for shakedown tests. Some of the surfaces here are truly diabolical, a tribute to the region's fickle topography and impoverished infrastructure. Significantly, the tdf ties the F12's body down more effectively than the regular car does, and the way it changes direction on the twisty up- and downhill roads is deeply impressive for a car of this size, weight and configuration. It's also beautifully damped, courtesy of a retuned third-generation iteration of its magnetic ride, and although the spring rates are 20 per cent stiffer than before, you can carry silly speeds over unpredictably undulating blacktop.

Advertisement - Page continues below

Those bigger front tyres – bespoke Pirelli P Zeros – give it monumental front-end grip, and although the actual steering is the same as the F12's, the rear-steer, chassis electronics and e-diff enable you to pile in and out of corners in a way that should be impossible according to all established laws of physics. Get it right, and it has the neutrality, poise and agility of a smaller, lighter, mid-engined car, with all the thunder and colossal force of a large, normally aspirated V12. Over-drive it, and you might wish you were in a different but avowedly lesser car.

Say what you like about Ferrari, but the F12tdf categorically isn't just another limited-run revenue generator (799 cars, £339,000, sold out). It's nothing less than a quasi-philosophical treatise on high performance, an envelope-pusher of impressive ambition. As usual, Ferrari can vet its clients, so the lucky recipients will already have at least five Ferraris in the garage. But they won't have one quite like this. We're not convinced they will all fall completely in love with the F12tdf, such is the quixotic nature of its character, and it definitely needs more effort the faster you go. But in an era of instant gratification, it's a pleasure to drive a car that doesn't do all the hard work for you. In the F12tdf, as in life, you get out what you put in.