Supercars
Why we'll miss the Aston Martin V12 Vantage
New-old Vantage V600 reminds us why the little Aston with a big heart was great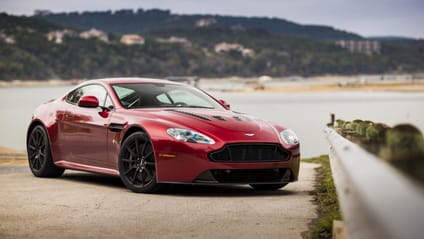 In case you missed it, Aston Martin recently unveiled the new Vantage. This all-new twin-turbo, 503bhp V8 super coupe marks a very definitive full-stop for the current Vantage, a British stalwart that's been in production for the last 12 years. Well, sort of. Aston has announced a limited run of V600 V12 models, which will definitely be the last for the outgoing platform. And engine. 

The new Vantage of course, marks the opening of a new chapter for Aston, one that'll see seven cars fire out of the pipeline with yearly regularity between now and 2023. They include a new Vanquish, the DBX (the five-door, all-electric crossover), a new plush Lagonda as well as 'special ops' cars like the Valkyrie and a successor to the One-77. 

But this ambitious plan also delivers a black hand to the naturally-aspirated V12 Vantage. Here's why we're going to be pouring some out for our homeboy.

Words: Rowan Horncastle
Photography: Drew Gibson

Advertisement - Page continues below

It bloomed out of a road-going race car concept

Back in 2007 Aston Martin slipped free from Ford's corporate shackles to enter a world of private ownership. It quickly gave us the DBS, then, out of nowhere, the Vantage RS.

The philosophy was simple; shoehorn the biggest, most ferocious engine Aston had into the smallest car it made. And what an engine; the V12 lifted straight from a DBRS9 GT racing car, a very similar engine to the one in the Le Mans-winning DBR9.

Slatted, angry and with 375bhp-per-tonne and gorgeous Mako blue paint, the RS was hot rod of the highest order. But still a concept. The Top Gear verdict when we got behind the wheel at Paul Ricard was: "Looks like a Vantage, goes like a freaking b*****d devil-child thing." Surely, it'd get kiboshed by the board? Nope, in 2009 they made our hopes and dreams very real. Good work, team.

That engine

So here we are, behind the wheel of the latest V12 Vantage, nearly ten years to the day when the Vantage RS was revealed. 

In this final, 'S' trim, the 510bhp 6.0-litre V12 from the DBS has been swapped out for an AM28-spec 6.0 V12 making a juicy 565bhp right up at 6,750rpm. Torque? Yep, it's got it. So much you can basically smell the stuff. 457lb ft, with the fattest curve ever. Using this special, naturally aspirated V12 feels welcome in a world of forced induction supercars, where it feels as though you're short-changed out of the firework show, with all the action done by 5,000rpm.

Ultimately what started life as two Mondeo engines being fused together has turned into one of the most charismatic 12 cylinder units ever, combusting like a well-timed orchestra to make one hell of a form of propulsion. Given its roots, the engine is way better than the sum of its parts.

You have to dig deep into the long-travel throttle pedal to extract the torque. When you find it, there's plenty of it, and you don't want to lift off, as the more you keep your foot pinned, the better the engine gets, and a flood of horsepower gets uncorked at the top end. It's an addictive set of events, something you'll want to participate in until the planet is run dry of super unleaded.

Question is, will there be a V12 version of the new car? We hope so. It'll probably be the twin-turbo V12 from the DB11. After all, the engine bay of the new car is shared with that super GT, So we know it'll fit. Plus, why go to the bother of developing a new twin-turbo V12 if you're not going to spread the costs?

What we do know is it definitely won't be a naturally aspirated V12 - because of emissions regulations - which is a shame, but hey, that's the world we live in now.

Advertisement - Page continues below

The noise

In isolation, the DB11's twin-turbocharged V12 sounds good. But when you do a cold start of the Vantage's, then clear its throat with your right foot, it pales into insignificance. It's deeper and richer than anything turbo supercar can muster. The unrestricted naturally-aspirated V12 fires into life with a bark, then settles into a weirdly hypnotic deep gurgle at idle.

With every prod of the throttle, your ears smile as that metallic whap howls up to the redline. With every thousand revs, the anger increases before you back off to a ceremony of pops and bangs on the overrun. It really is one of the world's great engine notes. One that'll be sorely missed.

It has near-perfect proportions

Just look at it. Small in stature with short overhangs, a swooping roofline, minimalist ducktail spoiler and wheels that are to scale rather than on trend. It's gorgeous. When the world first saw the Vantage, we all thought there was a sprinkling of magic in the ink of Henrik Fisker's pen. It's an effortless and elegant silhouette and part of the reason it's lasted so long.

These proportions help when you're driving it, too. It's placeable, easy to see out of and when compared to the modern supercars, basically pocket-sized – giving it an added sense of agility and litheness.

The chassis balance is exceptional

With such a short-wheelbase, setting a car up with this much power and torque so it doesn't catapult you into being part of the local scenery is tough. Yet, thanks to heady control weights that communicate purpose and a V12 with so much torque, once you've freed the car of its electronic nannies and put it in Sport (sharper throttle and exhaust baffles open from the word go, rather than only above 4,000rpm) it becomes a wonderfully controllable and confidence-inspiring car.

It's largely due to having a proper hydraulic steering rack. As the nose bites, your forearms work harder to counteract the weight increase through the wheel, giving you more indication as to what's going on up there. You know where you're at with it at all times, and the dampers somehow feel connected to the steering, so down a B-road it flows like one complete instrument, rather than a collection of components.

Plus, it's fast. In fact, it's the fastest regular production model to ever leave the factory. How's a 205mph top speed and 0-62mph sprint in 3.9sec, for ya?

You can get it with a manual gearbox

Now, let's be clear. Gearboxes aren't the V12 Vantage's strong point. However, you do have a choice in the matter.

The auto is called 'Sportshift III', a seven-speed automated manual with a mind of its own and an incredibly apathetic attitude to swapping cogs. It stutters and judders at slow speed and is incredibly hard to drive smoothly as each time you'd like a new gear, you're forced into a headbang like the chorus of a Slipknot song has just kicked in. Driving it hard makes it smoother, and you can work around the jerks at slow speed by putting it in manual and lifting off the throttle each time you pull the paddle.

Trying to second guess it in automatic is pretty much impossible. Something that instantly ages the car in an era of silky smooth ZF and whip-crack dual clutch 'boxes.

However, if you want to have maximum control, you can still get three pedals and a stick. And what a stick it used to be. A giant hunk of metal that was the size of a Maglite. And not one of those piddly Maglites a Scout carries in his top pocket, but one of the big lugs. This heavy-duty six-speed gearbox has since been replaced by a dog-leg seven speed. It's essentially a deconstructed version of the automated manual and sounds ridiculously cool in theory, but proves mildly infuriating in the real world as it's so tightly stacked, and therefore easy to put in the wrong gear. This could end badly.

Advertisement - Page continues below

It has a functional key

Car keys aren't really keys at all anymore. They're clunky proximity devices and – if you're BMW – mini smartphones. We're a long way down the line from car keys actually being keys, but the V12 Vantage's key at least has a function of turning the car on, rather than just a lump of plastic you keep in your pocket.

To give it its technical name, it's the ECU. Or, Emotional Control Unit in Aston-speak. Hmm, right. Still, it's made out of crystal and steel, and not only looks expensive, but has weight to it which makes it feel purposeful and special.

Unlike a lot of keys nowadays where there's nowhere to store them, you push this chunk of glass inside a space in the dash and hold it there until the engine turns over, adding a sense of drama and excitement to proceedings. Then, when you stop, you just press it and it pops out so you have the key right there. Rather than scrambling around the cabin wondering where you put the key, like you will in the new Vantage.

It has a proper handbrake

Just like mobile phone chargers, there needs to be uniformity in the world of electronic handbrakes. Some manufacturers push to engage them and pull to release. Others do the opposite. Some are automatic. It's infuriating and leaves you driving off with it on (making you look like a wally), or walking away with it on, leaving gravity to nerf it into a wall (also making you look like a wally).

But the V12 Vantage has a traditional, mechanical handbrake. You know, the ones where you pull it up for yourselves and can feel it engaging? What's even cooler is that it's a fly-on, fly-off handbrake, so brings back memories of the handbrake of your first pedal cart. Just a really expensive one… with a V12 engine.

Advertisement - Page continues below

It's an unapologetic analogue GT supercar

Although the interior is unchanged from its mid-life refresh in 2009 (just check out that screen), being swathed in Alcantara and leather, the cabin feels rich and luxurious. But more than that, it nails the brief of a GT, even in something that's relatively diminutive. It rides well, is comfortable, swallows your luggage with ease and has a banging sound system to keep you entertained when the V12 settles into a cruise. Which, we found out via the track apps, only uses 24bhp at 70mph.

While driving you look out directly into a wonderful mirage as the enormous heat emanates from the 38 carbon fibre hood slats. It's also a real mile chomper (if you don't mind stopping for fuel) but can change its character and become one of the most deliciously involving drivers' cars if you want it to be.

In this new world of clinical, electronically-aided performance, the V12 Vantage feels old-school – a real bruiser that wants to lay you out for looking at his salted peanuts the wrong way. As things become slightly more sanitised, let's raise a glass to the V12 Vantage: the no-nonsense, straight-talking British brute.