Supercars
Progress Report: Ferrari 430 Scuderia vs Ferrari 488 Pista
What difference does ten years and two turbochargers make to the quintessential mid-engined Ferrari?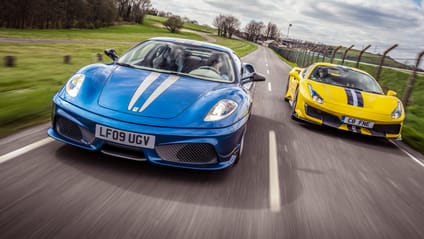 You cannot even begin to comprehend the speed of the Ferrari 488 Pista, the ferociousness and relentlessness with which it accelerates. I defy anyone to go for a drive and emerge from the hardcore 488's stripped-out, carbon-clad interior with a completely straight face. With a shrug of their shoulders, rather than a look of wide-eyed astonishment and some creative swearing to reflect that no, this kind of thing really should not be possible. Or indeed allowed.

To blame is the 3.9-litre twin-turbocharged V8, which uses all kinds of clever engineering trickery to, far as possible, mimic the character of a N/A motor. It makes 710bhp, but perhaps more impressively, 568lb ft of torque - with the full whack only available in seventh, top gear.

Photography: Rowan Horncastle

Thanks to The Octane Collection for letting us use their 430 Scuderia. Visit theoctanecollection.com or call 01483 338 901

Advertisement - Page continues below

The gearbox itself is a double-clutcher that, left to its own devices, will quite happily settle into seventh at 26mph. And stay there, even with enough throttle applied to see you sail past something very fast trying very hard to go very quickly. Fifth happens at 16mph. And the rest of the gears are just there for...well, I dunno. Something to play with in traffic I guess.

On a narrow public road, with camber and crown, potholes and pockmarks, not to mention other cars, trucks, buses, cyclists and so on, the Pista is frankly too much. It's so fast and so capable that driven even at five tenths, a policeman would be well within his rights to remove your driving licence from your wallet, cut it into tiny little pieces and scatter it about the countryside. In everyday driving you simply cannot go near the throttle for fear of being hauled off to prison.

You want to be able to use the gears, downshift into corners and upshift out of them with enough of a wail from the exhaust to make your lips curl at the edges. Drive like this in the Pista and you'd have a great time, but you'd also be doing 120mph without really trying, and therefore in very real danger of being jailed.

So you adopt a different style altogether – one that sees you lock the excellent gearbox in fourth or fifth and more or less coast between bends. Still fun, because it's a mid-engined Ferrari so of bloody course it is. You just have to slow things down. Concentrate on the bits you can enjoy – the chassis, steering, brakes, ride and gearbox (all of which are just astonishing) – without risking a spell at Her Majesty's pleasure.

Advertisement - Page continues below

Enter the 430 Scuderia – the 488 Pista of two generations ago, before turbocharging became fashionable (and ultimately necessary), and paddleshift gearboxes got properly good. 

First thing that strikes you is that it has not aged gracefully. It looks fussy alongside the 488, which by all accounts is a fine-looking thing. Interiors weren't Ferrari's strong suit in the late Noughties, either. Look past the, erm, 'interesting' spec of this particular car (grey leather everywhere) and the basics are the same - no carpets, visible welds and seams - but the execution isn't quite as good. Or quite as polished. Even allowing for the ten-year age gap. 

The 430 has an actual key, unlike the 488, but once you've stuck it in the ignition and twisted, both start the same way, a button on the steering wheel. The 430's indicators and wipers are controlled by conventional stalks, but from the 458 onwards (the mid-engined Ferrari that splits these two cars) the company moved all those controls to the steering wheel, too.

Drive the 488 for a bit before hopping in the 430, and the whole process of reaching back behind the paddles to flick a stalk feels awkward and antiquated. And because the 488 has more space behind the wheel, its column-mounted paddles can be much longer. The 430's are probably only half the length, if that.  

While we're in that area, the 430's gearbox is one of two things that mark it out as an 'old' car. Like the 360 before it, and indeed most proper paddleshift transmissions of the day, it's a single-clutch automated manual, with a fully automatic mode should you for some reason wish to arrive at your destination needlessly frustrated. This was Ferrari's ultimate attempt at such a set-up, before going DCT with the 458. It's as good as these gearboxes got. 

On part throttle the upchanges come with a big delay and a bob of the head - the trick here is to back off as you pull the paddle. Or floor it - full throttle upshifts still come with a bit of a jerk (like the 488, though no doubt those are engineered in for drama), but they're quick and clean and very exciting indeed. Same on the way down - commit and you're fine, but be all half-hearted about it and the change is slow and lumpy. 

The second thing that betrays the 430's age is its steering. Nowadays the trend is for hyperactivity - an immediate, sharp off-centre response that noses a car into a bend with only a few degrees of lock applied. But back in the 430's day, things were different. The 488's steering requires just two turns from lock-to-lock, but the 430's needs more. This means you're busier behind the wheel, every corner requiring a proper steering input from your arms, not just your wrists and fingers. You can't just think it through bends.

On the road the 430 feels small. Narrow and slab-sided, and unlike the 488, which has proper hips that make it feel wider at the back than the front, even though it isn't really. It's easier to enjoy on British roads, because while it's still a relatively wide car, with very expensive-looking carbon mirrors that stick out like Shrek's ears, you don't instinctively go and bury it in the hedgerow when a Range Rover comes the other way.

Advertisement - Page continues below

This is a car that does 0-62mph in 3.6 seconds, so much like the 488 it is emphatically not slow.  But the 430 offers more fizz at low speed. You can use more gears, more revs. You have to, because there isn't unlimited torque from idle like there is in the 488. And of course the noise is otherworldly, as dramatic and exciting as it gets. It makes the new car's turbo V8 sound flat and contrived, however many revs you're using.

The 488 is a monumental thing. A proper masterpiece of supercar engineering. But sometimes it's just that little bit more fun to drive something a fraction less good.