Supercars
Road trip: thrashing the 597bhp Ferrari 458 Speciale around Elba
We take the harder, faster Fezza on a road trip round an idyllic Italian island. Yeah, tough day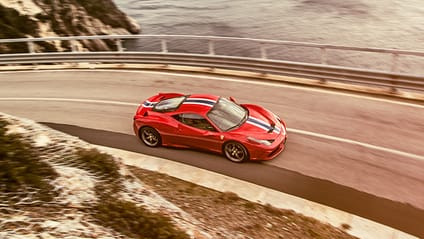 You never know what's around the corner. And, on the Italian island of Elba, there are plenty of corners.

Why Elba? Well, to paraphrase George Mallory when asked about his determination to climb Mount Everest... because it's there. Top Gear has brought you dispatches from all parts of Italy, but we've never been here before. Technically, it's part of the Tuscan archipelago, and lies 12 miles off the mainland port of Piombino in the Tyrrhenian Sea. Pretty much the only thing I know about the place - along with most of us, I suspect - is that Napoleon was exiled to Elba under the terms of the 1814 Treaty of Fontainebleau. He subsequently escaped, and was intercepted a few days later by a French regiment near Grenoble. "Here I am. Kill your Emperor, if you wish," history records. They didn't, but three months later came the Battle of Waterloo. Napoleon was exiled again, this time to Saint Helena, an island more than 1,000 miles off the coast of Africa in the Atlantic. There was no legging it from there, and we thought it a bit far in a Ferrari.


Pictures: Justin Leighton

This feature was originally published in the May 2014 issue of Top Gear magazine

Advertisement - Page continues below

These days, Elba is popular as a low-key tourist destination, a hippie hang-out an Italian friend tells me, but also a cycling haven, thanks to its vertiginous roads. Neither group is much in evidence in March, so the whole island is cloaked in that slightly eerie calm, common to out-of-season holiday hotspots. It also means that we should have some space to exercise the 458 Speciale, in the sort of environment that Ferrari's smallest car - in terms of physical size, but definitely not reputation - revels in.

The Speciale is a technical revelation, reflecting a company that's on a roll. In 2013, Ferrari controversially cut production yet still posted a profit of €246m. It has more than €1.3bn sitting in the bank, but ploughs most of it back into R&D annually. There are guys in Maranello working on stuff that would blow your mind.

Advertisement - Page continues below

Ferrari has also become ever smarter at giving its cars a palpably different character, from the LaFerrari - a V12 hybrid, remember - down. You might reasonably wonder where on earth the engineers and aerodynamicists have found the headspace in the 458 Italia to improve it. The answer, needless to say, runs a bit deeper than the Speciale's go-faster stripes.

It's also the latest in what might be Top Gear's favourite Ferrari sub-genre. Back in 2003, the 360 Modena finally found its groove in the Challenge Stradale iteration. Harder, faster and 110kg lighter than the standard car, the CS dialled everything up to 11 without scaring you witless, and killed the idea of Ferrari fragility by feeling race-car robust too. (A decade on, rarity and reputation ensures that the 360 CS commands a whopping £60k-£70k premium over the regular 360.) The 430 Scuderia was even better, pioneering the current E-diff and traction control wizardry and outpointing the Enzo round Fiorano. It could be a bit skittish on cold British tarmac and its Pirellis' pressures needed careful monitoring, but, boy, did we love the Scud. Still do, in fact.

So, the Speciale has a lot to live up to. It's effectively a Ferrari laboratory. Photographer Justin Leighton and I are collecting the car from the Ferrari dealer in Florence, heading west towards Livorno, then south towards Pisa. It's the first time Ferrari has released the 458 Speciale, following a winter hibernation, which adds a little frisson. It's an easy enough journey, even if Team TG's previous on these adventures is notable for the odd spectacular miscalculation (in a 430 Scud, as it happens, which almost found itself ingesting an olive crop.)

Anyone who has ever been lucky enough to pick up an Italian supercar from the source will tell you that the bravado is laced with at least a sliver of terror. This is a £208k, 597bhp Ferrari, for heaven's sake, and, as the garage door rises, it's apparent that clearing the kerb onto the road without striating the Speciale's undertray is the first test. We make it, and within five miles the Ferrari has magically finessed away any fear. Mooching around, searching for the autostrada, the first shock is how easy the Speciale is to drive. In fact, operating the audio system is, by a country mile, the most difficult thing to get your head around. Yes, there's a degree of ergonomic bravery to the 458's instrument layout, but there's an equal amount of punchability. The four-point race harness seems a bit OTT, too. Justin and I are forced to have all of our conversations with one another minus any gestures, as neither of us can move our upper bodies.

Advertisement - Page continues below

It also gives me time to think about the car. Ferrari, like Porsche, applies a pathological attention to detail when it comes to its most uncompromising products. Having spoken to the team behind the Speciale, all involved agree they had to partly re-engineer the car to meet the goals they'd been set. Take the chassis, for example. Around 20 per cent of it has been changed, the firewall now measuring 1mm rather than two, while the central tunnel is a new casting. Numerical analyses determined which parts could be reduced in thickness without affecting the car's overall structural integrity. There are extra ducts in the bonnet, so that's new, too; it has two layers, and the outer one's so thin that Ferrari has gone to a company in England that specialises in a process called 'superplastic forming' to make it. It would simply snap, otherwise.

The 458 Speciale is also the most aero-efficient Ferrari road car ever. Its nose features movable flaps that activate at around 105mph to reduce drag across the front of the car and generate more global downforce. There's a side vane ahead of the rear wheelarch, which also increases downforce without adding drag because it's fixed to a horizontal surface. But perhaps the most impressive thing is that Ferrari has completely reconfigured and repackaged the 458's exhaust system in order to get the aero numbers it needed from the rear diffuser. That's a serious amount of effort for a low-volume special.

Advertisement - Page continues below

Let's just say that the Speciale feels spectacularly planted on the autostrada, hustling the air into ever more impressive dynamic feats the faster you go. You can almost sense the vortices eddy around the car. Twenty years ago, hitting high speeds in the F355 would have meant alerting air-traffic control. A generation of engineering genius later, and the 458 Speciale hunkers deeper into the road as the speed builds. And we haven't even found a corner yet.

We have found Piombino, though, and, in common with most ports, it seems to exist primarily as a gateway to somewhere else. It's down at heel, and the coastline around it is full of belching chimneys. Justin and I are amused to spot a container vessel called Bulkirony as our ferry sets off; we are well practised in it ourselves.

Elba's main town is Portoferraio, and it receives us with more architectural grace than Piombino expelled us. Although it's quiet, the arrival of a Ferrari 458 Speciale ensures that our presence is immediately felt. Some carabinieri materialise, the shades and surly attitude only slightly undone by their Fiat Punto. "Everything ees all right?" they ask. "Everything ees good, thanks."

Elba's roads are a mixed bag. The Speciale uses the latest version of Ferrari's magnetic dampers, for even faster response; it'll need them. We have no other aim than to go high, scything our way around the island's 3,340ft Mount Capanne, and the route mixes up some satisfyingly fast-flowing stuff with the sort of third-gear/second-gear hairpin ribbon that tests steering, brakes, chassis and passenger constitution to the limit.

The Speciale instantly slays a notable fast-driving shibboleth: it doesn't matter how much power you have, if a car is simply too big to fit - and many modern supercars are - you'll go faster down a twisty mountain road in a hire car. The 458 fits. It's 90kg lighter than the standard car (the Spesh weighs 1,395kg), the dual-clutch 'box shifts up 20 per cent faster and is a brain-frying 44 per cent faster on downshifts, and there are bespoke Michelin Pilot Sport Cup tyres on each corner. Along with the latest-gen carbon-ceramic brakes, it's a devastating combination. The Speciale is so alert and responsive to the driver's commands that it thinks your inputs onto the road almost before the thought has formulated in your head. Even the regular 458's hyperactive steering seems more linear. In the right place, the Speciale can pull 1.33 lateral g. (Not on Elba, it can't.)

Simply put, on roads like these it's impossible to imagine how a car could be better than this. The latest 911 GT3 is close, and similarly wieldy, but the Speciale's 597bhp - and 9,000rpm-plus red line - gives it an even more manic edge. Oh, that engine. In light of the twin-turbocharged California T, it's tempting to see the 458 Speciale's 4.5-litre as a swansong for the naturally aspirated Ferrari V8. The new Cali delivers 550bhp, and the 458 Italia's successor will use forced induction for perhaps 100 more even than that, but the Speciale feels like the car Ferrari really wants to do. It has new pistons, uses an even more exotic engine oil, and there are even new lubrication ducts in the crankshaft. "We are at the limit of what we can do in a normally aspirated engine," Gaetano Cecchinelli, one of Ferrari's engine gurus, told me recently.

There's also some outlandish computer software to match. Twiddle the wheel-mounted manettino around to 'CT off', and Ferrari's new SSC (slide slip control) algorithm measures throttle position, steering, engine revs and tyre slip in conjunction with the E-diff to allow an impressive amount of oversteer without throwing you over the cliff. Historically, mid-engined Ferraris are not known for indulging tomfoolery - the opposite, in fact - but this one does. On which basis, it might seem daft to shed this ingenious prophylactic in pursuit of even crazier angles, but obviously that's precisely what we do. The 458's chassis is utterly sublime, and proof that, no matter how perfectly calibrated the electronics, software should only enhance and amplify what's there, rather than apologising for what isn't. Rather like CGI in modern cinema.

Analogue vs digital: this one's going to run and run. Just around the corner from one of Elba's most spectacular vistas, we chance upon a Fiat 124 Spider Abarth. Its owner, who turns out to be a maître d' at a legendary Italian restaurant, is called Francesco, and he happily volunteers his gorgeous little convertible as a photography chase car. It's a '73, the sort of democratic performance car Italy used to be so good at. It's been preserved in full competition spec, with a lightweight bonnet and bootlid, 13in magnesium wheels, and period Rally-Master timer ahead of the passenger. It has 128bhp, weighs about as much as a supermodel's lunch, and gurgles fuel hungrily through twin Webers. It's also worth about £50k. Francesco lets me drive it and - dodgy brakes apart - it's as near perfect as you'd imagine, fast but utterly biddable, framed by mountains on one side and sea on the other on an Italian island as the sun sinks. What a moment.

There's obviously no direct comparison with the Ferrari, even if there is some lineage. No, what really connects them is an absolute commitment to driving hedonism. Purity. The 458 Speciale, like it or not, is an end-of-an-era Ferrari, a car that a lot of very clever, extraordinarily passionate people have poured everything they know into. And you can tell, through your fingertips, your feet, your ears and your backside. Find the right corner, flick the left paddle down a gear, accelerate. Change up. Accelerate, brake, turn. Repeat.

It doesn't get any better than this. It just doesn't.