Supercars
Six things you need to know: Lamborghini Aventador SVJ
Jota could mark the end for Lambo's N/A V12, plus more nuggets, here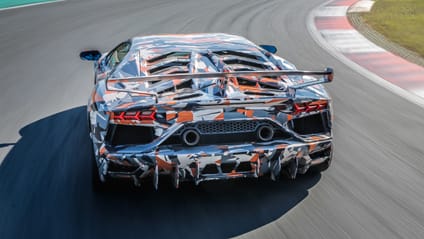 It's the end of the road for the naked V12

"This is the last time the V12 will be on its own," Maurizio Reggiani, Lambo's R&D boss told me. That alone will ensure buyers flock to the Aventador SVJ – this 6.5-litre 760bhp motor will forever be Lamborghini's ultimate V12. From this point on, the V12 – and the V10 in the Huracán if it continues – will be electrically assisted. Both Reggiani and CEO Stefano Domenicali not admitted it, but expect hybrid to be the answer across the board, including for Urus.

Advertisement - Page continues below

The one thing that concerns Reggiani about the electrification of Lamborghini is weight, "we do not yet have the right solution, but we do know weight-saving will be key. This is the biggest challenge for the future of the super sports car". Lambo has long pioneered carbon technology. Expect to see more evidence of Sesto Elemento-style weight-saving going forwards.

That 'J' has been used sparingly throughout Lambo history

The name that has been applied to the most extreme versions of Lamborghinis going back to the original 1970 Miura P400 Jota. It's been used very sparingly: neither the Countach nor the Murcielago ever wore it, but in 1993 Lamborghini created the Diablo SE30 Jota (pictured) and two years later a one-off Diablo Jota to homologate two race cars for the Japanese GT championship.

Advertisement - Page continues below

The name comes via the FIA's rulebook

Good story. Back in 1970 Lamborghini wanted to get the Miura into racing, so chief test drive/engineer Bob Wallace got hold of the FIA rulebook and turned to Appendix J – the section that dealt with homologation specials and one-offs. Although the Miura never raced, the name (the letter J in Italian is pronounced Jota) stuck.

Lambo has not forgotten its roots

"We are still a super sports car brand," Domenicali told me, obviously eager to make it clear that while the Urus might already be Lambo's best-selling model of all time, it won't be the car that defines the brand. He'd had one other concern: "I thought everyone would order an Urus in black or blue or grey, I thought yellow would only be maybe five per cent of cars, but actually we have 14 per cent of orders in yellow."

The Nordschleife was a key development target

"The target for our engineers was to do better than the SV," says Reggiani, "but for us to say better means to be the best." In other words, the target for the Super Veloce Jota wasn't just the standard SV's time, or the Huracán Performante's, they were aiming at Porsche's GT2 RS record from the very start.