Supercars
Top Gear builds a Lego Technic Bugatti Chiron: part one
A big box of Lego has landed at TG Towers. Time to build one of the world's fastest cars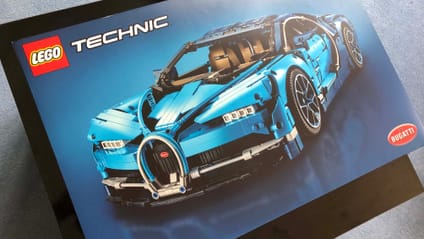 Very quickly, it becomes apparent I may have bitten off more than I can chew here. I'd been expecting a delivery of Lego – rather excitedly, if I'm honest – but the postman appears to have passed me a crate of encyclopedias. When in fact, this glossy blue box contains a patch of stickers, four rubber tyres, and 3,599 pieces of plastic, from which I will construct the most ambitious supercar Lego's ever immortalised in brick form. This is Lego Technic item number 42083, for ages 16 and up, apparently.

Okay, I'm ahead on that count. But the task ahead is as intimidating as a kit gets. There are six boxes of pieces, each containing multiples bags of both familiar Technic pieces and new, bespoke-looking components, Components that will leave the car impossible to finish if just one goes missing. And given this monster of a kit is worth a cool £329, popping out for some bespoke pieces doesn't sound cheap.

Advertisement - Page continues below

Then we come to the instruction manuals. They are tomes. I have driven full-size, road legal cars with flimsier, thinner 'how it works' booklets than this Lego kit. Each one is in excess of three-hundred pages long. And I say 'each' because yeah, there are two. The Technic Chiron takes so long to assemble, Lego needed to split the process into separate volumes, which are longer than the first three Harry Potter novels.

Intimidating it may be, but the Lego Bugatti set is the most exquisitely presented 'toy' I've ever come across. The box is glossy and its inner lid is festooned with sketches of classic Bugattis. The four bespoke two-tone wheels are tantalisingly exposed when the lid is first removed. Sounds pathetic, but there's real sense of occasion to unboxing this behemoth.

And I like how each box is like a jigsaw puzzle, which forms a picture of a real Chiron's face when all the boxes are in place. When you complete each box, flip it over as it's replaced and you'll end up with an image of the Chiron's rear. Lovely attention to detail. Think about that before you lob the box into the recycling...

Advertisement - Page continues below

Here's the contents of box number one. Several bags, and not much in the way of recognisable Bugatti pieces. Yet from these diminutive plastic acorns we shall create a mighty oak of a supercar.

As you'd expect, much of the early stages are just framework for the chassis. It's like building a miniature climbing frame. After a couple of hours though, something approaching a rear suspension subframe starts to emerge. Lordy, it's large. This thing's going to be a monster when finished. Stay tuned...