SUVs
Pic of the day: Dacia's new tripod-spec Duster in the desert
We recently drove the updated Duster in the Moroccan desert – here are some more lovely pics
Get a look at those images above. Yeah, we can now safely say that the Dacia Duster is far more capable off-road than you might think. 
That's because TG recently took a 113bhp, four-wheel drive diesel Duster out into the Moroccan desert to put it properly to the test. The only modifications were a set of Goodyear Vector 4Seasons tyres and a phone mounted on the windscreen that could display a vague route when 4G was a distant memory. 
Advertisement - Page continues below
You can click these blue words for our full and freshly-updated Duster review, but it's worth pointing out here that once again we were genuinely taken by Dacia's budget SUV. It's hard not to fall for the Duster, particularly in an environment like this where the manual gearbox and low weight (the four-wheel drive Duster only weighs around 1.4 tonnes) make for a bit of an older-school off-road experience. 
Yes, the Duster gets hill descent control and the top two specs (Journey and Extreme SE) get a 'multiview camera' that show how close all four corners of the car are to off-road obstacles, but that's really the extent of the tech. A super short first gear negates the need for low-range and the chunky body means approach and departure angles are more than adequate. Plus, when you do hear the inevitable scratch of bushes and twigs on bodywork, you can be quite certain that the foliage is just hitting cheap black plastic. It's not like any other modern 4x4 would struggle out here, but there's an honesty to the Duster that lets you have more fun and saddles you with less worry.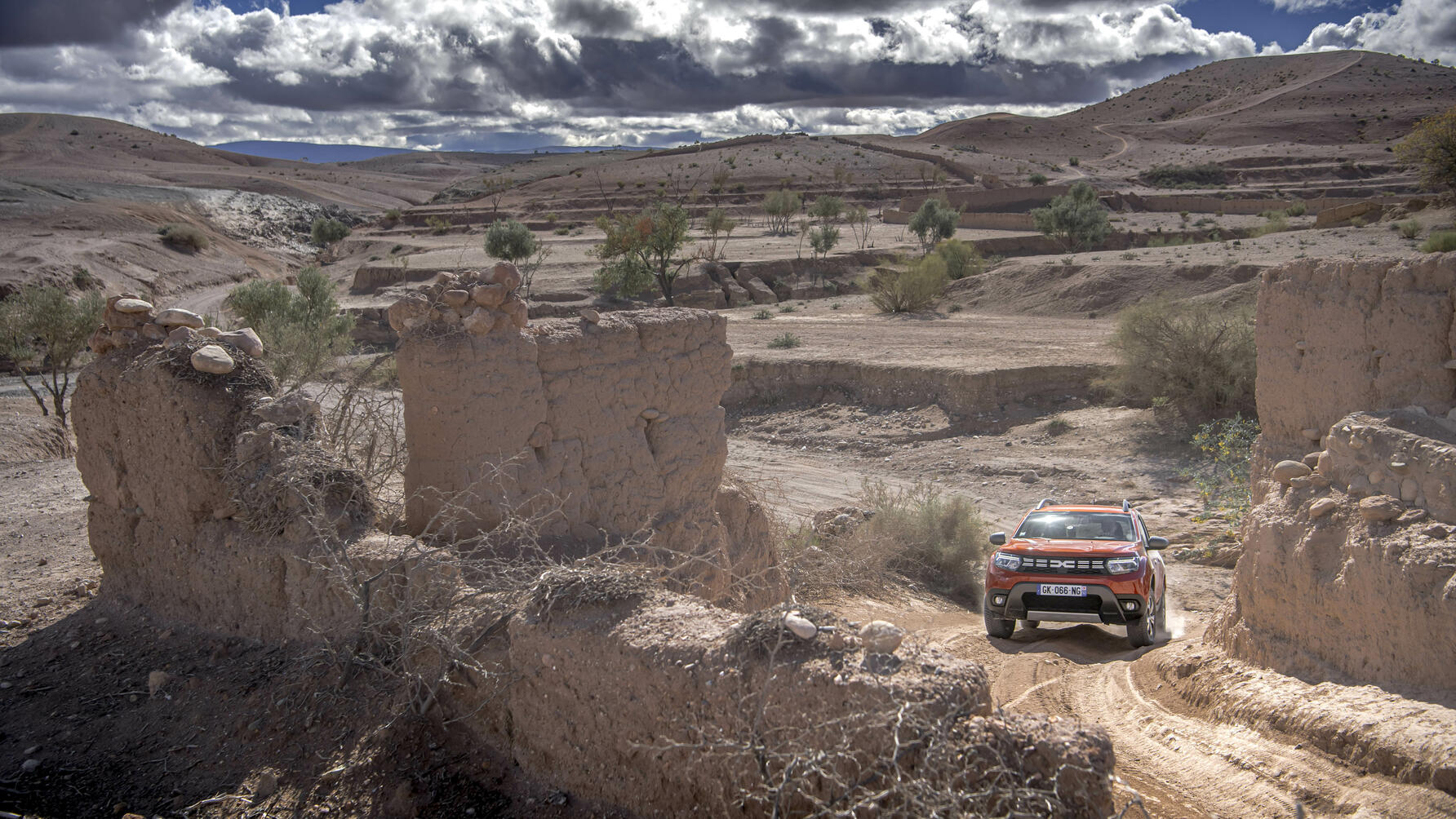 We took the Duster on soft sandy tracks, over washboard surfaces and rocky terrain, and even sent it up and down some steep, heavily potted slopes. It's genuinely impressive what it'll float over. 
Okay, the cabin is extremely basic and sound deadening has only slightly been improved over the years, plus there's not a great deal of wheel articulation hence the tripod action above, but this is probably more than any UK-based Duster will attempt. 
Advertisement - Page continues below
Still, good to know that it'll cope if you ever get stuck in the Moroccan desert though, isn't it? TopGear.com – always here for your consumer advice needs…
Top Gear
Newsletter
Thank you for subscribing to our newsletter. Look out for your regular round-up of news, reviews and offers in your inbox.
Get all the latest news, reviews and exclusives, direct to your inbox.