SUVs
Why the Skoda Kodiaq is the best car for big families
Best Cars of 2016: Paul Horrell drives Skoda's first seven-seater in the UK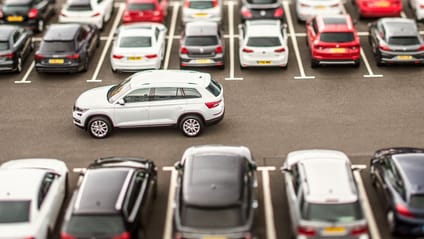 Sometime along life's road, there comes a fork when things change. When you take as much satisfaction from a smooth transition from six- to seven-seat mode as you do from the race from six to seven on the tacho. When rear packaging matters more than rear-wheel drive. When adaptable cabin storage assumes greater import than adaptive damping. Sigh.

At which point we could recommend you an MPV. The new Renault Grand Scenic is most agreeable. But more and more people stick their fingers in their ears when they hear that sort of advice. Cars overtly designed for big families are going fast in one direction only. Out of fashion. No, the big family cars people actually want are the ones that look like 4x4s for the free-roaming outdoorsy buyer – virility symbols. As opposed to MPVs which are evidence of proven virility.

Images: Mark Riccioni

This feature was originally published in issue 290 of Top Gear magazine

Advertisement - Page continues below

So you want a seven-seat crossover or a 4x4. Despite the fact they are generally not very well packaged. If the third row is suitable for humans, there will be no boot, or a tiny fuel tank. They're mostly liable to use more fuel and accelerate less ably than you're used to because they're heavy. And they're expensive.

Don't dissolve into a fug of depression. Because we now bring you the antidote to that counsel of despair. TopGear's Best Car for Big Families, the Skoda Kodiaq. 

The Kodiaq's cabin is as spacious and cannily practical as an MPV. The version we're testing has 4x4 and a tow bar, so it can pull a boat up a slipway or a horse out of a field, yet it does better than 50mpg in the official test. And stood beside any crossover that might be called a rival, it's good value to an almost hilarious degree. The one I drove was a poshed-up "Edition" version, with a diesel 4x4 drivetrain – albeit not DSG – and I thought there was a misprint with the price. Shouldn't it have read £42,695 not £32,695? I checked and it shouldn't.

Advertisement - Page continues below

It looks like a big 4x4, but that's a deception. A lowish roof stretches it visually, but in truth it's only a scant 4cm longer than an Octavia estate. Therein lies the cleverness of the packaging, as well as of the design. I parked it next to an Audi Q7, and it's like a perfectly scaled-down version. So it isn't intimidatingly bulky for urban schoolrun work or multi-storeys. Its compactness also brings lightness. It starts at under 1,500kg for a front-drive 1.4 petrol, but adds another 200kg if specced with all of 4x4 and DSG and a 2.0-litre diesel. Plus you could be carrying an extra half-tonne of human meat, so factor that in when deciding how many horsepower you should be ordering.

Under the skin, it's all about the VW Group's MQB parts, in this case running the wheelbase of a VW Passat, and all versions have the proper multi-link rear axle. (You might remember low-end MQB cars have a torsion beam, but there's none of that here.) Engines and transmissions come from the same selection box. This tells you a lot about the way it drives.

Which is a good thing for all concerned. Stand by for some TopGear advice on being a mum or dad: if you subsume your entire identity to your kids' (or what you perceive to be your kids'), you'll probably turn into a joyless martyr and not such a marvellous parent. So, avoid buying a family wagon that's bad to drive. You know it makes sense. When they're old enough to understand, your kids will thank you profusely, and solemnly undertake to care for you in your dotage. Sure, the Kodiaq has no business being some kind of tyre-smoking tail-out hooligan. In seven-seat context, good dynamics means progressive, responsive controls, a relaxing motorway demeanour. And yet still a measure of grace when you're alone and want to lob it at a roundabout. 

 

Those are the basic characteristics that this Volkswagen Group platform excels at, and they suit the Kodiaq magnificently. It reacts thoughtfully rather than flightily to inputs, the steering and chassis and brakes finding a cohesion that dissolves into the background unless you stop to think about it. It rolls into corners, so as to tell you what loads you're putting it under, but that action is so progressive that you can steer smooth, neat lines, and with luck avoid car-sickness breaks. The ride is a little jiggly travelling solo, but add some weight and it levels out. 

Smooth progress is helped by the driving position itself. The seats are high in the SUV fashion. That elevated eye-point is good for enjoying the scenery, spotting hazards ahead, and negotiating tight streets. But you address the wheel and pedals as in a car, rather than with legs folded under you.

The 150bhp diesel in the tester is little better than plucky. It's a bit noisy, and not very quick even one-up. I'd be temped by the newly developed 180bhp petrol option, which uses a novel combustion process (early-closing the inlet valves under light load, so there's less mixture to squish) for better economy. It comes with DSG for little more money than the manual diesel.

Advertisement - Page continues below

Scope exists to spec-up the Kodiaq with a loaded buffet of driver aids, up to and including semi-autonomous speed and steering control in multi-lane roads up to 40mph. See, it's a techy sort of car.

It has to be when you've got kids aboard. They'll be glad of wifi and USB charging so they don't have to listen to you. Ah, but you can overcome their isolationism because there's a gadget that takes your voice via the hands-free phone mic and PAs it to the rear speakers. The connected traffic-aware satnav might help mitigate are-we-nearly-there-yet hell.

Even if they're emotionally fractious, your passengers will be sitting in assured physical comfort. Cars never have to carry seven equal-sized humans, so the Kodiaq allows a distribution of space to each according to their needs. Or their knees. If the third-row people are small and the second-row tall, they can slide the second-row back. If the sixth or seventh passengers' legs won't fit, they can negotiate with the middle-row people to slide forward (in a 60:40 split) and set the backrest more upright. Everyone gets a proper headrest, and their own storage bins, and their own A/C outlets.

Advertisement - Page continues below

Even so, seats six and seven aren't really for anyone older than early teenagers. This sort of seven-seater is a car that'll take three kids and two grandparents, or kids and friends, on a day trip. There will still be room for the picnic behind seats six and seven. If you fold seat seven, the boot gets to be quite useful. Fold both seats seven and six, and you have a massive boot. Anyway, parents who have five full-time kids probably won't manage with any seven-seat crossover or MPV. They'll need a proper minibus – and lots of tranquillisers, the poor saints.

On your first long trip in the Kodiaq, pass the time trying to find all the cabin's little storage boxes. Or play with the armrest box, which has an internal divider designed with the sort of reconfigurability that must surely be the work of an ex-Ikea kitchen engineer. Its recesses are even claimed to grip the base of a PET bottle so you can open it one handed. But you shouldn't use throwaway water bottles, you wastrel, you should refill a bicycle bidon. Do you care nothing for the world you'll bestow to the future generations riding in the back seat?

The boot has an underfloor recess to store the luggage blind when you've folded the seats. A rechargeable torch lives there too. A windscreen ice scraper is tucked into the fuel flap. Umbrellas reside in the front doors. The doors also have little plastic edge protectors that pop out each time they're opened. I had those on a Ford Focus once and given the carelessness with which kids mash doors into walls and neighbouring cars, they're a remarkable stress-reducer for the registered keeper.

Minimising stress is at the heart of the Kodiaq's mission. That's what its versatility is all about, because you never fear it won't ably put its shoulder to any task family life throws at it: fetching and carrying of people and stuff, hauling or going mildly off-road or defeating slippery roads. It's reassuring and safe, but it manages to avoid tedium. Not only because it's decent to drive, but in its design and build. There are some beautifully considered pieces of visual detailing here, executed with quality craftsmanship.

So in its subtle ways the Kodiaq looks after you, as well as the ones you care for. Life doesn't inevitably go downhill after you round that fork in the road.