News
Ten things we learned this week: September 29, 2017 edition
F1 microphones, a flying car and an Aston Martin vacuum...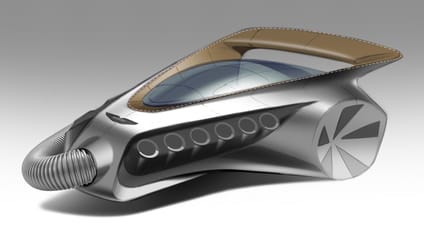 Saudi Arabia will allow women to drive soon

As recently as September 2011, courts in Saudi Arabia were still passing sentences of ten lashes for women who had the temerity to drive a car solo.

But this week, some very welcome motoring news: there is no longer anywhere in the world where women are not allowed to drive. After years of being the designated passenger, Saudi women will soon be legally permitted to transport themselves around without the presence of a man.

King Salman has issued the order overturning the ban, with new guidelines expected to come into force in June 2018.  

Advertisement - Page continues below

Formula 1's considering putting microphones in the cars' exhaust pipes

Modern turbo V6 power has brought a lot of things to Formula 1: Mercedes' dominance. McLaren's collection of wooden spoons. Christian Horner having a spat with Renault for a little while. 

But V6s are perhaps most famous for what they've taken away from F1, rather than what they've added. And, if you haven't already figured it out (the headline is a bit of a giveaway), it's one simple thing: noise. 

The V12s that the older staffers remember, the V10s that most of us recall and even the recent V8s have all been sonic tonic to our deprived ears, providing a respite from the drudgery of diesel SUVs. The V6s? Not so much. 

They're so music-free, in fact, that the organisers of the Australian GP apparently considered suing Formula 1 in 2014, because the lack of noise constituted a failure to fulfil its obligation to provide a spectacle to spectators.  

And for TV audiences (as in, where F1 makes its real money), it seems that ceramic microphones, stuck to the exhaust pipe, can survive the heat and transmit the real sound from the tonally challenged engines. Nifty.

But, much like aloe vera sunburn gel, it seems like a wonderful solution to a problem that you really wish never existed in the first place.

Car theft is rising again

According to the RAC, car crime in Britain has gone up by 30 per cent over the past three years, with 86,000 vehicles stolen over the course of 2016.

So, it's bad news if you own a car and don't have an 'easy come, easy go' approach to personal possessions. 

As would seem obvious, most thefts occur in major centres, where a great deal of people – and, therefore, cars – reside. By itself, London is home to about 30 per cent of all car thefts in the UK, with strong showings from the Midlands (i.e. Birmingham area) and Greater Manchester as well. 

Some at the RAC are speculating about thieves' ability to circumvent modern security and hijack keyless entry/ignition systems. Maybe so, but a lot of the UK's car fleet still uses the key-goes-in-barrel method – especially in older and cheaper cars – and the old methods still work.

Advertisement - Page continues below

Some Australians have made merry with the LS V8

So merry, in fact, that it's now got four extra cylinders. The resulting V12 LS uses much of the standard running gear from the General Motors parts inventory, with a custom block, heads, crankshaft and camshaft to encompass an extra pair of cylinders either side of the V.

This isn't just a couple of amputated V8s grafted together – it's a custom cast in either iron (for insanely pressurised turbo builds) or aluminium (for roughly everything else). Now, if you poke around the internet a bit, you'll notice that the original actually is two lopped-off V8s put together (the mind boggles), but the ones they have for sale are one-piece cast blocks and billet shafts.

Out of the box, the V12 LS puts out 717bhp and 627lb ft, but it's apparently perfectly capable of more than 1,000bhp "on pump gas and with a mild cam". And that's before you even think about turbocharging. 

So, it's appropriately unhinged, and we're wondering where to scrounge the £25,000 we'd need for the 9.0-litre long block – and pondering where we could put it. We might be able to fit it in a Jensen Interceptor, or perhaps an old XJS? Or how about wedging it in the back of a Ferrari 308?

Another week, another flying car

But this one has a fairly unique selling point – it's called the Kalashnikov. No, really – it's named after the designer of the AK-47, Mr Mikhail Timofeyevich Kalashnikov. 

Of course, the obvious joke here is to say that this one's more dangerous, hurr hurr et cetera, but this levitating breeze factory comes from the same company that makes modern versions of the AK-47, as well as sniper rifles and other capricious instruments of destruction and death. So, the fact that they're turning their attention to flying thingies is A-OK in our book. That is, until said flying thingy is used to help annex a country.

Daniil Kvyat has been given some time off

It seems that Red Bull's decided that Kvyat needs a relaxing break from coming third-last in the F1 standings and has given him a lovely compulsory holiday for the next few races. 

Luckily, Toro Rosso's been able to find someone to cover his holiday, so Kvyat can relax in the knowledge that he won't be letting anyone down with his absence from the F1 grid – unlike his presence at the F1 grid, which is almost invariably a let-down. 

We wish Kvyat all the best with his holiday and in his future as a support driver in Formula E.

Deadmau5 is selling his Nyan Cat-liveried Lamborghini

That's right, folks – you can get a piece of musical (and internet) history, complete with a fantastic V10 engine and much performance.

Owned by DJ and music producer Joel Zimmerman – better known as Deadmau5 – this mobile artwork only has about 1,700 miles on the clock and is listed at the princely sum of 289,900 Canadian dollars, or about £175,000. It's left-hand-drive, as befits the land of ice hockey and maple syrup, which makes it a tantalisingly good prospect for a Euro-thrashmobile, if one was well-heeled enough. 

So, you may be wondering, does the Nyan Cat live on the imaginatively titled 'Nyanborghini Purracan' because cats kill mice, and Zimmerman's stage name is pronounced 'dead mouse'? Look, some secrets are not supposed to see the light of day. 

Also, is it just us, or does the silly internet-circa-2011 livery make the Huracan (sorry, Purracan) an even more attractive proposition?

Advertisement - Page continues below

Or, if your music tastes are a little different…

… You can buy Glenn Tipton's Porsche 911 Turbo, a car that purportedly inspired him to write the exceptionally delicious guitar work in Judas Priest's platinum-selling Turbo. Now, Ten Things is more of a fan of Stained Class but, as you know, there was never a 911 Stained Class edition, so you work with what you're given. 

Because Tipton was busily writing hit records and touring with one of the finest metal bands ever to have graced a stage, the 300bhp widowmaker has only racked up 14,100 miles in its 30-year life.

So, it's an immaculate and original Porsche 930, owned by rock royalty. Sounds like it'll go for a song, right? Find more info here

Aston has designed a vacuum cleaner and it's quite cool

It was surprising enough when James Dyson, he of vacuuming fame, announced his company was going to be stepping into the world of automotive and building an electric vehicle by 2020.

However, Aston Martin boss Andy Palmer welcomed Dyson into the British car manufacturing business with a tweet showcasing something rather interesting.

Always one to clean up (sorry, we'll stop now) in the homegrown engineering market, Mr Palmer showed off his own design for an Aston Martin vacuum cleaner. 

"Congratulations @Dyson on joining our independent British car company club. We're looking forward to branching out into vacuums." We'd definitely invest in an Aston sucker, but reckon it would just end up collecting dust. (Sorry, definitely stopping now.)

Advertisement - Page continues below

Seat has set up shop in, um, a shopping centre

You don't have to schlep to an industrial estate on a weekend afternoon in order to take a peak at the latest specs anymore. As is now the trend, Seat has opened up a swanky new storefront in west London's Westfield shopping centre. 

Tesla and DS have already set up shop in the country's biggest Saturday-morning hell, but Seat's new premises includes five display models, digital stuff and a "Mediterranean-inspired" theme. Plus a tree. 

It's the manufacturer's second store, built in the hopes of raising brand awareness, while aiming to provide an "Easy to access, Easy to buy and Easy to own" strategy. The shop was opened by international supermodel and Seat superfan Jodie Kidd earlier this week.