Top Gear Advice
The beginner's guide to Alfa Romeo
The maker of some the prettiest – though flakiest – cars on the planet. But who doesn't love an Alfa Romeo?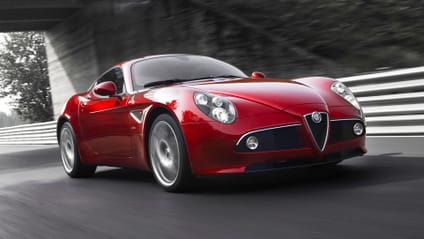 Who's Alfa Romeo, and when did it start making cars?

Did you know 'Alfa' is actually an acronym? And no, wisecracks of the internet, it doesn't mean 'A Load of Flipping Aggro'. No matter what the head gasket of a hastily bought 145 Cloverleaf might inconveniently inform you in the middle of M42 gridlock. It stands for Anonima Lombarda Fabbrica Automobili, Italian for 'we make really pretty cars'*, and the company was founded in June 1910 in Milan, before being taken over by a bloke named Nicola Romeo in 1915, who quite fancied his name on the badge in exchange for his investment. Fair, really.

*Well, words to that broad effect, we think…

Advertisement - Page continues below

Where are Alfa Romeos built, and how many does it build a year?

Alfa Romeos – to the surprise of no one – are built in Italy. But not at Alfa's original factories, which have now shut up shop. The Giulia and Stelvio are made at a plant in Cassino, southern Italy, roughly halfway between Rome (to the north) and Naples (to the south). The new Tonale is built alongside the Fiat Panda at the Stellantis Pomigliano factory. It sounds like a pizza variant, it's actually a plant on the outskirts of Naples.

As for numbers, then we're afraid they're a bit piccolo at the moment – 20 years ago, this company was producing 200,000 cars a year, whereas nowadays the number is closer to 30,000. In 2021, there were 1,574 Alfas registered in the UK, a mere handful more cars than SsangYong sold. Perhaps the Tonale SUV will change things.

What cars does Alfa Romeo build?

Just the three at the moment. Which might explain the low sales figures. Alfa's range has been small for a while, but it's a lot better in terms of talent these days, at least. From the slightly mediocre decade of front-driven, Fiat-based hatchbacks – the okay but not spiffing Mito and Giulietta – Alfa now makes natively rear-driven, sometimes all-wheel driven Giulias and Stelvios as well as that new Tonale crossover. We've not spent enough time in the latter to fall in love with it just yet, but the Giulia and Stelvio are comfortably among the sweetest driving cars in their class. Phew.

Advertisement - Page continues below

What's the cheapest car Alfa builds… and what's the most expensive it builds?

The Tonale will be cheapest when it officially launches at circa £35,000. Perhaps a lot for a dinky crossover, but Alfa's always tried to compete in a more premium end of the market. Most expensive is easy – the two-seat, track-special Giula GTAm blows all common sense out the water with its £158,000 price tag. But aren't we just delighted it exists? If any company needs an impactful halo car, it's this one.

What's the fastest car Alfa Romeo has built?

It depends on which parameter you're judging by, but in both cases it's a modern-day Giulia. The regular Quadrifoglio – the 503bhp saloon car that takes on the BMW M3 – hits a 191mph top speed, the highest of any Alfa road car in history. Its more extreme GTAm track variant gives away a few mph in top speed (downforce, innit) but trades those for a three tenths of a second benefit, hitting 0-62mph in 3.6secs, the briskest of any Alfa road car in history. The gorgeous 8C supercar of the late 2000s isn't too far behind on either count, mind.

What's been Alfa Romeo's best moment?

Alfa's best moment is probably a front-wheel-drive hatchback. Nope, we're not suddenly all wistful for the slightly dopey-eyed Mito, but rather the mighty Alfasud, a gorgeous and deftly handling compact car like the Italians have always done best. Around a million of the things were built across the 1970s and '80s, though finding one now that hasn't melted away at the merest forecast of rain is tough.

Same goes for Alfa's other big hits, the GTV coupe and Spider, which through various iterations have brought gorgeous styling (and occasionally decent handling) to a relatively attainable price point. Oh what we'd give for modern-day, corrosion-proofed versions.

What's been Alfa Romeo's worst moment?

How do you follow up a company high, the Alfasud? By partnering with Nissan on its replacement but using their designers rather than your own. The Alfa Romeo Arna did not follow the svelte little 'Sud with any grace. Runner's up slot goes to the recent 4C sports car, a truly delectable piece of design but one where the act simply didn't live up to the costume.

Advertisement - Page continues below

What's Alfa Romeo's most surprising moment?

Alfa has a knack for winning over European Car of the Year jurors. So while the 156 saloon and 147 hatchback look delightful and drove smartly, did they really, truly deserve to beat the Mk4 VW Golf, original Toyota Prius and the innovative little Audi A2 to the gongs of 1998 and 2001? Who's to say. In more recent years, the Mito, Giulietta and Giulia have all done pretty well too. Clearly the charm and romance of an Alfa Romeo is irresistible to all.

What's the best concept car Alfa Romeo's built?

Well, this is a truly rich seam from which to pick. Do we go with the 1968 Carabo, a prime slice of Italian supercar wedge? The 2002 Brera, a gorgeous preview of the unconventionally appointed coupe of the same name? The 2012 Disco Volante Touring, looking all Sixties spaceship and utterly beguiling in its oddness? The list goes on, but before we lose the rest of our working month ogling Alfa's concept car history, let's settle on, um, three cars. Namely the BAT trio of the 1950s, three concepts that evolved a new focus on aerodynamics in truly stunning fashion.

Advertisement - Page continues below

Tell me an interesting fact about Alfa Romeo.

We couldn't present Alfa with its This Is Your Life big red book without mentioning motorsport. Alfa produced its first car, the 24HP, in 1910. By 1911 it was racing the things at the Targa Florio. No messing about there. Alfa Romeo won the first world racing title in 1925 and was victorious in the first two years of Formula One, taking the inaugural 1950 championship before successfully defending its honour a year later, the mighty Juan Manuel Fangio at the helm. Kinda makes you wish they were doing a little better now, right?