Top Gear Advice
The beginner's guide to Ford
Everything you need to know about the Blue Oval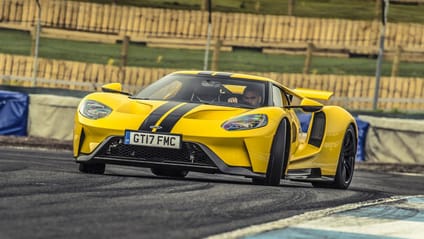 What's Ford, and when did it start making cars?

A big, American carmaker that's become something of a British institution, its first cars having landed in the UK just months after the company got going in 1903. Named for the man who founded it (Henry Ford - whose family is still in control over 100 years later) and headquartered in Detroit, Michigan, Ford makes some of the best mainstream cars in the world, and has done so (with a few notable exceptions) for decades.

And people buy them in their millions and millions – every year since the late Seventies the UK's best-selling car has been a Ford of some description, and as of 2014 the venerable Fiesta is the UK's best-selling car of ALL TIME. Meanwhile the F-150 pick-up is the best-selling car in the US (and one of the best-selling globally), while the legendary Transit remains the best-selling van in the whole world. Crikey.

Advertisement - Page continues below

Where are Fords built, and how many does it build a year?

Ford has a rich history of building things in the UK, going right the way back to the Model T, of which around 300,000 were built in Manchester beginning in 1911. But Ford's home in the UK is unquestionably Dagenham, then Essex, now Greater London. When Ford arrived in 1931 it was Europe's biggest car factory, at its peak employing over 40,000 people in the Fifties. Nowadays it builds diesel engines, car production having ceased in 2002 after almost 11 million vehicles.

Most of the Fords you see in the UK today are built in Europe, in factories in Spain and Germany, but the Blue Oval builds cars and components pretty much everywhere. It has factories in North America (obviously), South America, China, Russia, India, Vietnam, Thailand, Romania, Turkey and South Africa among others.

In 2019 Ford sold around 5.5million vehicles, down from 6million in 2018 and 6.6million in 2017. That's more than the likes of Hyundai, but some way behind the almighty Volkswagen and Toyota. 

What cars does Ford build?

The Fiesta supermini is Britain's best-selling car of all time. Justifiably, too, because though competition from the French, Koreans and Germans is fierce, it's still the best of its ilk. Same can be said of the Focus, which back in the Nineties cemented Ford's reputation for building the best-handling 'ordinary' cars out there. Today's Focus isn't revolutionary, not like its great grandad, but it's still a very good car indeed.

Nobody buys Mondeos anymore, though Ford will still sell you one if you really want. The current car has been around for years and feels it. Same goes for the Galaxy and S-Max MPVs – they're good enough cars for what they are, but nowadays everyone wants SUVs. Happily the new Kuga (basically a Focus SUV) and Puma (Fiesta SUV) are both excellent.

TG loves a Fast Ford – the Fiesta and Focus ST are mighty. Pity there isn't going to be another Focus RS, thanks mainly to ever tightening emissions rules. 

Ford has been selling Mustangs across the pond since 1964, but only a few years ago made the decision to do right-hand drive ones for us Brits. We're glad it did – name another V8, manual, rear-drive coupe available brand-new in the UK. Now, if only it'd do the same with the Raptor pick-up…

Then you've got the GT – the ultimate Fast Ford. Built to win Le Mans (which it did), the £500k-odd road car uses a 3.5-litre twin-turbocharged V6 making 660bhp, giving a top speed of way over 200mph.

We can't move on without talking about commercial vehicles – the Transit has been keeping Britain moving since the mid-Sixties, and become a byword for 'van' in the process (like Hoover instead of vacuum cleaner, Biro instead of pen and so-on…) while in the States, the F-150 pick-up reigns supreme. Last year Ford sold almost 900,000 of them in the US alone.

Ford is behind when it comes to commercially available EVs and hybrids. It does a mild-hybrid Puma, and the new Kuga is available as a PHEV, but its only all-electric car is the £40k Mach E. And that's not even out yet. No little supermini to rival the Renault Zoe, or hatchback to counter the VW ID. 3, and none on the immediate horizon.

Advertisement - Page continues below

What's the cheapest car Ford builds… and what's the most expensive?

In the UK the cheapest Ford is… the Fiesta, which costs from around £16,000. It doesn't feel like the cheapest, though – that honour goes to the EcoSport crossover, which was originally developed for South America and Asia before Ford decided to stick it on sale in Europe too.

Though based on the then-current Fiesta, the EcoSport was built down to a price for markets that don't care about material quality and handling half as much as we do, so when it arrived in 2014 it was miles off the pace. Credit where it's due, Ford realised its mistake pretty quickly and has steadily improved it since, but it's still not ideal. The Puma, Ford's other Fiesta-based SUV, is much better.

The most expensive Ford you can waltz into a dealer and buy is the Mustang. You want the V8, obviously, which starts at just under £44,000.

We haven't forgotten about the GT. Ford makes prospective owners fill in a lengthy application before it'll even consider accepting their £450,000 or thereabouts. But demand has been so high that, even though the GT is set to be built through 2022, your odds of getting a new one are extremely slim. Same goes for the $1.2million track-only GT MkII – 45 will be built, and all are sold.

What's the fastest Ford ever built?

Well the most powerful roadgoing Ford is this. The current Mustang Shelby GT500's 5.2-litre, supercharged V8 makes 760bhp and 625lb ft of torque, helping it reach 60mph from rest in the low-mid threes and (we'd imagine) smash forcefully into its 180mph limiter.

The GT500 might be 100bhp up on the twin-turbo V6 GT, but of course it's several hundred kilos heavier. So the GT is faster – Ford says it'll do 0-60mph in less than three seconds, while its slippery body means it can reach 216mph all-out.

The GT MkII isn't eligible for any race series, nor can it be driven on the road. Multimatic (the company that actually builds GTs, and co-developed the MkII with Ford) Chief Technical Officer Larry Holt explains: "The road car is obviously limited by the many global homologation requirements that it must comply with, and the race car suffers from the restriction of the dreaded Balance of Performance, resulting in it being 150 horsepower down to the road car. The Mk II answers the regularly asked question of how would the car perform with all the limitations lifted." It has over 700bhp, but actual performance figures haven't been disclosed.

Before we move on, an honourable mention for the RS200 rally car of the mid-Eighties. Purpose-built by Ford to compete in 'Group B' rallying, the Evo version's 2.1-litre four-cylinder turbocharged engine made 580bhp, but was theoretically capable of producing an astonishing 800bhp. For some 12 years the RS200 held a Guinness World Record for the fastest-accelerating car, with a 0-60mph time of 3.07 seconds.

What's been Ford's best moment?

Ford did not invent mass production, but it did revolutionise the industrial landscape by inventing the moving assembly line.

By breaking the manufacture of the Model T down into 84 steps, performed by workers stationed along a moving production line (about 6ft per minute in 1914), Ford cut the time taken to build a single car from 12 hours down to just 90 minutes. This meant it could cut the price of the Model T from $850 to less than $300, double its workers daily wage to $5 (so they could actually afford the cars they were building) and still make a profit.

By the time it went out of production in 1927, half the cars in the world were Model Ts, 15million having been built in its 19 years on-sale. This really was the car that put the world on wheels. Affordable and easy to maintain, it sparked a massive cultural shift that quite literally changed the world.

What's been Ford's worst moment?

Ford has been involved in its fair share of controversies. In the Seventies, for example, it was alleged the then-current US-market Pinto had a dodgy fuel system, which could rupture and cause a fire if the car was rear-ended. Magazine Mother Jones claimed Ford knew of the problem, but calculated it would be cheaper to pay injury claims than re-engineer the car. After a number of court cases, some 1.5million cars were recalled and mended.

Then there was the whole debacle in the Nineties, when it was discovered Firestone tyres fitted to the Explorer SUV had a tendency to fail at speed. Ford and Firestone blamed each other for the failures, which are linked to a couple of hundred deaths. Firestone recalled 14.4 million tyres in 2000, and soon after Ford announced it would replace another 13 million Firestone tyres at a cost of $3billion. Both companies suffered massive reputational damage, and a business relationship dating back to the Model T was severed.

More recently, in 2008 Ford, GM and Chrysler were facing insolvency amid the worst financial crisis since the Great Depression. GM and Chrysler both went bankrupt and were forced to accept Government bailouts, but impressively Ford was just about able to weather the storm without running out of money or accepting Government aid.

Advertisement - Page continues below

What's Ford's most surprising moment?

Probably winning Le Mans four times in a row starting in 1966. The story goes, since immortalised by big-budget Hollywood film Le Mans '66, that Ford had gotten close to buying Ferrari in the early Sixties, but the Italians backed out at the eleventh hour. Henry Ford II, Ford's then-CEO and Henry's eldest grandson, was pissed, so he decreed that Ford would beat Ferrari at its own game – the Le Mans 24 Hours. And so began one of the most bitter rivalries in the history of motor racing.

Ford returned to Le Mans in 2016 with the then-new GT to once again take the win (class this time, not overall), some 50 years after it had first done so.

What's the best concept Ford built?

Loads to choose from – some exceptionally cool stuff throughout the Sixties, and we've got a soft spot for 2001's retro-tastic Ford Forty-Nine and 2007's brutish Interceptor. But Ford's most notorious concept of recent times has to be the ludicrous GT90.

Cobbled together in less than six months ahead of the 1995 Detroit Motor Show, the GT90 is based on the Jaguar XJ220 (Ford owned Jaguar at the time) but uses a 5.9-litre quad-turbo V12 with a theoretical 720bhp, giving 0-60mph in 3 seconds and a supposed 250mph+ top speed. Of course it never made production, though at the time some thought it, or something like it, may well do. Shame.

Advertisement - Page continues below

Tell me an interesting fact about Ford.

Over the years Ford has owned a number of other car companies, either wholly or partially. Most famously it set-up the 'Premier Automotive Group', after it bought Volvo, Jaguar Land Rover and Aston Martin (the Vanquish pictured was developed under Ford ownership). It even had a bit of Mazda at one point, but has since divested itself of all brands bar Lincoln (a BMW/Mercedes/Audi/Lexus rival that doesn't operate in Europe) and Troller (a South American manufacturer of rugged off-roaders).