Top Gear Advice
The beginner's guide to Lotus
Lotus has seriously heavy history. What if we tried to... simplify and add lightness?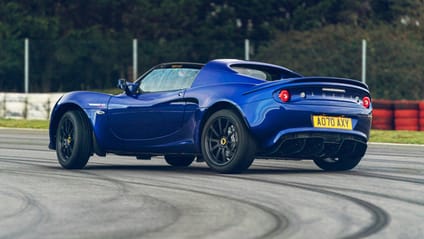 Who's Lotus, and when did it start making cars?

Lotus is a few things, actually – an F1 team, a car maker, an engineering firm. What Lotus is to you rather depends on who and where you're from – and what you like. For some, Lotus will be the crack engineers who gave the early Nineties Corvette ZR-1 a twin overhead cam V8 and as much poke as the contemporary Testarossa. For others, it'll be the Formula One team that changed the game and claimed a run of victories in the process. For most of us, though, it's that plucky little British company that makes lightweight sports cars, as per one of the the most famous maxims in motoring history: "Adding power makes you faster on the straights. Subtracting weight makes you faster everywhere." So sayeth the Prophet Chapman, Amen.

Chapman built his first car in 1948 to – what else? – go racing. It was based on an Austin Seven. The first Lotus-branded car, the Mark 3, came along in 1951, and Chapman started Lotus Engineering the year after. Then, in 1954, Chapman established Team Lotus.

Advertisement - Page continues below

Where are Lotuses built, and how many does Lotus build a year?

They're made at RAF Hethel, which is an old Air Force base near the small village of... well,  Hethel, up in Norfolk. And that means, rather like another British institution we can think of, it has a test track mapped out on bits of runway and taxiway.

Norfolk, for the non-British among you, is an area that's a bit less than halfway up a map of England and all the way over to the right. It's also north of Suffolk, which gives you some idea of how things were named back in the really old days. North folk, South folk... you see where we're going here. But, as ever, we digress.

As for how many cars Lotus builds in a year, well... that rather waxes and wanes. If you were to look back to when production of the Elise, Exige and Evora were in full swing, you'd find Lotus building in the order of 1,500 to 2,000 cars a year. But now that Lotus has ended production of all three and have two electric cars in the works, as well as releasing the new, last-of-the-summer-octane Emira sports car, numbers will obviously have dipped.

And as our soothsaying abilities aren't exactly going to earn us a seat at the Temple of Apollo, we can't say for sure what the production numbers will be once everything's ready and production ramps up. Although, as one of the cars is going to be an electric SUV, there's every chance that it'll be like the Urus for Lamborghini or the Cayenne for Porsche – the car the critics love to hate, but also the one that sells well enough to support the ones we love.

What cars does Lotus build?

At the exact moment of writing, which is... now, Lotus builds one car – the Emira. It's a small, mid-engined, lightweight sports car that starts with the letter 'E', in the Lotus tradition. Again, this really depends on when you're reading this, but certainly when we're writing it, the Emira is technically still in pre-production. That means building complete cars as was intended from the design stage, and figuring out what worked on paper but less so in the real world.

We've driven a prototype of the Evija electric supercar, which will be here soon, joined by the Eletre electric SUV and apparently a lightweight electric sports car developed with Alpine. We say apparently, because the Alpine A110 was supposed to have an English cousin, too.

Advertisement - Page continues below

What's the cheapest car Lotus builds... and what's the most expensive it builds?

Currently, you're going to be looking at more than £70,000 for a launch edition of the new Emira sports car, but after that sells out you'll be able to get a new Lotus for somewhere in the sixty thousands. Quite a bit of cash, considering the Elise cost less than 20 grand when it debuted.

OK, so the Elise was launched in the Nineties, which means £19,000 is almost exactly double that in today's money. And it was specifically made to be an affordable sports car. Oh, and the price almost immediately went up and stayed up, starting around £48,000 towards the end of its run. But apart from those small quibbles, the Emira is still a pretty pricey car.

As for the most expensive, that'll have to be the upcoming, £2.4m ultra-hyper-megacar, also known as the Evija. It's pronounced Eh-vai-yah, in case you were wondering. We're talking about the best part of 2,000 horsepower, more than 1,200lb ft and all-wheel drive and a kerb weight of less than 1,700kg if you spec it right. How does all that power feel? Well, we don't know. But we can tell you what most of it feels like...

What's the fastest car Lotus builds?

Again, that's going to be the Evija. And by some measure, too – apparently more than 200mph is on the table, and getting there from a standstill will make gut punches seem gentle. The Evija's target is zero to 186mph (or 300km/h in the new money) in less than nine seconds. The mind boggles.

What's been Lotus's best moment?

Again, that rather depends on your frame of reference. It could be the seven F1 world championships, all the awesome Lotus-tuned cars or something involving Roger Moore's raised eyebrows, but for our money, it's the Elise. After years and years of setback, money troubles and uncertainty (more on that in a moment), Lotus went back to its roots and returned with a car that was undeniably brilliant and unmistakably Lotus.

As a certain Paul Horrell (we've never known him to be uncertain, come to think of it) said back at the Elise's launch, Lotus "embarked on a simple but bold technical course that had to be right first time... during a period when the ownership and management of their company, unstable even in the good years, has descended towards industrial farce".

So, 1996 version of PH, what was the result?

"There's barely a road-legal car on earth that can match its delicacy and precision. It's neither anti-socially fast, nor prohibitively expensive... the only problem is when you climb back into an ordinary car and wonder why you're having to steer by guesswork."

You said it, quite-long-ago-now PH.

And pretty much every car journalist we've met has had the same reaction to the Elise that Herr Horrell did. Little wonder, then, that it kept the lights on at Lotus for years to come – and enjoyed a quarter-century production run. If it were up to us, it would have kept going indefinitely, like a Norfolk 911, but you can't have everything, we guess.

What's been Lotus's worst moment?

In terms of the specific moment, it has to be the untimely death of founder Colin Chapman in December 1982, at just 54 years old. But even before then, 1982 had been an annus horribilis for Lotus. Production had dropped to a few hundred cars a year. The Elite and Eclat were only just selling, and even the Esprit faced an uphill battle in an era of recession, oil shortages, mass unemployment, job cuts, and... well, all the other things that were wrong in the early 1980s. Yes, including the big one of 1982, but we'll leave well enough alone there.

There was also blowback from the failed DeLorean Motor Company, which had tasked Lotus with development work for its DMC-12 grand tourer. The fallout included some rather searching questions from the British Government about where the £80m it had invested in the DeLorean Motor Company had gone, which eventually led to Lotus chairman Frederick Bushell being convicted of conspiracy to defraud and sent to prison. In the US, John DeLorean was acquitted of some... er, creative fundraising techniques and of fraud, and resisted extradition to the UK on separate fraud charges until his death in 2005. Colin Chapman died before the whole sorry scene unfolded, but he was still alive to see DMC close its doors.

Make no mistake – Lotus was in seriously dire straits after all of this, leading to a salvage operation moments before bankruptcy, then a series of sales to General Motors, Romano Artioli (one of the men responsible for resurrecting Bugatti before its VW buyout), Proton and finally Geely. And yes, that's the same Geely that owns Volvo and Polestar. So of course we're hoping to see some Lotus-tuned Swedish estate cars. Not really holding our breath, mind.

Advertisement - Page continues below

What's Lotus's most surprising moment?

That it survived at all, really.

No discredit to Lotus, its vision (the Dany Bahar years aside, obviously), its cars or the people who put them together. It's just that British sports car makers aren't exactly famous for continued success and longevity. Or indeed building cars that are weatherproof. But that's beside the point.

Think about just a few of the names consigned to history – Triumph, Jensen, Sunbeam, Austin-Healey, Daimler, MG – and you see what we're talking about here. It very clearly takes much more than good ideas and cars to make it in the sports car business, and neither racing success nor international acclaim guarantee success.

Of course, it's hardly just a British phenomenon. Lamborghini went bust and found itself a part of Chrysler, Maserati became a part of arch-rivals Ferrari, and most of Italy's sports car history ended up as part of the vast Fiat-Chrysler-Peugeot-Citroen-Weyland-Yutani... er, Stellantis Group.

But the fact is that Lambo, Maserati and Lotus have all kept their heads above water. Surprising? Definitely. A welcome surprise? Absolutely.

What's the best concept Lotus built?

This one's a bit interesting, actually. See, quite a few car manufacturers trot out a series of concept cars that they have absolutely no intention of building. It's a 'vision of the future direction of blah bloo blee blah blay' and we tune out faster than if QVC is on. Lotus, on the other hand, generally intends to build the cars it shows as concepts. Even the five separate concepts from the big-dreams bonanza of 2010 were all supposed to become proper Lotus road cars.

And apparently, so was our favourite, the Etna. Named after an awesome volcano, styled by Giugiaro and the intended home of a 4.0-litre Lotus V8 – and more tech than you could poke an Asimov novel at – the Etna was going to be a proper British supercar.

Of course, big ideas aren't expensive; turning them into realities is. So just how likely the Etna, its active suspension, ABS, traction control, active noise cancellation and bespoke V8 would have been is both up for debate and ultimately moot – GM bought Lotus within two years of the Etna concept's debut in Birmingham, and that was the end of that.

Advertisement - Page continues below

Tell me an interesting fact about Lotus.

You'll probably already know that Lotus has quite a bit of form when it comes to taking another manufacturer's car and making the best version of that car – Lotus Cortina, Lotus Carlton, Talbot Sunbeam Lotus and so on.

But the sheer volume of awesome – or at least vastly improved – cars that have arrived courtesy of Lotus engineering is extraordinary. Chevrolet, Toyota, Kia, Dodge, Ford, Isuzu, Vauxhall, Proton, Mahindra, Volvo, Nissan... the list just goes on. And whether it's engine tuning, suspension set-up, a top-to-bottom Lotusification (using the technical term here, of course) or just enough to earn a 'Handling by Lotus' badge, the Lotus touch extends across the car world – and beyond.