Top Gear Advice
The beginner's guide to Polestar
Once the racing arm of Volvo, now a cool electric car company with big plans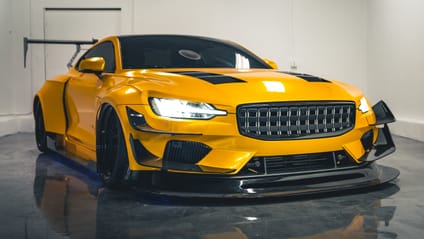 Who's Polestar, and when did it start making cars?

To understand Polestar, first you must understand Flash Engineering. And to understand Flash Engineering, you must first meet racing driver Jan 'Flash' Nilsson. He's the one who created the eponymous motorsport team that entered the Swedish Touring Car Championship back in 1996.

The STCC was like the BTCC, which of course Volvo was heavily involved in. So it lent support to Jan's team by backing it fully, giving him an 850 and setting him loose. 'Flash' won the inaugural drivers' championship.

And the year after that, too. So, named like a sketchy backstreet ECU tuner, pace of a champion. It was sold and later renamed to Polestar Racing, and Volvo bought the performance arm back in 2015 to modify its own cars, much like M and RS do for BMW and Audi.

In 2017, it was spun off entirely as its own brand, and the rest, as they don't say, is electric.

Advertisement - Page continues below

Where are Polestars built, and how many does Polestar build a year?

Though headquartered in Sweden, Polestars are actually built in a production facility on the Chengdu Plain in western China. Because Polestar is owned by Volvo, and Volvo is owned by Geely, and Geely is Chinese. So, now you know.

In 2021, Polestar recorded a whopping 185 per cent increase in sales over 2020, which is a nice stat to throw down. In terms of specifics, it shifted 29,000 cars worldwide, which is quite staggering when you consider it basically makes two things, which you can find out about below.

Next slide please.

What cars does Polestar build?

As of June 2022, Polestar builds literally two cars, and they're the easiest things to remember. There's the Polestar 1 which unsurprisingly is the first ever production Polestar – a hybrid coupe with a price tag starting from £139k. 

The main car is the Polestar 2, a fully electric crossover aiming to give the electric car fraternity a bloodied nose. It's quite a bit cheaper than the limited-run Polestar 1, and really quite fast in its top spec. Great design, too.

In the future, we'll see a Polestar 3 (an SUV), a Polestar 4 (a smaller SUV), and eventually a Polestar 5 (a four-door GT). That latter car will basically be a production version of the extraordinary Precept concept. This is a Good Thing.

Advertisement - Page continues below

What's the cheapest car Polestar builds… and what's the most expensive it builds?

That'll be the [deep breath] entry-level, standard range single motor Polestar 2. That car, which features a range of between 272 and 294 miles and will hit 60mph in seven seconds, starts from a whisker under £42k.

The most expensive car it builds shouldn't really come as a surprise if you remember the previous slide's 'they only make two cars' thing. Bag yourself one of the last Polestar 1s being built (only 1,500 are planned worldwide), and you're looking at a starting price of £139k. For that considerable outlay, you get a considerable amount of car: a 600bhp 2.0-litre supercharged and turbocharged four-wheel-drive hybrid.

What's the fastest car Polestar builds?

The Polestar 1. With over 600bhp and a whopping 737lb ft of torque, it's AWD drivetrain is capable of 0-62mph in 3.9s and a top speed of 155mph. 

What's been Polestar's best moment?

Um, existing? Polestar's only been a Thing since 2017, so perhaps the best moment is when it stopped being a trim line on Volvos and morphed into a proper carmaker; one with a very distinct identity and one more able to fully take on the world of posh electric cars.

Or perhaps the numerous victories in motorsport under its previous Polestar Racing and Flash Engineering incarnation. 

Or perhaps the fact it can trace its roots back to a racing driver named Flash. On balance, it's probably this.

What's been Polestar's worst moment?

We're reaching a little here because it's only been around since 2017 and only builds two cars and only sold 29,000 cars last year, so bear with us. Polestar offers a 'Performance Pack' for the 2, which contains a fancy set of Ohlins dampers.

Said dampers are manually adjustable and offer 20 different settings. Look, Polestar, we get you started out as a race team, but nobody needs manually adjustable dampers on an electric crossover with 20 levels of adjustment. 

Advertisement - Page continues below

What's Polestar's most surprising moment?

We'll have to go back to when Polestar was still tuning Volvos, and 2017: the company announced it raced an S60 saloon around the Nürburgring in just 7m 51.110s, making it the (then) fastest four-door to lap the Green Hell.

But it told us about it a year later, once the Alfa Giulia Quadrifoglio had smashed that time for road-legal four-doors (7m 39s, in case anyone asks).

Still. 7m 51s was faster than both the BMW M4 and the old Ford GT, and that's a surprise.

What's the best concept Polestar built?

Honours go to the Polestar O2, which won't offer you loads of free minutes or early access to live events, but instead offers you much sky. It's a two-seater electric roadster that comes with its own automonous cinematic drone. And yes, that sentence definitely happened.

"Polestar O2 is the hero car for our brand," said Polestar boss Thomas Ingenlath at the car's 2022 unveiling. Go on then, make it.

Advertisement - Page continues below

Tell me an interesting fact about Polestar.

When EA needed a new halo car for an instalment of its Need for Speed franchise, it spawned an unlikely collaboration between Polestar, digital wizard Khyzyl Saleem, and car builder Daniel Covarrubius. Between them they managed to build the lairiest ever Polestar 1, and did so in just 30 days.

Thirty days.

There's another, too. Cyan Racing was born when Polestar went legit, and the World Touring Car kings decided to do their own Volvo homage. The Cyan P1800 is one of the most astonishing two-seat £380k restomods you're ever likely to clap eyes on.