Top Gear Advice
Car control with Catie: how to drive on ice
Extreme E driver, TV presenter and British rallying star Catie Munnings shares her driving wisdom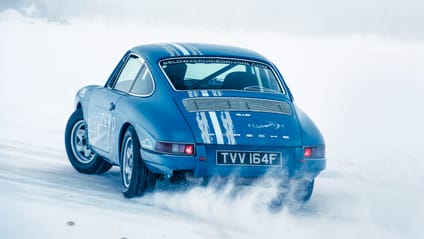 When winter wreaks havoc on the roads, creating extra car care and causing more accidents, ice and snow can prove treacherous. British Rally star Catie Munnings is here to lend her experience in rally driving and Extreme E racing to offer drivers a few tips on getting to grip with ice - all puns intended.

Advertisement - Page continues below

Narrow tyres need huge ice studs

I was hurtling down the long straight of the GP ice race in a factory Bentley Continental GT3 with skis tied to the roof running on wide 2mm studded tyres when this one became very apparent.

It turns out 2mm studs on the tyres weren't enough, and a narrower choice of tyre would have been 'optimum'.

I know they say 'less grip is more fun' but even such a wild child like myself has her limit - I think I found it in the braking zone to Turn 1.

Top tip: Choose a narrow tyre, with huge ice studs.

Rear-wheel drive is cheating

I worked as an instructor in the Arctic for a couple of seasons... we saw it all!

With RWD, the power oversteer that people pick up quickly is huge fun, but isn't real driving skill.

The joy starts when you play with weight balance and get the car to slide under braking as you throw the weight to the front which releases the rear wheels to 'dance' on the ice.

Advice? Start with a front-wheel-drive car – it'll teach you all you need to know about driving on ice.

Advertisement - Page continues below

Less steering, more pedal

The true art of driving on ice comes when you control the car's direction with the pedals, not the wheel.

When you accelerate, the weight and force goes to the rear wheels, when you brake they go to the front. Managing this shift in centre-of-gravity and momentum isn't easy but it's magic when you get it.

Advice: Picture a slalom.  

Get into the feeling of accelerating between the corners so you're moving fast enough to break into a slide when you lift off. You'll find the steering angle is minimal, but the slide is effortless. Hello, Lift-Off-Oversteer, glad we got acquainted.

Keep your eyes on the lines

One of the easiest ways to improve your skills behind the wheel, in any weather but especially in ice, is to lift your eye line.

Look as far ahead as you can see and your body will do what it needs to do to get the car there. You have to remember actions take longer on ice, so you need to make the moves earlier.

When you have a narrow range of vision, you're always a step behind, reacting rather than preparing.

Advice: As with all things in life, look ahead and things are less of a surprise!